The Taxidermy program is not being offered at this time. Interested students, please email advising@sic.edu.
---
SIC offers a class for hunting enthusiasts! Learn taxidermy as a hobby (to save you money) or for earning extra income! Classes will alternate with mammals – game head and full body mounts, birds, and fish, with additional courses available regarding regulations and habitats.
As a taxidermist, you become a wildlife artist who works in a 3-dimensional world creating specimens as close to the actual living animal as possible. The taxidermy courses are designed to provide you with the necessary professional education, knowledge, tools, and above all, the confidence in your own taxidermist abilities.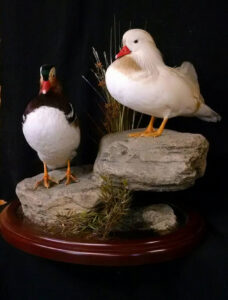 Featured subjects:
Specimen handling and care
Measurements
Skinning, scraping and fleshing
Base-making design and composition
Form selection, preparation, seaming, and alteration: learn time-efficient methods to add muscle, or change size, bulk, girth, pose or position
Mounting
Airbrush coloration: various techniques, proper paint mixing/viscosity, disassembly/ cleaning/ assembly/ care of the airbrush
Finishing
Displaying
When
The class generally runs on Tuesday nights, 5:30-9:20 p.m. during the regular semester. We recommend you bring your own mount so you can take home your hard work at the end of the 16-week course!
Cost
You will finish the class with not only your first mount, but also your taxidermy tool kit and the knowledge and confidence to create more mounts. In-district tuition and fees are approximately $400.  Participants aged 65 and older enjoy free tuition. Students are responsible for their own equipment, and the supply list will be emailed prior to the start of class.
You can also earn free assistance with business plan writing, promotion and funding information from the WISBDC to open your own taxidermy business upon completion!
Register
We are currently looking for a new taxidermy instructor. If you are interested, please contact Ricky Sauls at (618) 252-5400, ext. 2248 or ricky.sauls@sic.edu.
To express your interest in a taxidermy class, call (618) 252-5400, ext. 4120.
---
Program Learning Outcomes
Goal 1: Demonstrate the proper handling and care of specimen.
Goal 2: Display skills to take correct measurements of specimen.
Goal 3: Demonstrate skills to skin, scrape and flesh specimen.
Goal 4: Display composition for proper base-making design.
Goal 5: Demonstrate form selection, preparation, seaming, and alteration.
Goal 6: Demonstrate proper airbrush coloration.
Goal 7: Produce the finishing and displaying of a specimen.
Goal 8: Discuss state and federal laws pertaining to the art of taxidermy.
Goal 9: Demonstrate an understanding of supplies and equipment necessary for preserving and mounting specimen.
Goal 10: Demonstrate techniques utilizing special tools and equipment for mounting procedures.