The Southeastern Illinois Cultural Arts Series has been bringing quality cultural experiences to Southern Illinois since 1979. Performances range from musical groups and theatrical shows to dance groups and authors.
We are proud that we have kept ticket prices low in keeping with our motto, "Great Shows! Great Value! Close to Home!"
Admission Cost
General admission is $10 for adults and $5 for students.
Family season ticket costs $80 (parents and children) or $50 per person.
Season tickets may be purchased at the first concert or ordered by mail.
Giving
We also offer levels of giving for those willing to help subsidize our programs.
$100 sponsors receive five season tickets
$150 patrons receive seven season tickets.
In addition, we seek underwriters (businesses or individuals) to cover the contract cost of a concert of their choice.
Cultural Arts Series
2022-23 Season
Peter Fletcher
November 3, 2022, at 6:30 p.m. at Harrisburg District Library
Tom Cat Social Club with Ray Maring
November 13, 2022, at 2:00 p.m.
Landon Gates
January 15, 2023, at 2:00 p.m.
Mark Stoffel & Band
February 19, 2023, at 2:00 p.m.
Ivas John & Band
April 16, 2023, at 2:00 p.m.
Our program needs your continued support.  If you are interested in sponsoring or would like additional information, please contact us at 618-252-5400, ext. 2486, or 618-841-4649.
Please make checks payable to Southeastern Illinois College and mail to:
Cultural Arts Series
Southeastern Illinois College
3575 College Road
Harrisburg, IL 62946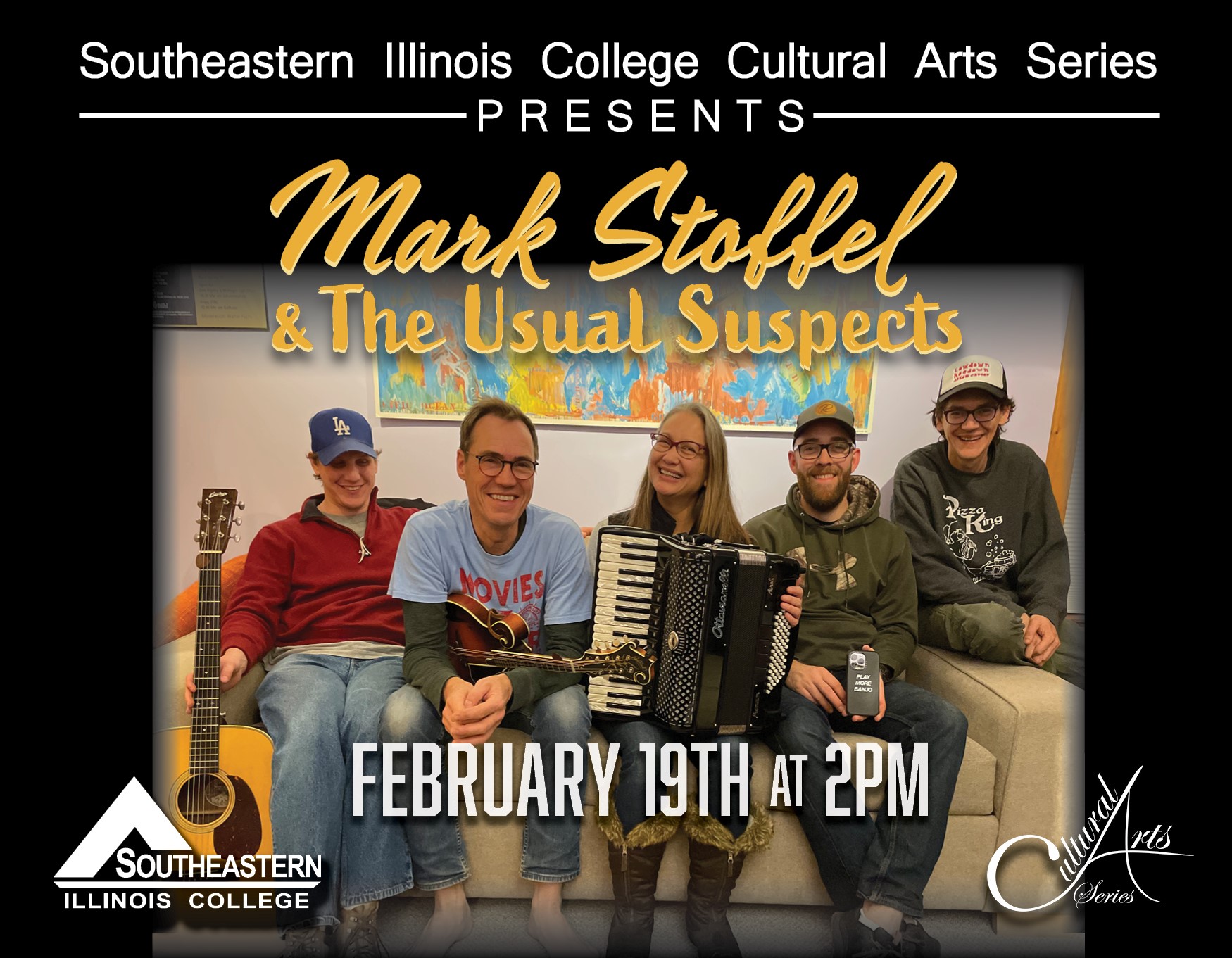 Presented by the SIC Cultural Arts Series
$10 for adults, $5 for students – get tickets at the door.
Originally from Munich, Germany, Mark Stoffel spent literally decades traversing between two continents before finally settling down in Southern Illinois some twenty odd years ago. A self-described bluegrass music addict, he was introduced to the music in 1979, when as a teenager, he wanted a ukulele for Christmas and was mistakenly given a mandolin instead. The flub turned into a virtue and a lifelong artistic pursuit. His tasteful approach to playing earned him increased attention — first in regional acts, and then with the nationally acclaimed Singer/Songwriter Chris Jones who ended up inviting Mark to become a member of his band "Chris Jones & The Night Drivers".
Today his mandolin performances can be heard on countless recordings, including his latest solo release "Coffee and Cake" on Mountain Home Records. "Mark is one of the most musical mandolin players I've ever played with," says Jones. "Mandolin players are really impressed with his playing everywhere we go." Yet despite his passion for bluegrass, Stoffel confesses ironically that he is highly allergic to — yes, really — Kentucky Bluegrass.
Mark's Band, the Usual Suspects, consists of Mila Maring (Accordion, Vocals), Josh Morrison (Guitar, Vocals), Nate Graham (Bass, Vocals), and Kyle Triplett (Banjo, Guitar, Mandolin).
Tour Southeastern Illinois College
Check out our 2021 SIC Virtual Tour to get the inside look at all that Southeastern Illinois College has to offer. Want to see it all in person? Contact us today to visit our campus.