Ivas John and Band Concert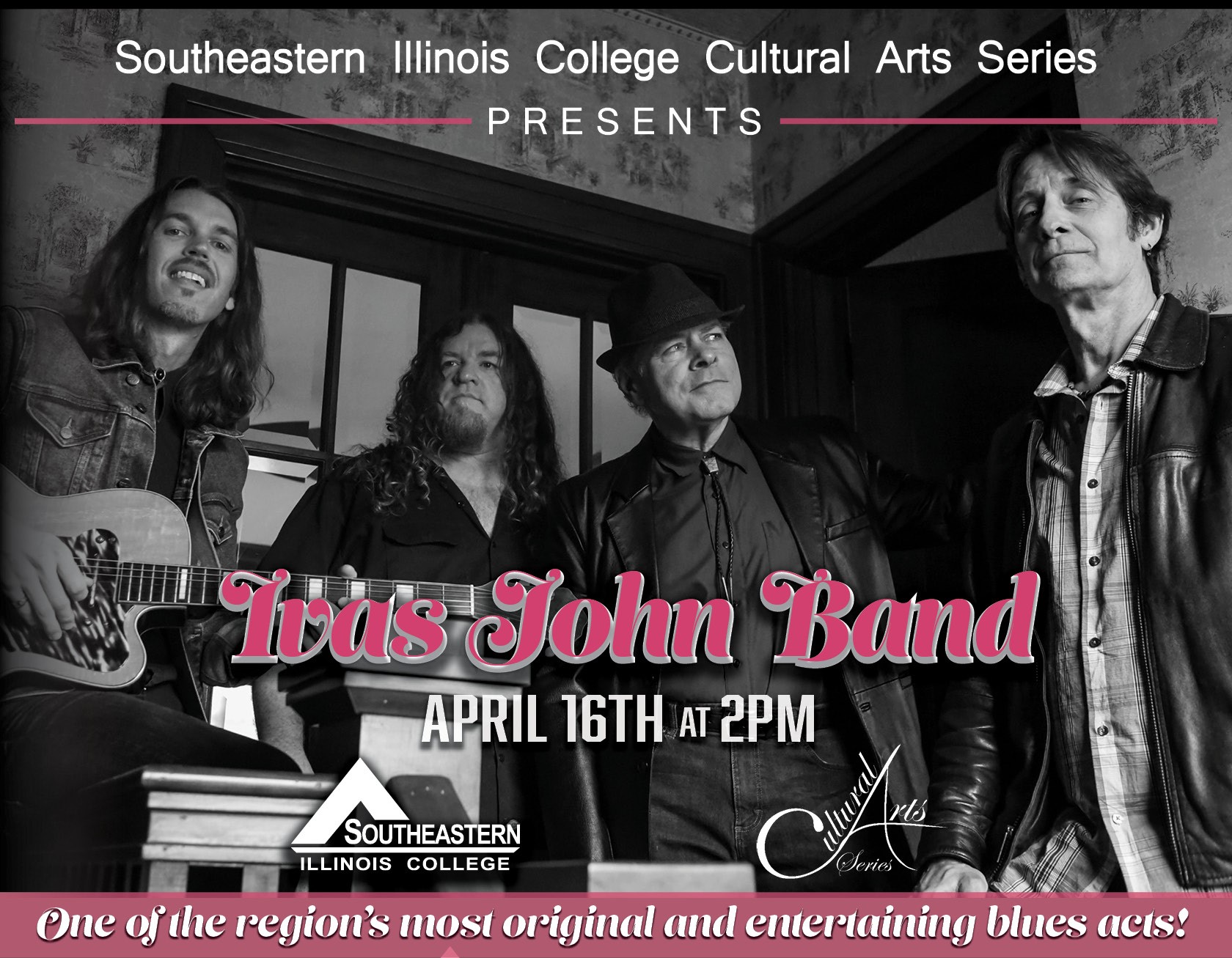 Presented by the SIC Cultural Arts Series
$10 for adults, $5 for students – get tickets at the door.
"The purity of blues music captured Ivas' attention the first time he encountered it through his father's and brother's record collections. "The first time I heard the blues, it was a discovery for me," recalls Ivas. "What I discovered was the power of simplicity. It motivated me to start playing. I wasn't a musician who branched off into playing the blues, I heard blues music and developed into a musician, because that's what I knew I wanted to play."
The Chicago-born Ivas John moved away from home to Carbondale, Il, where the then eighteen year old guitarist quickly won his spurs backing Martin "Big Larry" Albritton (an original Alligator records Mellow Fellow) and harmonica legend Snooky Pryor's son, Rip Lee Pryor. After six years of backing those and other local luminaries with his in demand guitar work, John decided the time was right to from his own group and pursue a career as a frontman.
Now, after playing extensively throughout the Midwest and sizzling in over 200 live performances a year, and sharing stages with such top shelf acts as Leon Russell, Guitar Shorty, Nick Moss, Lil' Ed and the Blues Imperials, and the Chicago Rhythm and Blues Kings to name a few, the Ivas John Band is quickly building a reputation as one of the regions most original and entertaining blues acts. The success of the band and their debut album "Street Music" recently earned them a spot on PBS as part of the nationally televised American Roots program.
Ivas, who plays a hollow-body guitar with very few effects, strives hard to eschew banal blues stereotypes. With a super clean, soulful voice and a highly stylized library of guitar chops, this music can please equally the casual bar patron or the scrutinizing critic who thought they had seen it all. Though he is an artist who understands the debt that is owed to his predecessors, and how important it is to honorably carry traditional music on, Ivas John is no copycat. "Avoiding the clichés is a conscious decision," says Ivas. "I want the music to come across in that way, not just instrumentally, but lyrically as well. That's the common thread that runs through all the songs-inspired words, inspired music."
As such, fans will have a hard time pinpointing exactly in what blues style Ivas is playing. His voracious appetite for variety continues to be what sets him and the band apart in the current blues state of mediocrity. In a typical club set, the band will play songs ranging stylistically from Chicago to jump to honky-tonk to primal Delta blues, and are just as comfortable handling an intimate ballad when lights are low. But Listeners will not question that Ivas is playing blues-it's just his blues."
Chris Wissman ~ Editor in Chief ~ Nightlife Magazine