The 25th Annual Putnam County Spelling Bee Launches Theatre Season at SIC – Oct. 12-14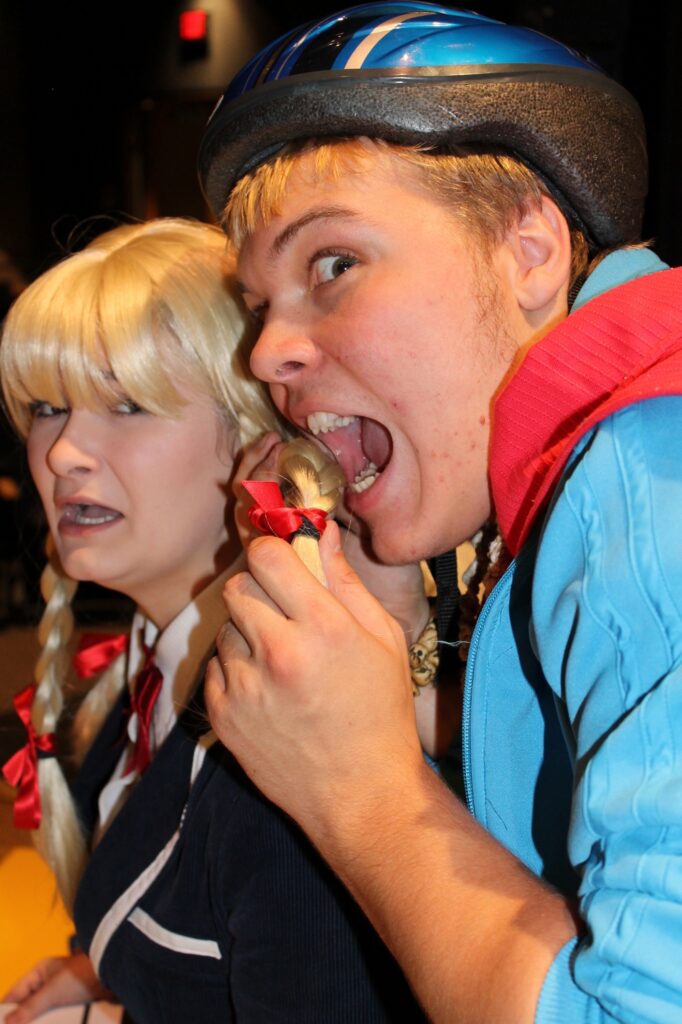 A musical comedy depicting six young people in the throes of puberty will be the first of six performances scheduled for the 2012-13 season in Southeastern Illinois College's George T. Dennis Visual & Performing Arts Center.
The 25th Annual Putnam County Spelling Bee promises to be "an amazingly funny show," says Allan Kimball, the musical's director. Kimball, who also teaches and directs theatre at SIC, contends that the performance is not just a spelling bee but has "great music and considerable audience participation as well."
Based on a book by Rachel Sheinkin, the musical is about learning that winning isn't everything and that losing doesn't necessarily make you a loser.
According to Music Theatre International, the two-act book musical is the "hilarious tale of overachievers' angst chronicling the experience of six adolescent outsiders vying for the spelling championship of a lifetime. The show's Tony Award winning creative team has created the unlikeliest of hit musicals about the unlikeliest of heroes: a quirky yet charming cast of outsiders for whom a spelling bee is the one place where they can stand out and fit in at the same time."
Adding to the comedic dimensions of the production's characters are grown-ups who barely managed to escape childhood themselves. Set in the Putnam County Junior High School gymnasium, the musical takes audiences back to a time when crossing over to adulthood was both confusing and exhilarating.
Directing the music and lyrics for the performance will be Kurt Miyashiro, director of music at Southeastern. Costumes are the creations of Janet Hart's fashion design class at Harrisburg High School, while John Hart of Hart's Music in Harrisburg is providing sound for the show. The show's set design and lighting are the products of Kimball's stagecraft and technical theater class at SIC.
The 25th Annual Putnam County Spelling Bee cast includes Dakota Fry, Galatia; Kristin Doty, Herrin; Laura Hanrahan, Harrisburg; Allie Austin, Junction; Kaleb Irwin, Eldorado; Nathan Burns, Marion; Salena Russell, Harrisburg; Lane O'Brien, Eldorado; Travis Horton, Eldorado; Micaela Bray, Grantsburg; Dylan Comer, Carrier Mills; Derek Davie, Harrisburg; Hannah Logan, Harrisburg; Skai Tso, Galatia; Skyler Hurst, Washington, Ill.; Ashly Gwaltney, Eldorado; Philip Morrison, Eldorado; Kate Mangels, Harrisburg; Justin Leinenbach, Harrisburg; Sean Partain, Harrisburg; Jordan Aud, Harrisburg, and Jenna Hicks, Golconda.
Showtimes are Oct. 12-13 at 7 p.m. and Oct. 14 at 2 p.m. in the George T. Dennis Visual & Performing Arts Center at SIC. Tickets are $8 for the general public, $6 for students, staff and seniors. For reserved seating, contact the box office at 618-252-5400, ext. 2486 or 2487 or email boxoffice@sic.edu.
###
Written by Archie Blair, SIC Public Information