SIC WOMEN'S 3D ARCHERY TEAM WINS 2012 USCA NATIONAL CHAMPIONSHIP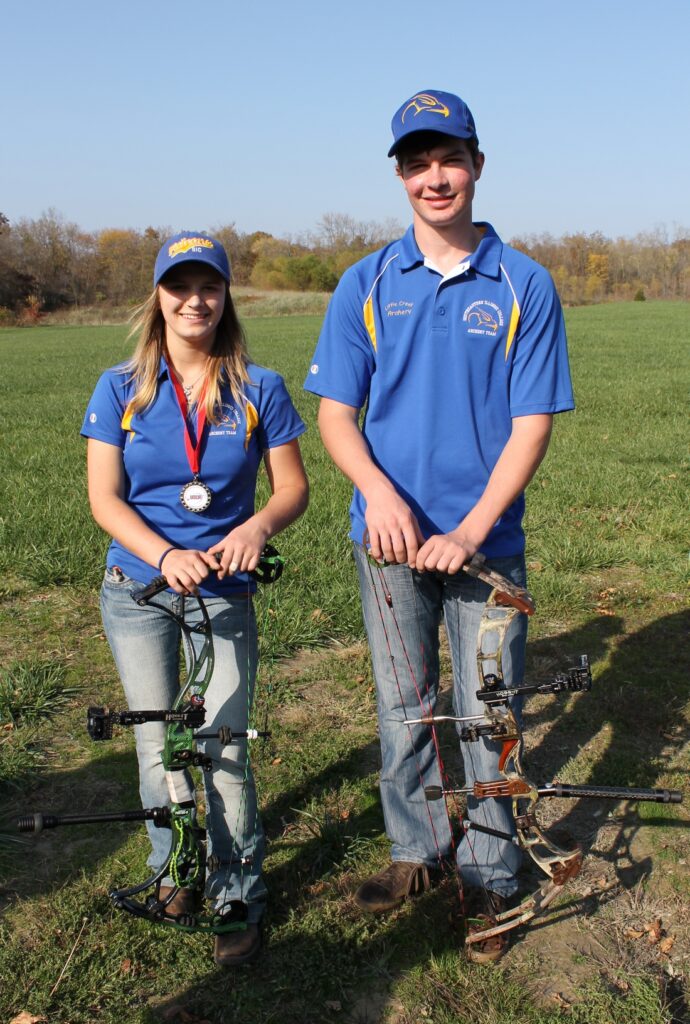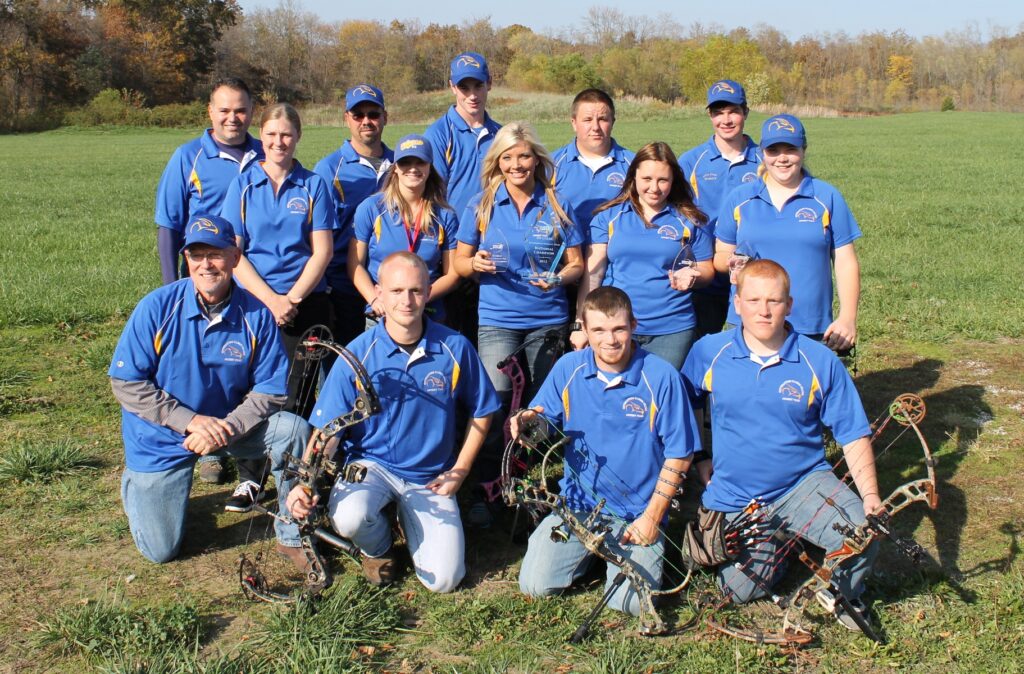 In a dramatic, winner-take-all elimination round against University of the Cumberlands, the Southeastern Illinois College women's archery team walked away as the 2012 national champions in the 3D bow hunter division during the US Intercollegiate Archery Championships hosted over the weekend by the University of Missouri in Columbia.
"Absolutely amazing!" expressed Archie Blair, archery coach for Southeastern. "To be quite honest, our women's team had been struggling all year at various local and state tournaments and on the practice range, mainly because of a new collegiate rule that increased the maximum target distance to 40 yards for women. But it all came together this past weekend when it counted the most. I couldn't be more proud of our women's team and the title they have so deservingly earned!"
It came down to the last target to determine the national champion. In a nail-biting shoot-off round between Southeastern and Cumberland, Ashley Evans of Harrisburg, Kailee Irvin of West Frankfort, and Tori Lewis of Galatia cinched the national title for SIC.
"The incredible thing about the finish is that without the outstanding performance of each of our three women shooters, we would have lost that final round," emphasized SIC archery shooting coach Darin DeNeal.
"Three shooters, 3 arrows each, and three targets determined the winner. When one of our women fell short of the mark, the other two picked her up with remarkable shots. The heroes changed with each target. Ashley, Kailee, and Tori each stepped to the line and came away a champion. At the end of the day, our three heroes earned Southeastern Illinois College a national championship. It took a total team effort to pull this thing off," added DeNeal.
In individual national standings, after two days of competition, Evans finished in fourth, Irvin in sixth, and Lewis in sixteenth.
According to the governing body of college archery, the US Collegiate Archery Association (USCAA), the two-day competition included absolute giants in Division I archery, including Michigan State University, University of Nebraska, Penn State, University of Missouri, West Virginia University, Liberty University, Wayne State College, University of Wisconsin, University of the Cumberlands, Dakota Wesleyan University, Pennsylvania College of Technology, Mount Marty College, Purdue, Texas A&M, Bethel University, and Georgia Southern University.
Roger Snodgrass, form and shooting coach for SIC, saw a major title coming quickly from the college's three women shooters.
"I've been in the archery business for over 25 years," said Snodgrass. "When you have a group of shooters that devotes the time and effort to improve like our women's team has done over the last seven months, good things will always happen."
"I don't think it has truly sunk in as to what these three ladies have just accomplished. People have to remember that this is our first year competing at any level. And we win a national title right out of the gate? Who does that? It was one of the most exciting things I have ever witnessed! I wouldn't trade the experience for anything," remarked Snodgrass.
Adding to the excitement in the women's bow hunter division was Katie Davies from Marion, Ky. Representing SIC as a supporting member of USCA, Davies, a sophomore at Crittenden County High School, placed first in the guest division, beating her nearest competitor from Wayne State College by 84 points!
"Overall, our four women brought their A-game to this year's national 3D championship," said Marjorie DeNeal, the college's newest shooting coach. "It was an incredible accomplishment by these women from southern Illinois and western Kentucky and shows that we have some of the best, or should I say the best, 3D shooters in the country."
"Of course, we can't overlook the men and their incredible showing during the two days," Blair said. "We placed four of our six men competing on the bow hunter team in the top 10 at nationals!"
"Had this been last year's tournament, before the elimination round was implemented by USCAA, our 3D men's bow hunter team would have won the national championship walking away," emphasized Blair.
"However, in a three-target shoot-off, anything can happen, and it simply didn't fall our way. The entire coaching staff is extremely proud of our men's team and the accomplishments it achieved over the weekend and throughout the year," he added.
Runner-up to this year's individual national champion, Andrew Flegler from Michigan State University, was Southeastern's Aaron Head from Harrisburg in second place, followed by University of Wisconsin's Kayne Brenner in third. Finishing in sixth was Jimmy Stimpson from Pittsfield, Mass.; Jordan Walker in eighth from Carrier Mills; and Trevor Nelson from Carmi taking ninth.
"On behalf of the board of trustees and all of the SIC family, I want to congratulate the archery team and coaches on quite the amazing launch of our newest competitive team and latest national championship," said Jonah Rice, president of Southeastern. "We look forward to continued growth and success in this exciting new program. I couldn't be happier about the team's success."
###
Note: A reception will be held on Thursday, Oct. 25 at 12:30 p.m. in the Harry L. Crisp Student Center to congratulate the team on their success. Everyone is invited to attend.