SIC Madrigal Feaste Heralds the Christmas Season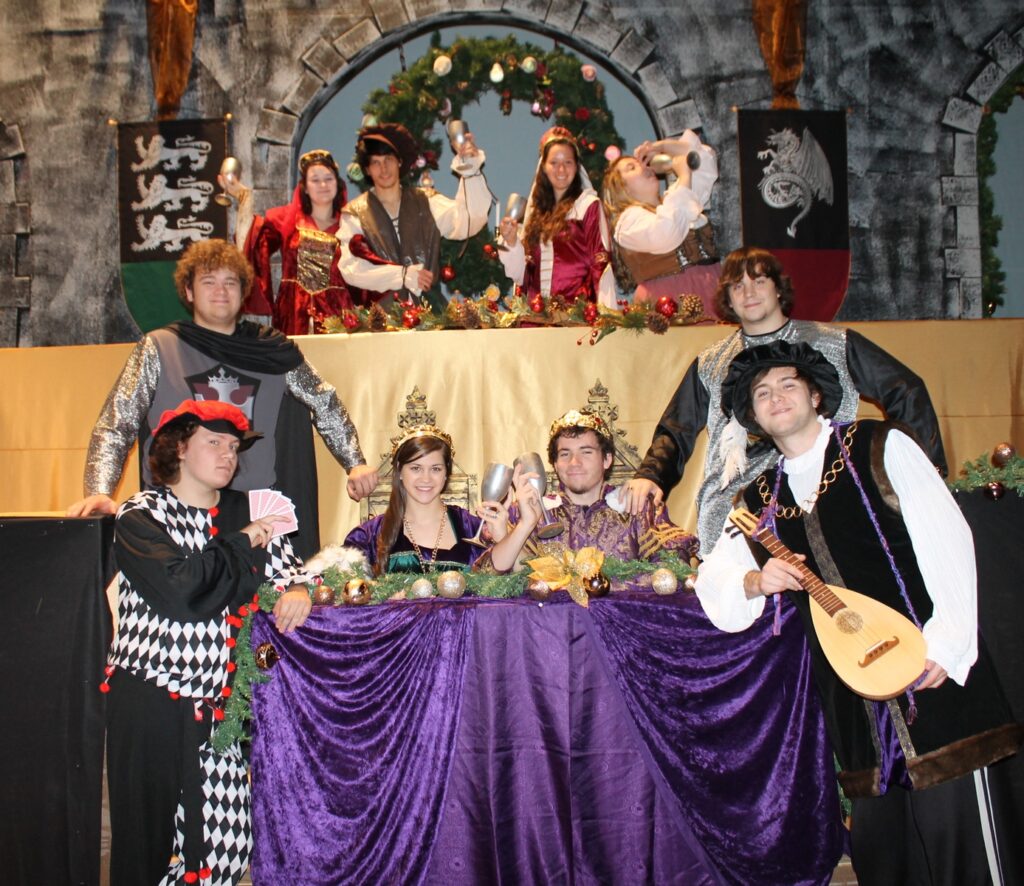 Christmas is nearly here, and Southeastern Illinois College is hosting its 33rd annual Madrigal Feaste, Nov. 30 and Dec. 1 at 6 p.m. and Dec. 2 at 12:30 p.m.
According to Allan Kimball, theatre director at Southeastern, this year's production brings a bit of suspense to the set. A mysterious stranger arrives in the kingdom to the surprise of the royal court and its guests. The King, played by Travis Horton of Eldorado, and Queen, played by Micaela Bray of Pope County, have been struggling to provide adequate provisions for the feaste when the stranger miraculously reverses the course of events. His arrival is none too late to save the kingdom from hard times and to guarantee a joyous holiday season for all.
"Through the stranger's presence and the miracles of Christmas, the feaste is more grand than ever before. The story has a beautiful message about the true reason we celebrate," said Kimball.
Credit for the script and storyline goes to SIC students Nathan Burns of Marion and Sean Partain of Harrisburg. "Nathan and Sean have done an outstanding job with the script. It's a pleasure to work with them, and they both have extremely creative minds," added Kimball.
Burns and Partain are co-directors of this year's Madrigal, along with SIC music instructor Kurt Miyashiro, who also will serve as director of musical activities. In addition to the King and Queen, the Madrigal court will consist of a minstrel (Kaleb Irwin of Eldorado); two guards (Jordan Aud of Carrier Mills and Lane O'Brien of Eldorado); a jester (Dakota Fry of Galatia); the stranger (Derek Davie of Harrisburg); and a kitchen wench (Allie Austin of Gallatin County).
McKayla Wren and Laura Hanrahan of Harrisburg will play the royal musicians, surrounded by 15 lords and ladies of the court: Breanna Bergeron, Norris City; Nathan Burns, Marion; Courtney Bunting, Carmi; Dylan Comer, Carrier Mills; Kendra DePriest, Harrisburg; Kristen DePriest, Harrisburg; Ian Gebbia, Dongola; Justin Leinenbach, Harrisburg; Hannah Logan, Harrisburg; Jared Mitchell, Norris City; Sean Partain, Harrisburg; Madeline Rogers, Eldorado; Salena Russell, Harrisburg; Rachel Stearns, Anna; and Skai Tso, Galatia.
The audience sits directly on the stage, which is transformed into an exquisitely decorated castle dining hall designed and constructed by students enrolled in Kimball's theater classes. As part of the royal court, guests enjoy an intimate evening with the King and Queen as they travel back in time and join the royal family at their annual Christmas Feaste. Of course, as in Madrigals past, some lucky audience members will become part of the show as newly dubbed knights of the king's court.
The kingly, yet southern, dinner catered by BBQ Barn of Harrisburg, includes salad, chicken, mashed potatoes, green beans, cranberry sauce, pork and dressing, rolls, bread pudding, coffee, and tea. Of course, no renaissance dinner would be complete without a boar's head and hot wassail (spiced apple cider).
This year's music will feature well over a dozen songs, including such seasonal favorites as "March of the Kings," "Sing We Now of Christmas," "The Boar's Head Carol," "Drummer Boy," "Come All Ye Shepherds," and "Peace on Earth."
SIC's Madrigal has been a Christmas tradition in Southern Illinois since 1979. It was created by Bruce Boone, former music director, and the late George T. Dennis. From 1994-2003, it was produced by CJ Harbison at Harrisburg High School, but returned to SIC in 2004 to grace the George T. Dennis Visual and Performing Arts Center for the first time under the direction of Allan Kimball.
Tickets to this year's event are $25 per person, which includes the meal and show, and reservations must be made by November 26. Call 618-252-5400 ext. 2486 or 2487, or email boxoffice@sic.edu.
What: Madrigal Feaste – Renaissance Dinner Theatre set on an outlandishly decorated stage. The king and queen have invited guests to a feaste at the royal court.
Who: An ensemble of "lords and ladies" perform some favorite traditional Christmas songs – vocal and instrumental – and involve the audience in a "royal" performance. Expect lots of laughs.
When: Friday, Nov. 30 and Saturday, Dec. 1 at 6 p.m. and Sunday, Dec. 2 at 12:30 p.m.
Where: Southeastern Illinois College in the George T. Dennis Visual and Performing Arts Center in Harrisburg
Menu: Catered by BBQ Barn in Harrisburg – salad, chicken, mashed potatoes, green beans, cranberry sauce, pork and dressing, rolls, bread pudding, coffee, and tea. Hot wassail (spiced apple cider) will be flowing.
Attire: Formal or period dress is suggested, but not required.
Cost: $25 per person. Reservations required by November 26. Only about 100 seats available per performance. No tickets will be sold at the door.
Box Office: 618-252-5400 ext. 2486 and 2487, or boxoffice@sic.edu
###