SIC Forensic Falcons Are 2013 State Champs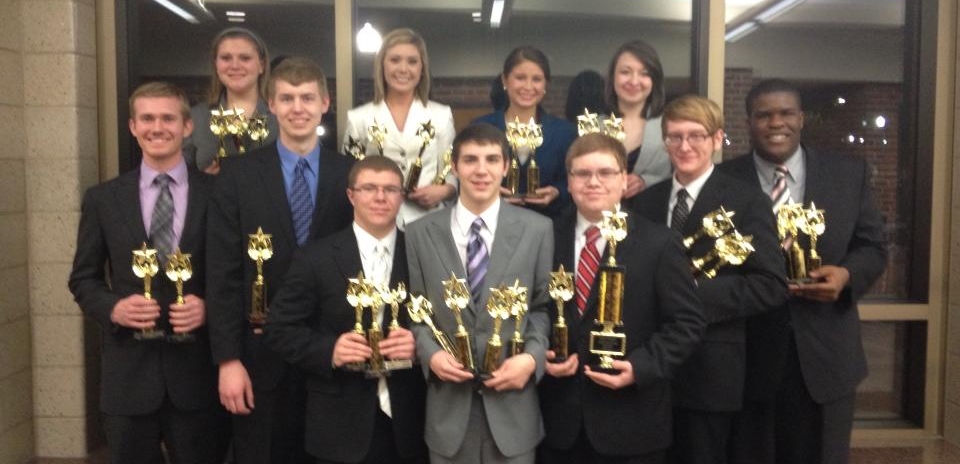 Southeastern Illinois College Forensic Falcons stomped the competition March 1-2 to win the state championship speech tournament in the community college division at Northern Illinois University in DeKalb, Ill.
The competitors at the Illinois Intercollegiate Forensic Association state tournament were no match for the southern Illinois team. Seventy-five percent of the team's speeches made the cut for the final round of competition beating out much larger schools in the northern Illinois region. Fifteen Illinois schools competed in the tournament.
"Our team has worked so hard to prepare, and our coaches have pushed our talent to the limits. Everyone on our team broke into finals, and that's saying a lot since this is the first year of speech competition for most members of our team," said Bethany Oxford, sophomore from Norris City and second-year Forensic Falcon.
Oxford won an individual state championship in prose interpretation in the community college division and placed third in the duo interpretation with sophomore partner, Austin Winters of Norris City. Winters also won an individual state championship in the two-year division of after dinner speaking and took seventh place in poetry interpretation.
Several SIC students broke into the open division final, competing against juniors and seniors at universities in the state. Corrine McDaniel and Austin Winters made it into the open division finals in poetry interpretation. Zachary Hanks and Tre Ingram made it into the open division finals in duo interpretation.
Tyler Billman, SIC forensics coach said the state tournament only allows schools to bring four entries in each event, evening the playing field and making the level of competition exceptionally rigorous.
"While the team did well, what I am most proud of was the bonding that took place at the state tournament. I thought the morale was what made the trip all the more successful," said Billman.
In other individual awards, Corrine McDaniel of Harrisburg took all her events to the final round. She won second place in communication analysis, third in informative speaking, third place in oratory, and sixth in poetry.
Jeremiah Brown of Harrisburg also made it to finals with all four entries. He earned second place in program oral interpretation, fourth in prose interpretation, fourth in speech to entertain, and fourth place in duo interpretation with partner Hannah Rodgers of Harrisburg. Rodgers additionally took fifth place in dramatic interpretation.
Tre Ingram of Harrisburg garnered second place in dramatic interpretation, fourth place in poetry interpretation, and seventh place in duo interpretation with Zachary Hanks of Harrisburg. Hanks also won third place in poetry interpretation and third in program oral interpretation.
Nick Volkening of Galatia earned second place in extemporaneous speaking, which requires extensive knowledge of current events, and third place in impromptu speaking. Benjamin McGuire of Raleigh also placed in impromptu speaking with sixth place.
Nicole York of Omaha earned fifth place in prose interpretation, fifth in oratory, and sixth place in dramatic interpretation. Nick Mott of Simpson took fifth place in informative speaking.
The team will have a public presentation of their award winning speeches at the annual Night Before Nationals event on April 4 at 7:30 p.m. in the George T. Dennis Visual & Performing Arts Center Theatre. The event will feature top speeches for a $5 minimum donation that will help fund their trip to the national tournament.
"The team has hit their stride this season. We're hoping that momentum pushes them to great things at Nationals in April," said Paul Cummins, SIC forensics coach.
The Forensic Falcons will end their season by traveling to Woodland Hills, Calif., for the Phi Rho Pi National tournament April 14-21. This will be the fortieth year that the Forensic Falcons have competed in the national competition. They have placed within the top five community colleges nationwide for more than 25 years, and won three national tournament championships under the tutelage of coaches like Gary Allen, George Dennis, Dr. Jonah Rice, Paul Cummins and Tyler Billman.
###