Young SIC Alumnus Madeline Rogers — "A Beautiful Heart"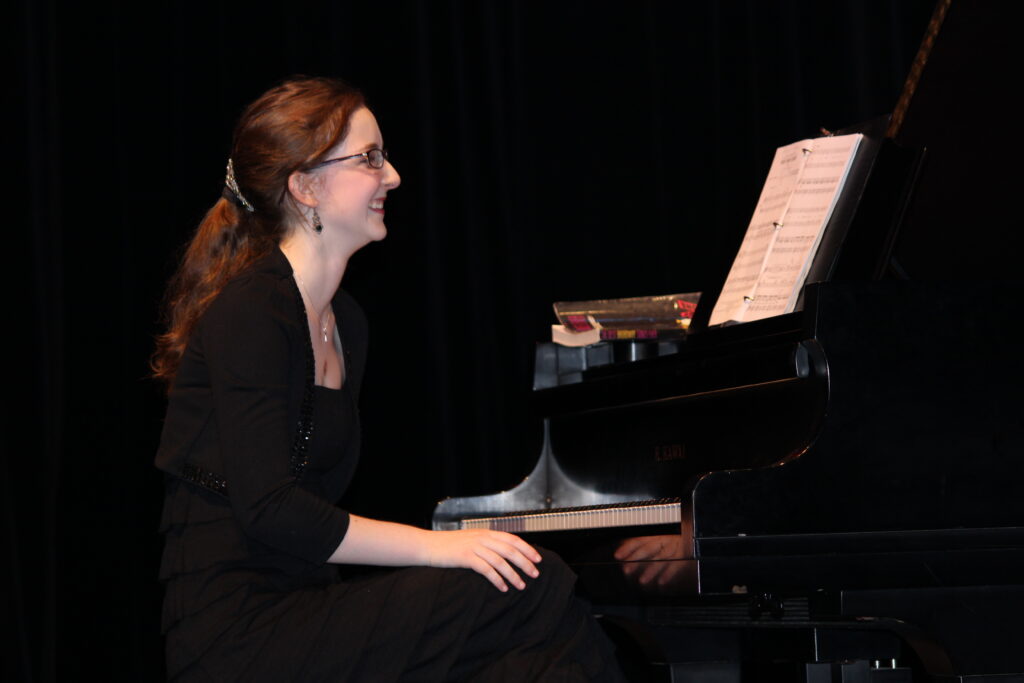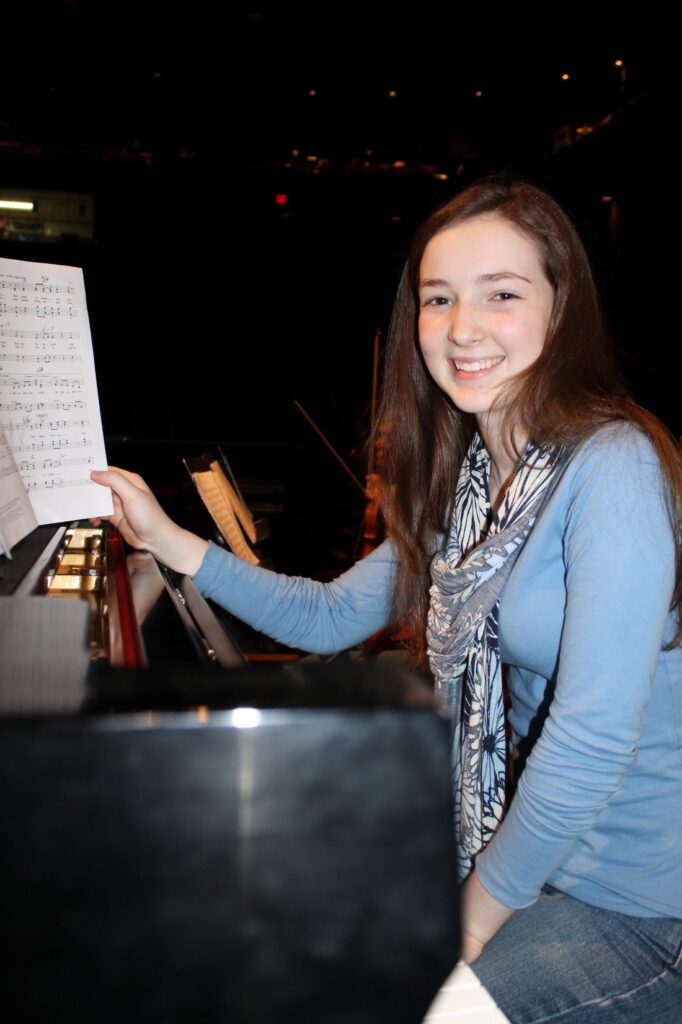 In many ways, Madeline Rogers is just your average teenager. She enjoys riding four-wheelers, listening to classic rock, target shooting, eating pizza, baking homemade goodies, and being in the outdoors with her family.
What's not average about Rogers, however, is that in January, at age 15, she began her junior year at Southern Illinois University in Carbondale (SIU-C) majoring in piano performance. The year prior, she completed the required coursework at Southeastern Illinois College (SIC) to earn an associate in arts degree. Her overall grade point average? A perfect 4.0.
A savant, prodigy, child genius? Not according to Rogers, who sees her compelling interest in music as the prime motivation in her life.
"Music has been a part of my life since the very beginning," said Rogers, who began formal piano lessons at age three. "Through the years, I explored different instruments, but at age 12, I decided to give my full attention to my first love, the piano. Music is my greatest passion, second only to God and my family," she remarked.
Madeline's mother, Lucinda, feels very blessed to have a daughter who has embraced such a passion, and she gives Southeastern a good deal of credit for cultivating Madeline's musical abilities.
"Keith and I can't begin to tell you how important the college has been in helping shape and advance Madeline's career in music. It is there that her journey began. So many doors have been opened because of the care and education she received at SIC."
Armed with her parents' encouragement, Rogers became involved with Southeastern's music program and summer theatre at the young age of six. Five productions later, during auditions for "Pirates of Penzance," she met music instructor Kurt Miyashiro.
That was in the fall of 2007. By spring of 2011, at age 13, she was attending SIC full-time. Miyashiro was convinced that Rogers would be an asset to Southeastern's music and theater departments.
"Madeline quickly progressed as a pianist, vocalist, and actress," said Miyashiro. "She played key stage roles in numerous SIC theater productions and participated in various vocal ensembles in the music department's 'SIC, Better than Glee' music program and in the Madrigal Feaste."
Rogers also played the primary accompanying part in the pit orchestra for the SIC fall musical, "The Putnam County Spelling Bee," and will perform in the same capacity for Southeastern's spring musical, "Fiddler on the Roof," which is scheduled for April 26-28 at the college.
Miyashiro admits he became even more impressed with Rogers' versatility as a musician when she served as conductor of the chorus and arranged several pieces of music in the college's latest Madrigal Feaste. She currently accompanies, as pianist, SIC's Community Chorus, where she also acts as director Tim Green's assistant.
"Madeline has been of much greater value to the program than the program has been for her," said Miyashiro. "The sign of a true artist is to give more back in one's life – Madeline is already proving that she is an artist and person of the highest caliber."
Now 16, by only a few weeks, Rogers can finally drive. And yes, even with all that she has accomplished, getting her driver's license was still a big deal. She travels from her hometown of Eldorado five days a week to the campus of SIU-C to study and work towards obtaining her bachelor's degree, all courtesy of the university's full-ride music scholarship.
Rogers, who practices piano some five hours a day and enjoys arranging music, acquired many of her skills as a pianist from Kara Benyas, a Suzuki teacher from Carbondale. Too, as a young girl, Rogers came to understand music theory from the hours spent with family friend and music instructor Stan Willis.
While in the Suzuki program, Rogers studied and applied a method of learning based on the unique language acquisition theories of Japanese violinist Shinichi Suzuki, who believed that the essential components of mastering an instrument came from the desire to create the right environment for learning music. He also believed that this positive environment would help foster character in students and provide them with a beautiful heart.
After becoming proficient in reading music, Rogers transitioned from Benyas to traditional piano teacher Rosa Muir of Cambria.
"Teaching a student who is passionate about music and eager to learn makes the teacher-student relationship an enjoyable experience," said Muir. "For seven years I witnessed Madeline's hard work and responsible attitude as she developed into a fine musician and mature young lady. I always knew she would have a tremendous future ahead of her."
Rogers enjoyed seven years of piano instruction under Muir before she began studying with Dr. Junghwa Lee, director of piano at SIU-C. After attending her first summer piano camp at the university, Rogers had the opportunity to take private lessons from Lee. Once these lessons began, she quickly realized what a blessing it was to study under such an accomplished pianist and teacher.
"I was absolutely blown away by the quality of Dr. Lee's music. She started a transformation in me that is continuous. I know that I wouldn't be anywhere near the musician I am today without Dr. Lee's patient instruction," said RogersRogers enjoyed seven years of piano instruction under Muir before she began studying with Dr. Junghwa Lee, director of piano at SIU-C. After attending her first summer piano camp at the university, Rogers had the opportunity to take private lessons from Lee. Once these lessons began, she quickly realized what a blessing it was to study under such an accomplished pianist and teacher.
Since Rogers chose piano performance as her major, she will continue to study under Lee and Dr. Yuko Kato, assistant professor of piano. However, Dr. Paul Transue, assistant professor of collaborative piano at the university, was so impressed by Rogers' performance at Southern's 2012 summer piano camp that he encouraged her to enroll at SIU-C.
"Madeline really impressed me and my colleagues at the SIU piano camp last summer," said Transue. "Her focus, musicality, technique, and dedication were extremely impressive. It was clear to all of us that we had a unique opportunity to assist in Madeline's artistic, musical, and personal maturation."
Transue went on to say that Madeline was "indeed mature beyond her years in many ways, and her performance of works by Chopin and Beethoven show that. Her pleasant and engaging personality makes her an ideal student, for she is clearly a hard worker and loves what she is doing — and always with a delightful twinkle in her eye!"
Transue believes that Rogers has the potential to advance far in the musical world following her studies at SIU-C. "She was a perfect candidate for the Steven Barwick Memorial Scholarship that is providing her with full-tuition. She has quickly fit in with the other piano students, and it is very satisfying and enjoyable to watch her grow each and every day."
Although her first love is the piano, which she says gives her inspiration and an outlet to express her emotions and thoughts, Rogers also plays flute, harp, cello, and mandolin. And, according to her mother and Miyashiro, she commands a beautiful singing voice.
So what's in store for a person who will accomplish by age 18 what many will never accomplish in a lifetime? For starters, Rogers would like to continue arranging music and may even try her hand at conducting. Finally, she hopes to teach piano performance at a renowned conservatory someday, ending her career by giving back to others what she so richly acquired during her lifetime.
But for now, Rogers' primary goal is to become a concert pianist and travel the world, taking with her all the things from home that have made her the exceptional person she is. And yes, for those who know and love her, along for the ride will be a most beautiful heart.
###