SIC Shotgun Team Places Second at National Clay Target Championships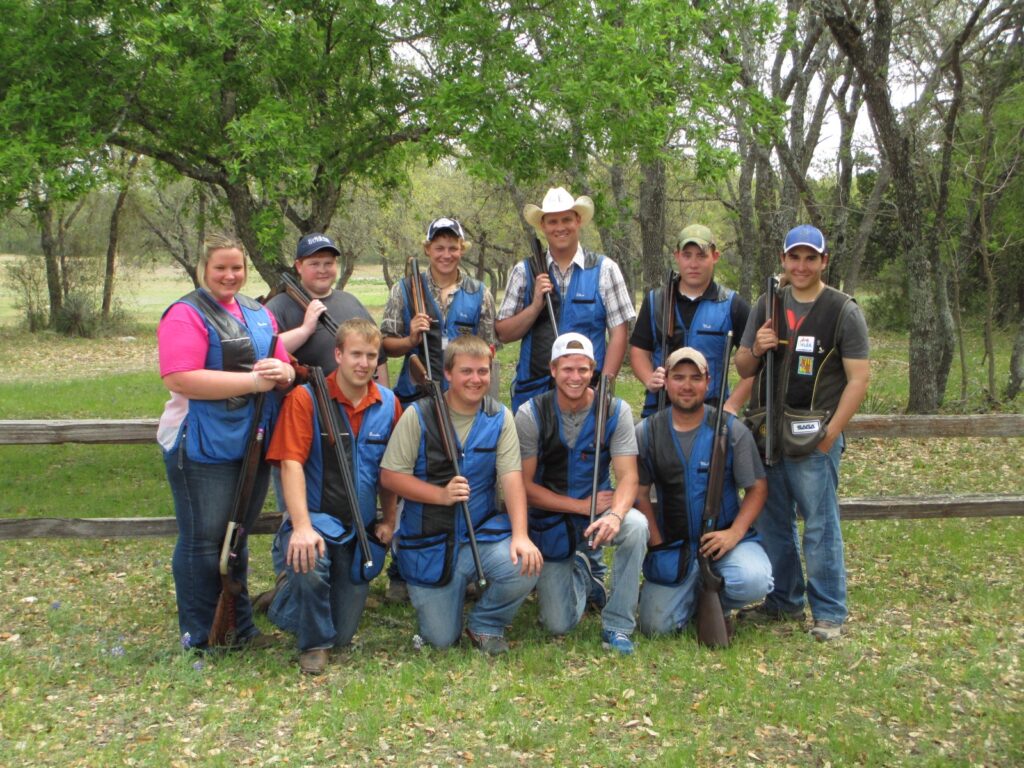 Bruce Hering, coach of Southeastern Illinois College's nationally ranked shotgun team, readily admits he is running out of room for all the trophies his teams have won through the years.
In March, Hering's team added yet another one to the collection – runner-up in Division II at the Association of College Unions International's (ACUI) 45th Collegiate Clay Target Championships held in San Antonio, Texas.
The team distanced itself from such schools as University of Missouri, University of Kentucky, University of Texas, University of Wyoming, Colorado State University, Kansas State University, University of Illinois, University of Wisconsin, Yale University, and Virginia Tech.
In all, some 600 students competed in the event, representing 65 colleges and universities. Southeastern was the only two-year, public community college in the mix.
"Even though we finished second, the level of shooting I witnessed by several of my students was truly amazing," said Hering. "It was the type of shooting you only find at the Grand American in Sparta, the mother of US shooting events."
Hering was referring to Matt Perkins of Westport, Ind. and Preston Crandell of Paris, Ill., who finished first and third, respectively, in American Trap Men, which featured 387 shooters from all divisions, including Division I.
Perkins shot a perfect score through five rounds of shoot-off competition, while Crandell was perfect through three, missing only one target to finish behind Joseph Recla of Bethel University. Crandell also finished in 19th place out of 435 competitors in the Combined American event, where scores were recorded from an individual's performance in both American Skeet and American Trap.
Hering, however, was the first to congratulate Division II champs Fort Hays State University in Kansas. "The students from Fort Hays were outstanding and gave us the level of competition we need to rank consistently among the best in the nation," said Hering.
All in all, Southeastern walked away with two individual national champions: Perkins and Brandon Koenig of Huffman, Texas.
Koenig won the Sporting Clays Men event, which featured 341 shooters, besting Division I shooter Matt Hughes of Lindenwood University and Print Zutavern of Fort Hays by one target. Koenig also won the "Long Bird Competition" by shattering a clay target thrown at 70 yards.
Koenig and Edgar Tufet from Aitona, Spain won third place and 10th place, respectively, in Combined Clay Target, which included the scores of 389 shooters in both Sporting Clays and Five Stand. Koenig finished the tournament in 12th place in High Over All (HOA) standings among 260 shooters.
Jessica Farthing of Pinckneyville, Ill. placed fifth out of 96 women in American Trap Ladies and finished sixth in HOA. She also placed sixth out of 72 in Five Stand Ladies and 10th out of 82 in American Skeet Ladies.
In team competition, Southeastern was named Division II national champion in both Sporting Clays and American Trap. The college finished second in Five Stand, third in American Skeet, fifth in International Skeet, and sixth in International Trap. It should be noted that SIC's score in American Trap was the highest among all divisions.
Others competing for Southeastern at the ACUI tournament included Cody Nielsen of Oak Hills, Calif.; Ethan Hastie of Elizabethtown, Ill.; Ben Wallace of St. Clair Shores, Mich.; Cory Stamper of Paris, Ky.; and Michael Falco of Colleyville, Texas.
###