SIC Diesel Tech Program Approved for Re-certification by NATEF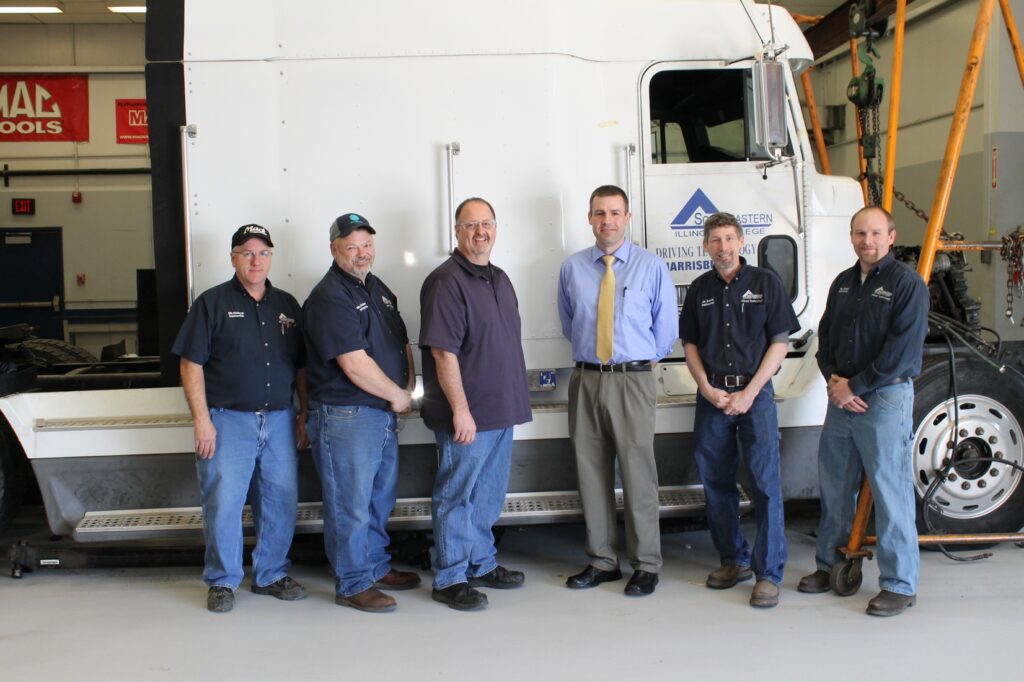 Southeastern Illinois College's diesel technology medium and heavy-duty truck program has been recommended for recertification by the National Automotive Technicians Education Foundation (NATEF).
Evaluators from NATEF met with SIC diesel instructors and administrators on April 5 for evaluation of instructor credentials, curriculum, facility, equipment, and safety.
Southeastern's diesel technology program is the only one of its kind in the state of Illinois offered at a community college that is certified by NATEF.
"We have a well-equipped shop, with up-to-date technology to keep our students at the top of their game," said Robbie Lindhorst, SIC diesel technology instructor. "We have great working relationships with area employers and that helps us to stay knowledgeable about what they are looking for in their employees. Many of our students become eligible for internships with some of those companies when they graduate."
Some area employers Lindhorst referred to are Cummins Engine Corp., Fabick CAT, John Deere, and Pepsi. All instructors are certified by Automotive Service Excellence (ASE) and the program at SIC is a member of the Association of Diesel Specialists.
"We were very impressed with the program here at SIC," said Ronnie Raines, evaluation team leader for NATEF and automotive instructor for Ranken Technical College in St. Louis. "The facility is neat and orderly with up-to-date equipment."
According to the US Bureau of Labor Statistics, diesel jobs are expected to grow 15 percent from 2010-2020 and the median pay is $40,850 per year. Students in SIC's diesel technology programs are trained for jobs as diesel mechanics, diesel technicians, service managers and parts managers.
For more information on the diesel programs at SIC, contact a recruiter at 618-252-5400, ext. 2245 or 2325.
###