SIC Celebrates Top Scholars at Honors Night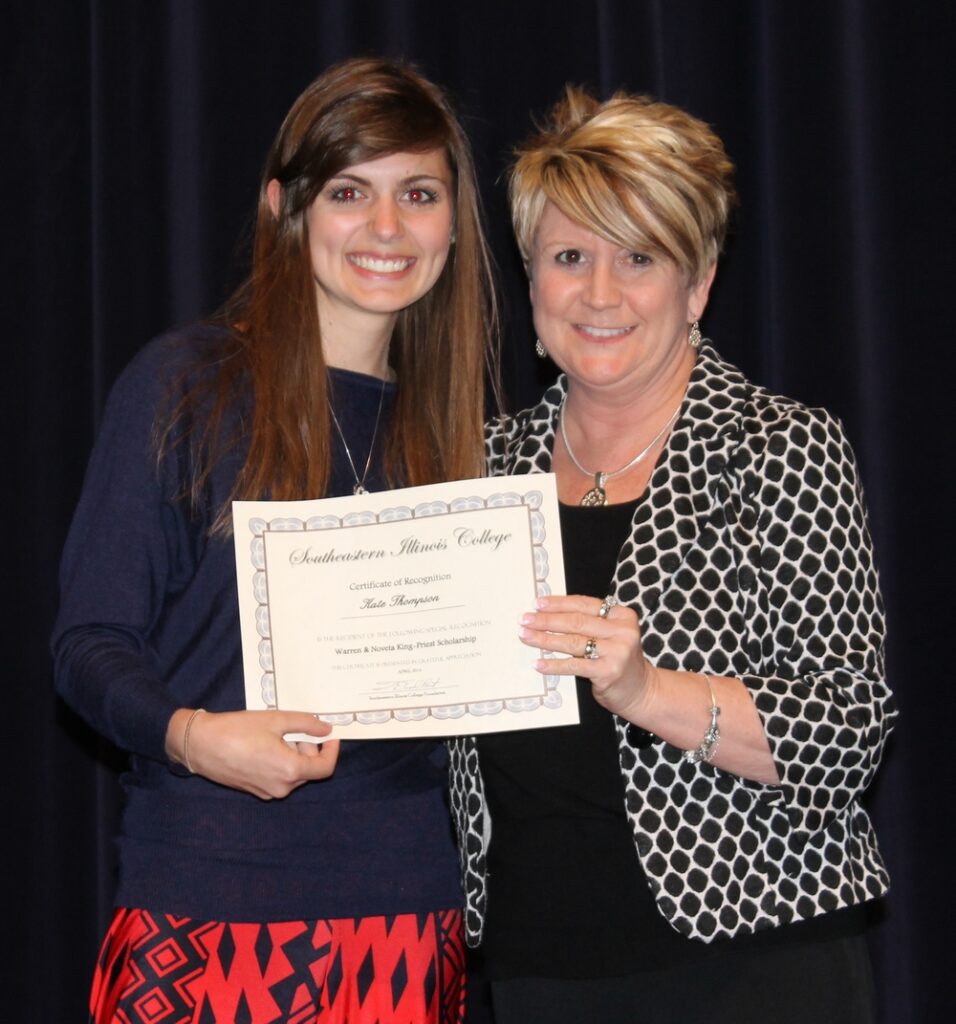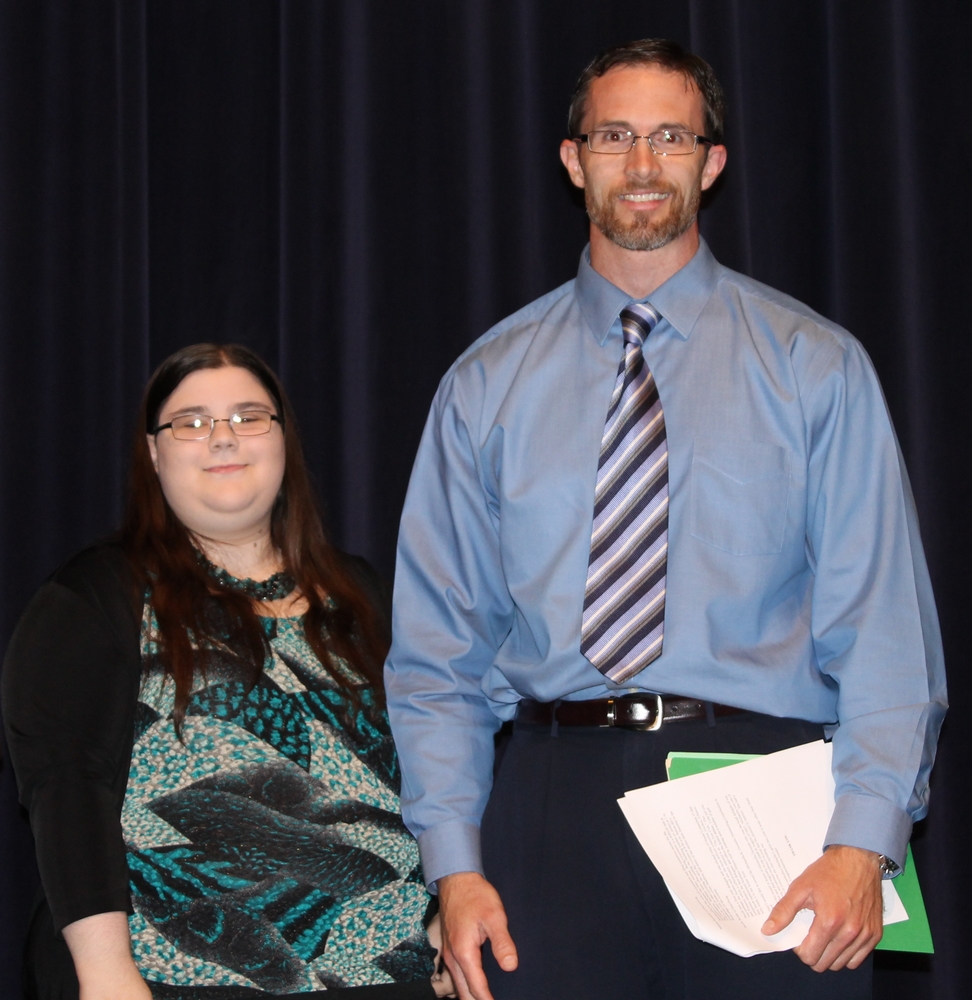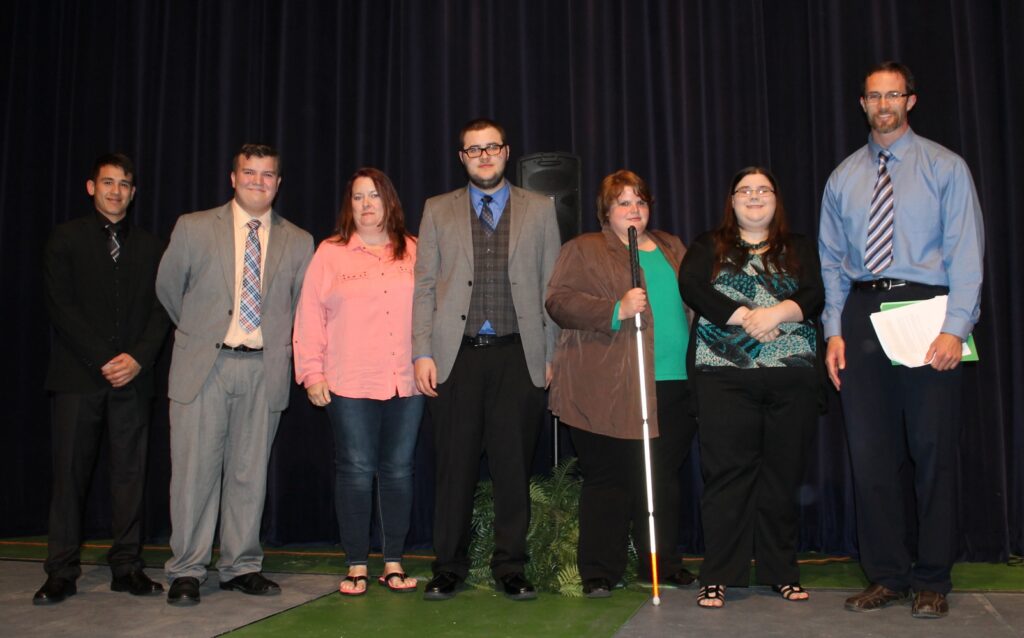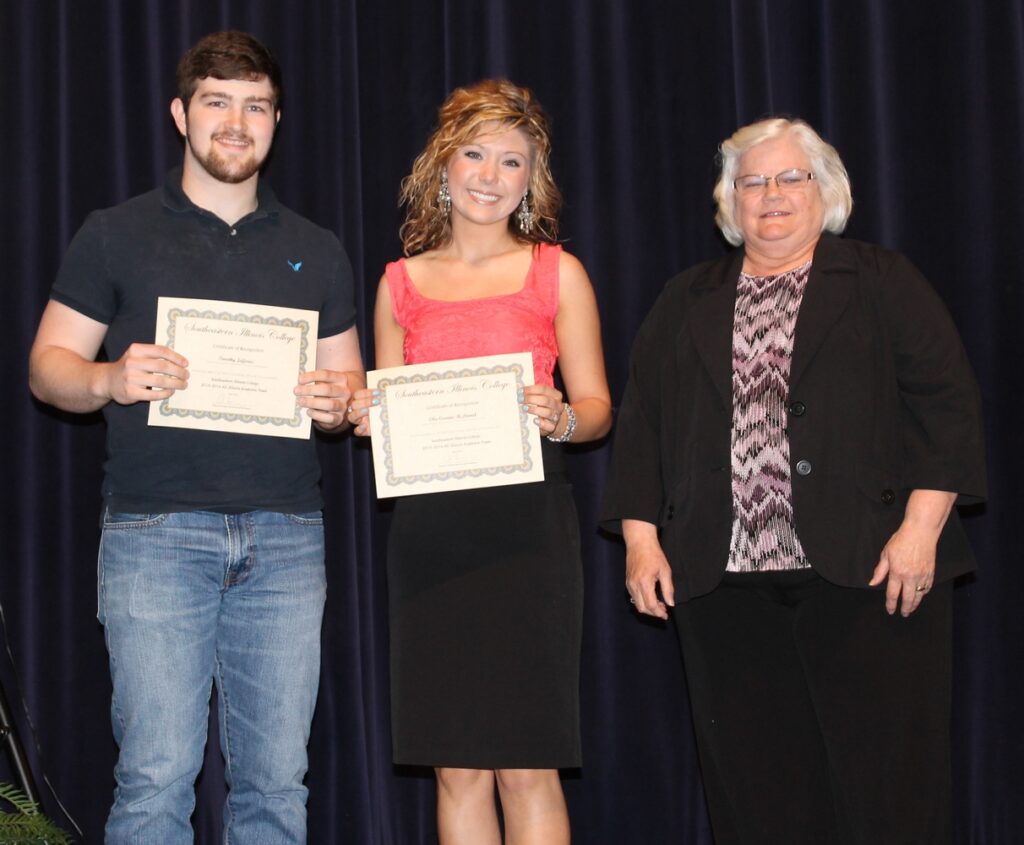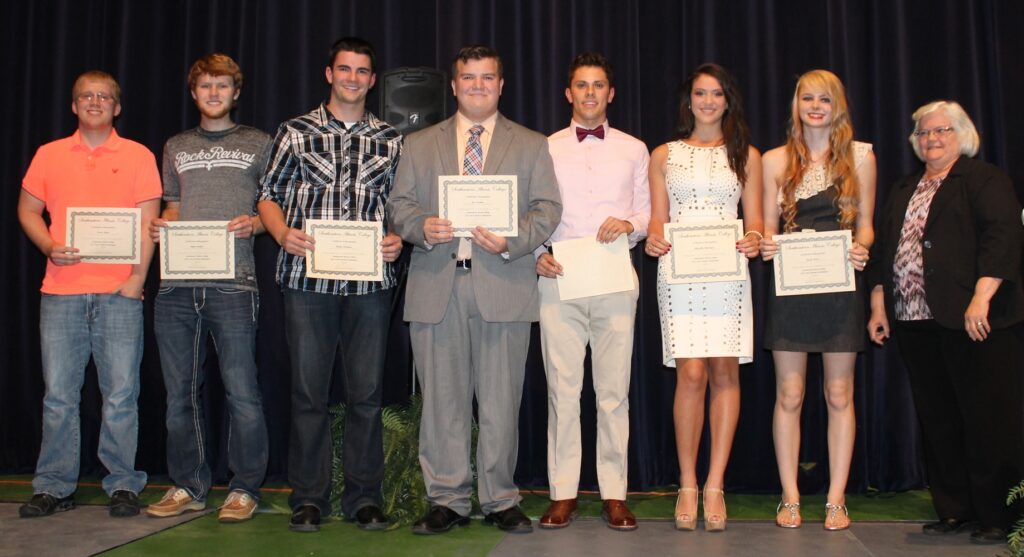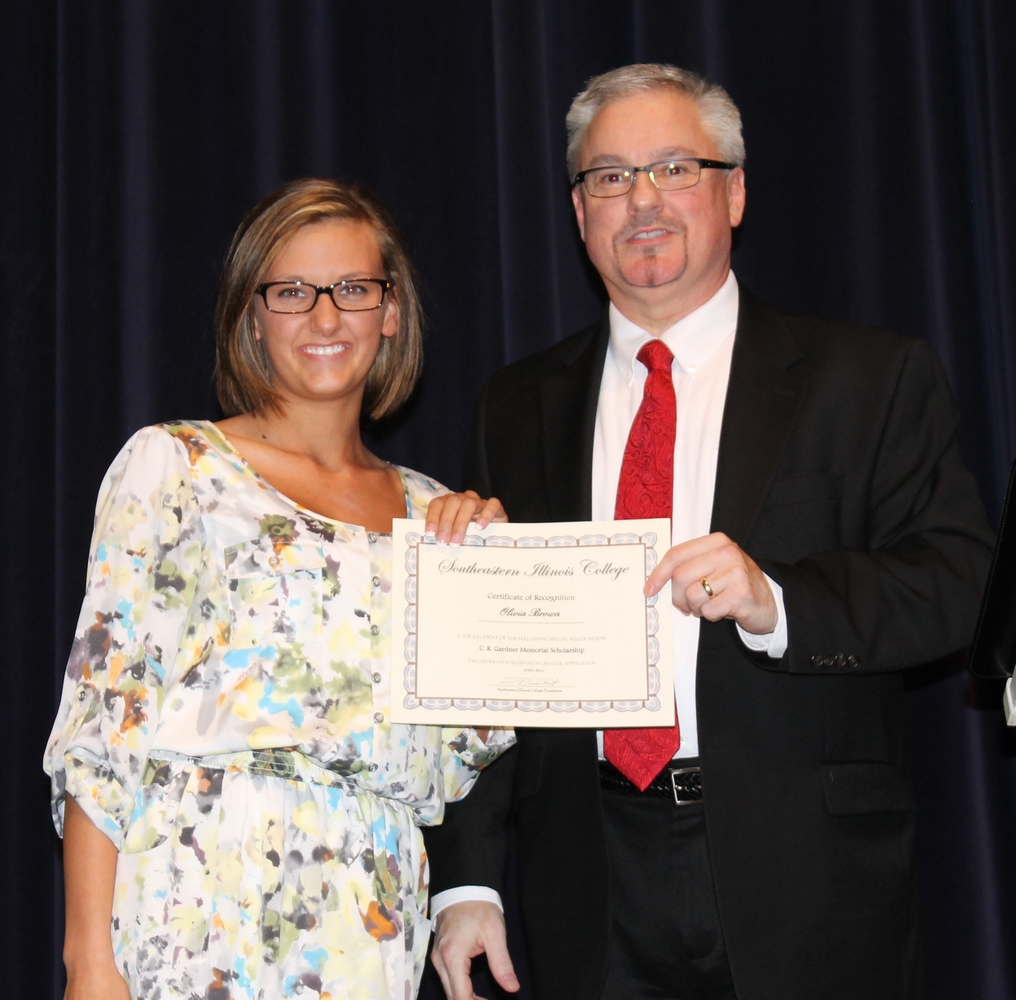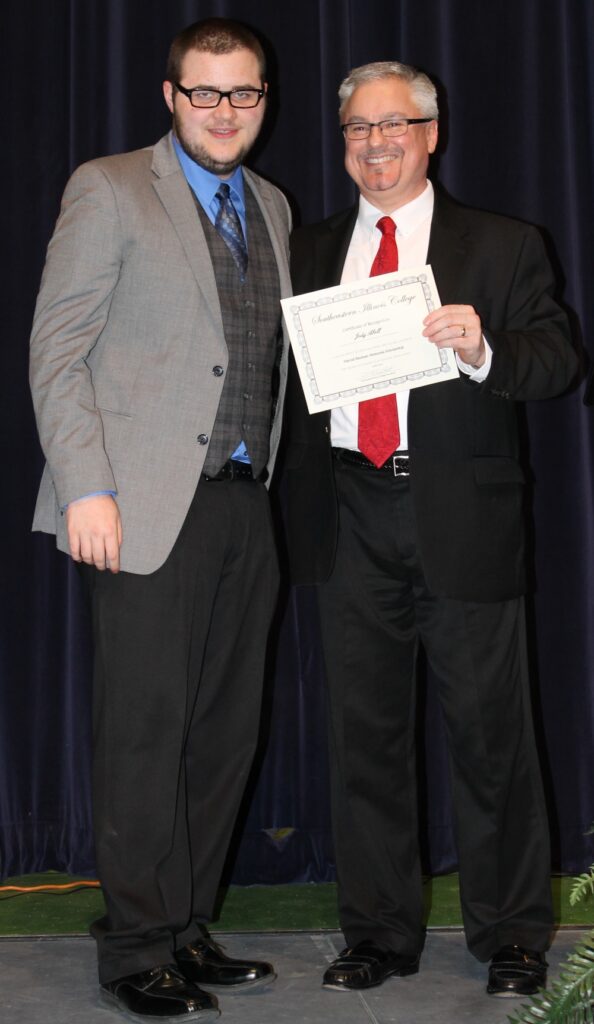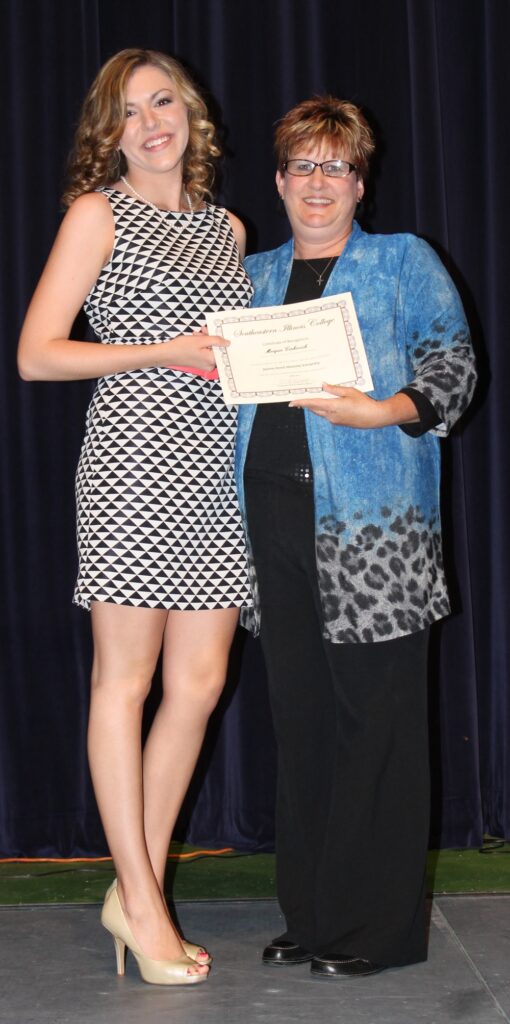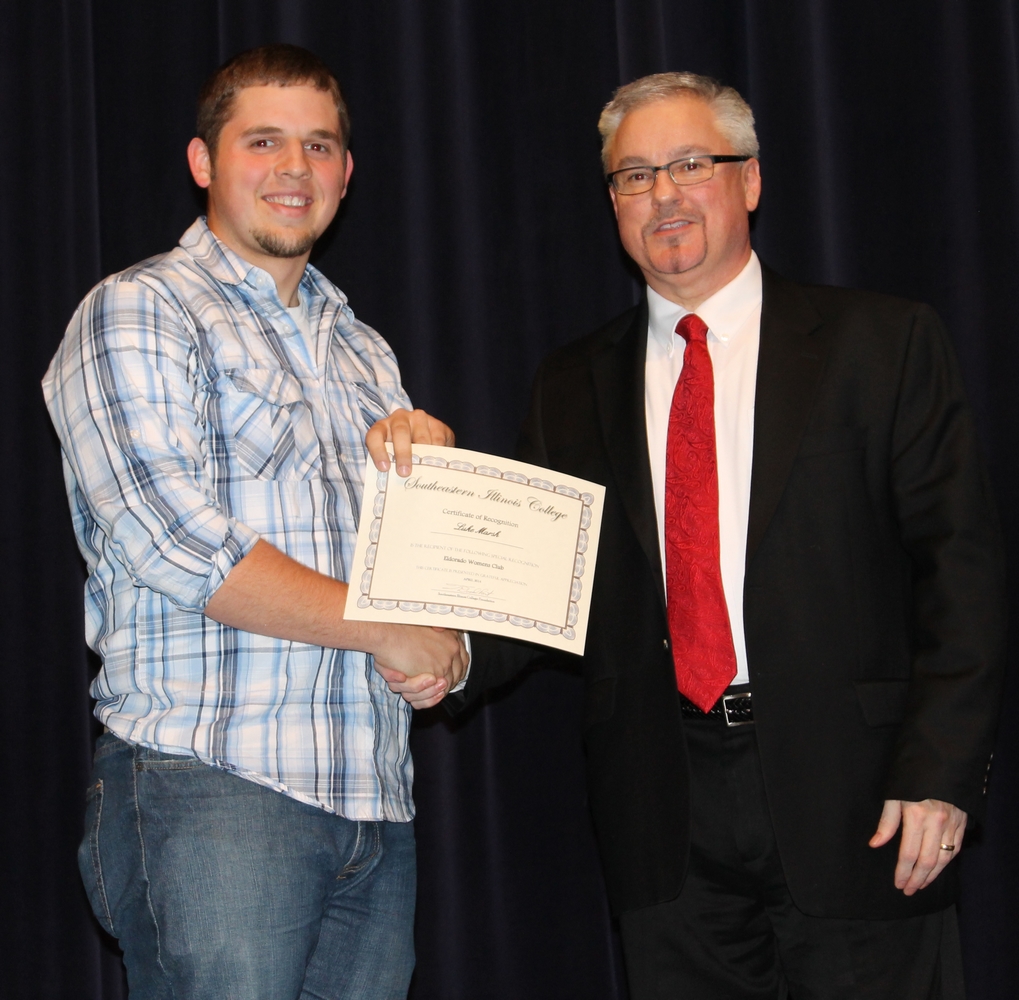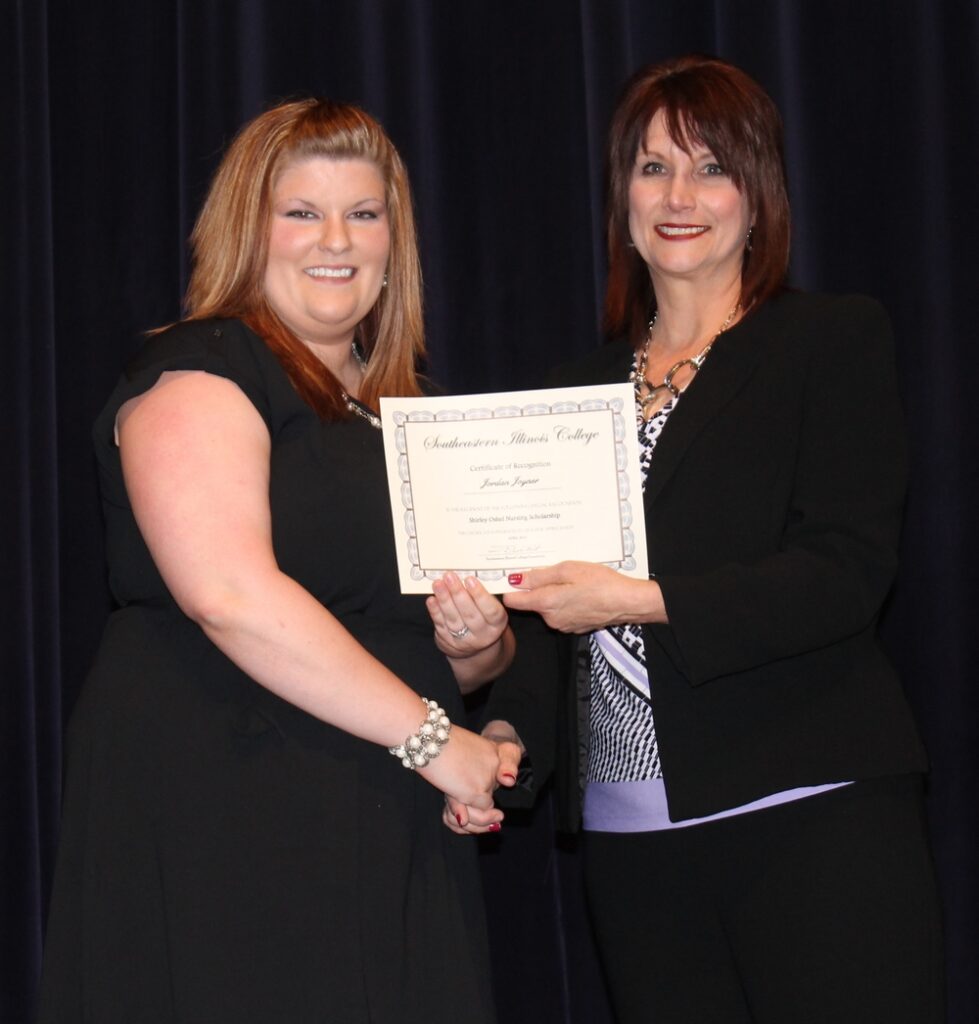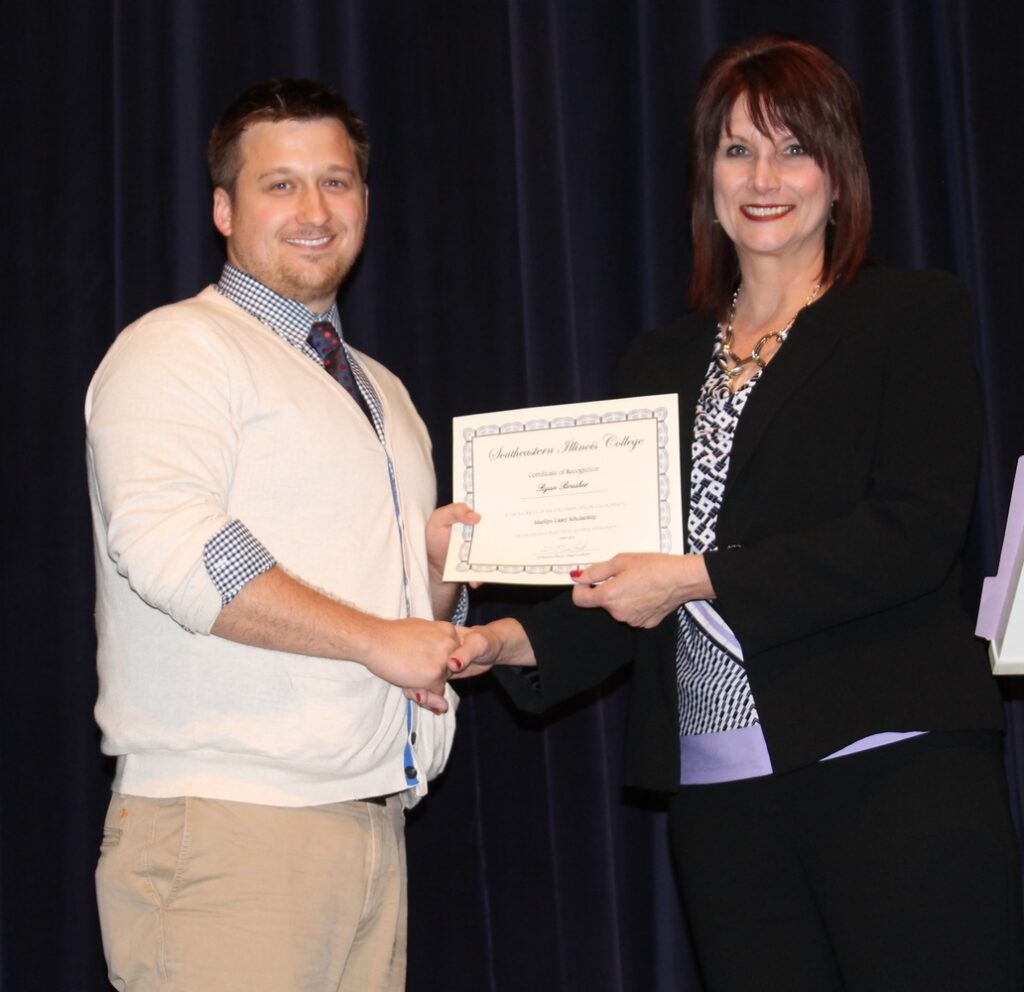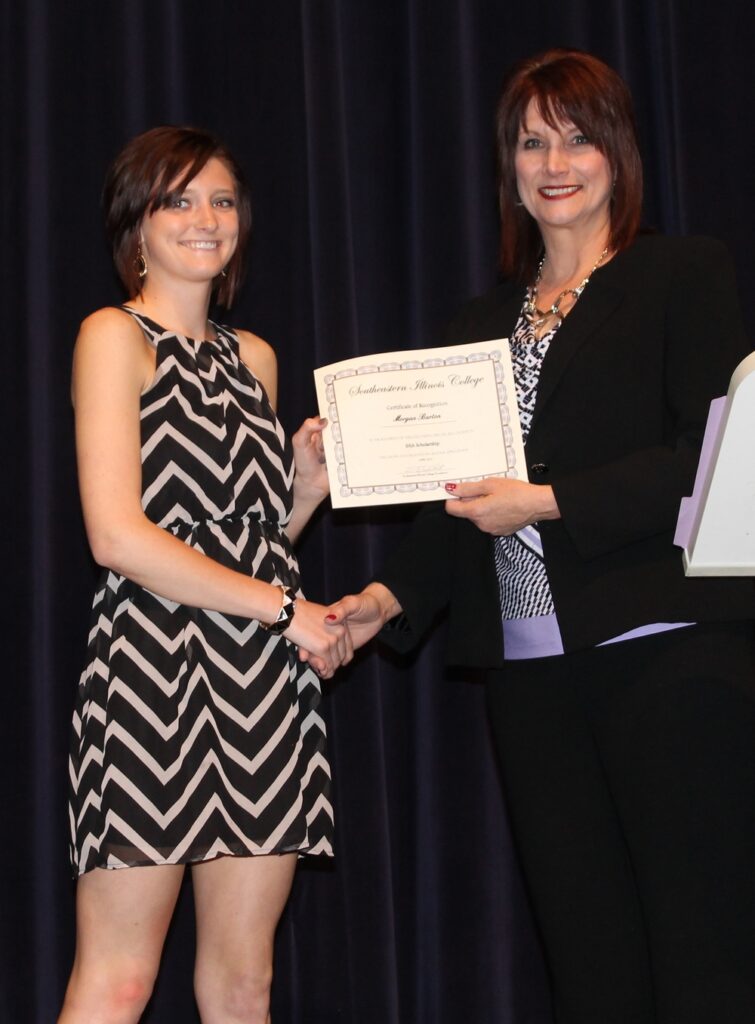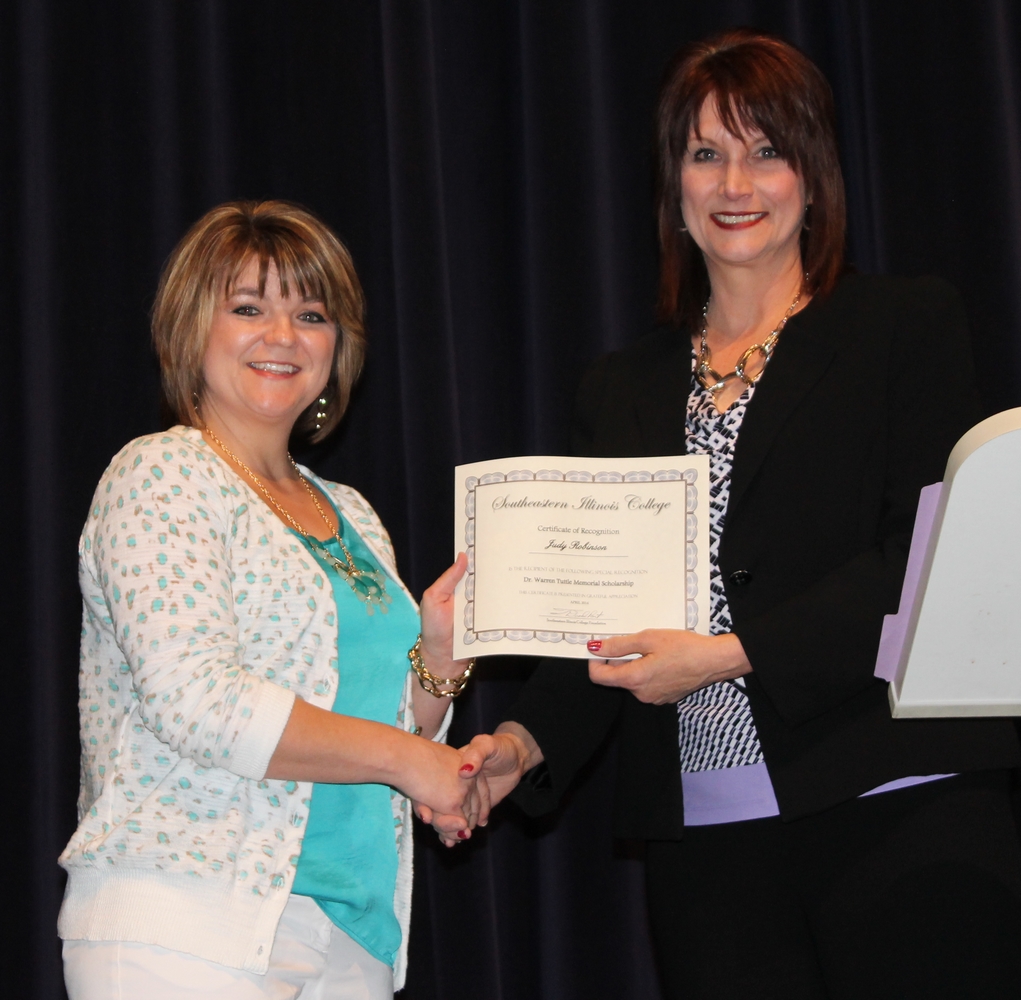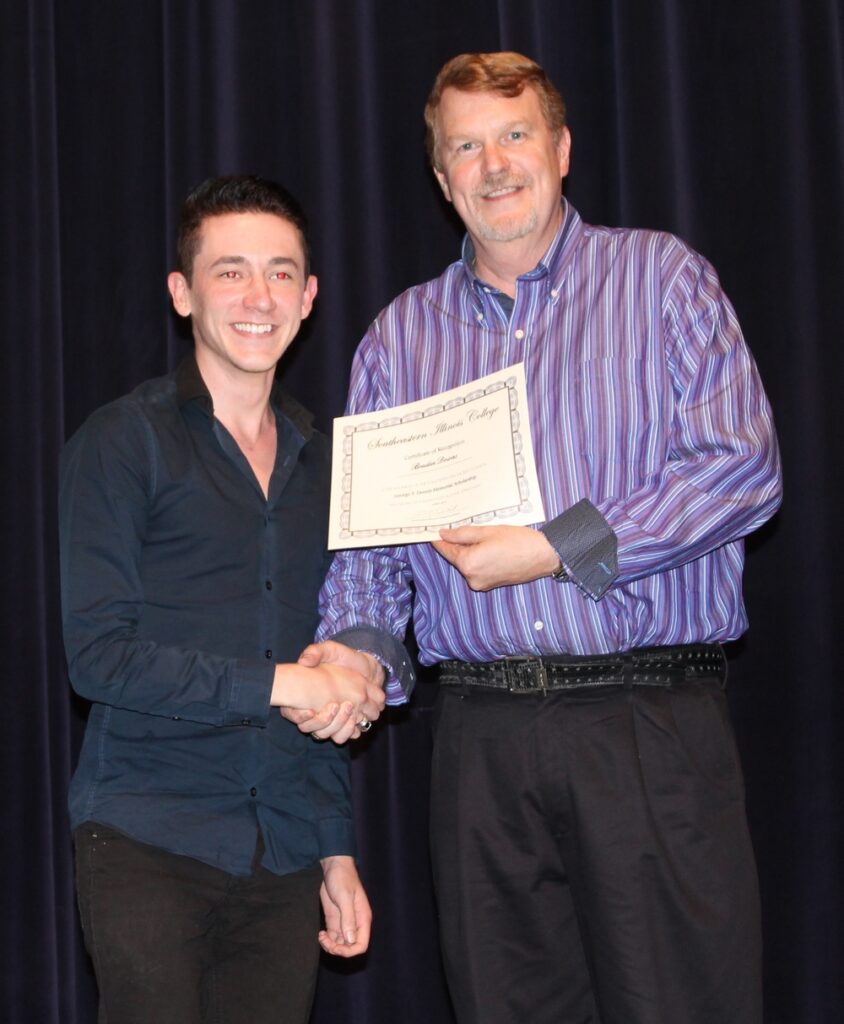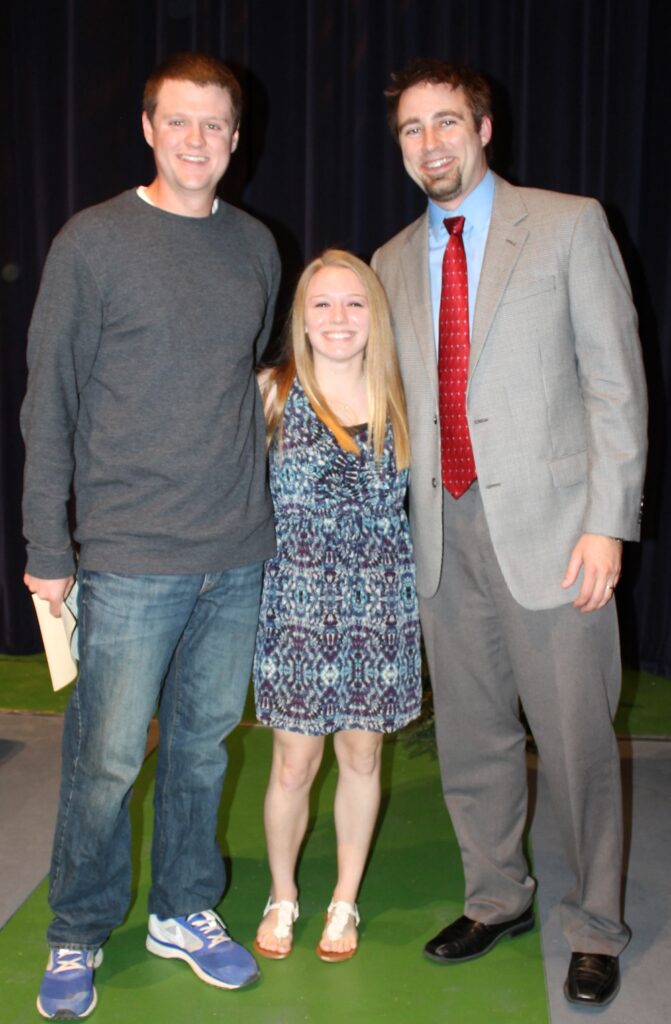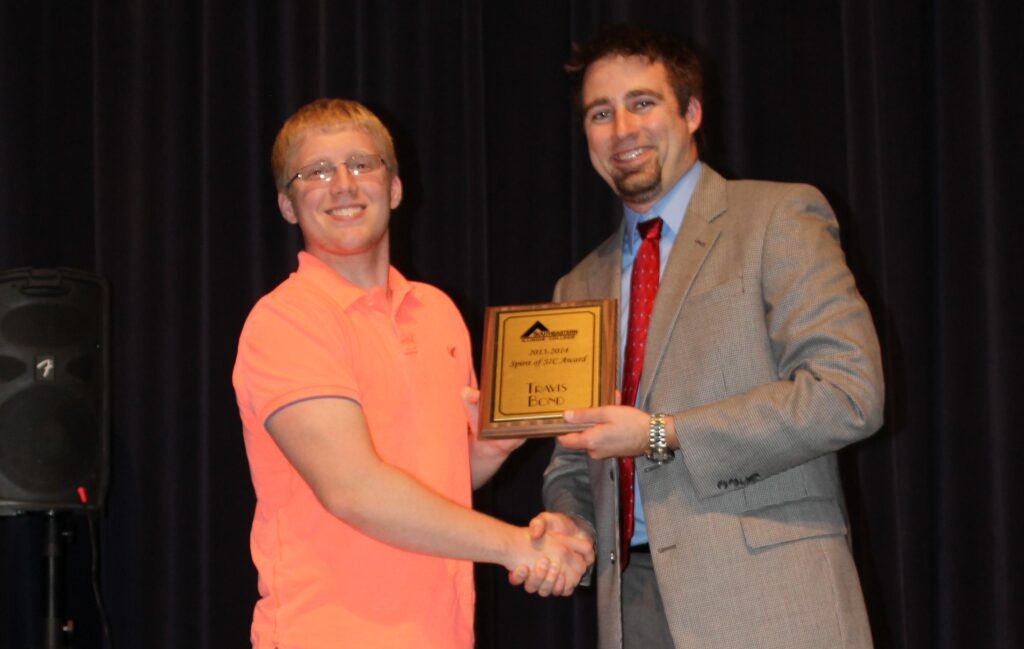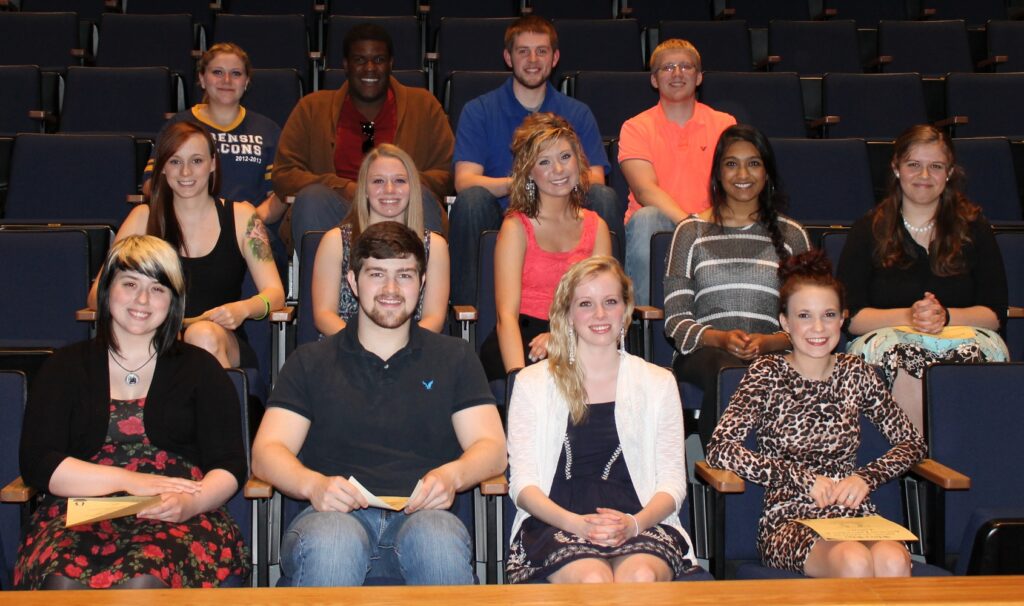 On Tuesday, April 29, Southeastern Illinois College held its annual Honors Night in the George T. Dennis Visual and Performing Arts Center. Hundreds of students, family and friends along with SIC faculty and staff converged to celebrate academic and extra-curricular achievements of the student body.
Not present to accept their awards were Tyler Pierson of Harrisburg, earning the Harry W. Abell Memorial Scholarship; Devona Morales of Carrier Mills, securing the Dorothy Helen Baldwin Harrisburg BPW Scholarship; Nicholas Madison of Harrisburg, earning the Wilma Hunter Scholarship; and Ryan Luce of Harrisburg, selected for the John B. Dotson Memorial Scholarship.
Students earning the distinction of Who's Who Among Students in American Universities and Colleges as outstanding campus leaders of the year.
Front row (l-r): Lesa Adams-Sneed of Carmi, Tim Jeffries of Harrisburg, Laura Hanrahan of Harrisburg, and Hayley Felty of Stonefort.
Middle row (l-r): Victoria Mandrell from Judsonia, Ark., Anna Best of Marmaduke Ark., Corrine McDaniel of Harrisburg, Puja Mehta of Harrisburg, and Makenzie Hungate of Harrisburg.
Back row (l-r): Nicole York of Omaha, Tre Ingram of Harrisburg, Lucas Weir of Eldorado, and Travis Bond of Galatia.
Not pictured: Alex Edwards of Eldorado; Kelsey Brown of Galatia; Jessica Dunn, Roberto Ferrera, Aaron Head, John Suh, Meredith Wolf, and McKayla Wren, all of Harrisburg; Lauryn Patton of Herod; Benjamin McGuire of Raleigh; and Nakaila Sheppard of Cincinnati, Ohio.
Students Graduating With Honors (45 credit hours, GPA 3.25 or greater) include:
BOILING SPRINGS, S. C. – Tonya Lowrey
BROUGHTON – Byron Suits
CARBONDALE – Terril Kaufmann
CARMI – Jason Cross, Chelsey Devoy, Patrick McKenzie, Pamela Vaughn, and Tabetha Wooten
CARRIER MILLS – Jordan Aud, Joshua Brandon, Kayla Crowder, and Kellie Headrick
CARTERVILLE – Madeline Collins
CAVE IN ROCK – Morgan Cinkovich
CROSSVILLE – Donna Botelho
DUQUOIN – Lee Keller
ELDORADO – Michael Bean, Benjamin Clore, Lisa Cox, Jarrett Edwards, Preston Garris, Korella Gore, Kaleb Irwin, Rayna Johnson, Andrea King, Arielle Parks, Jennifer Paro, Benjamin Partridge, Alyssa Payne, Sara Russell, Jaime Smith, Dakota Street, and Joseph Weir
ELIZABETHTOWN – Braden Cook
ENFIELD – Sarah Healy and Daniel Phillips
EQUALITY – Rebecca Farler, Sean Flanigan, and Nathan Smith
FAIRFIELD – Tanya Harvey
FT. WORTH, Texas – Bryan Quin
GALATIA – Travis Bond, Catherine Sanders, Skai Tso, and Patricia Wiseman
GOLCONDA – Timothy Broadway, Deidre Davis, Ashlyn Haner, and Audrey Harris
GRANTSBURG – Micaela Bray
HARRISBURG – Dustin Allen, Kyle Brasher, Racheal Cantrell, Stormee Chamberlain, Kendra DePriest, Roberto Ferrera, Shauna Gholson, Samuel Glenn, Lindsay Wasson, Robert Hamp, Laura Hanrahan, Justin Hicks, Ryan Holliday, Makenzie Hungate, Eric Jackson, Timothy Jeffries, Stacy Knight, Victoria Korschgen, Melody Long, Pamela Marcum, Jennifer McConnell, Elijah McCormick, Corrine McDaniel, Makenzie McDowell, Puja Mehta, Riaan Nel, Patrick O'Connor, Mary Parkinson, Sarah Schmitt, Kelsey, Stephens, John Suh, Arial Suits, James Turner, Zachary Webster, Amy Wells, Darcie Wiman, Dylan Winters, and McKayla Wren
JOHNSTON CITY – John Cummins
JUDSONIA, Ark. – Victoria Mandrell
JUNCTION – Tiffany Ownbey and Elaina Shoulders
LINCOLN – Coleen Moore
MARMADUKE, Ark. – Anna Best,
MCLEANSBORO – Kasi French and Joseph Hutchinson
MONTGOMERY, La. – Austin LeBaron
MORGANFIELD, Ky. – Ryan Thomas and Lanna Walters
NORRIS CITY – Morgan Barton, Emily Carter, Matthew Kearns, and Cara Wendt
OMAHA – Judy Robinson and Nicole York
OZARK – Andrew O'Neal and Jamii Pyle
RALEIGH – Benjamin McGuire
RIDGWAY – Cody Downen
ROSICLARE – Briana Lewis and Michelle Rose
SHAWNEETOWN – Sean Adams, John Patton, and Logan Vinyard
STONEFORT – Hayley Felty and Dylan Sellers
SULLIVAN – Jenny Corkill
WATSON – Barbara Jamison
###