$8,860 Awarded at SIC Brenner Memorial Bass Tourney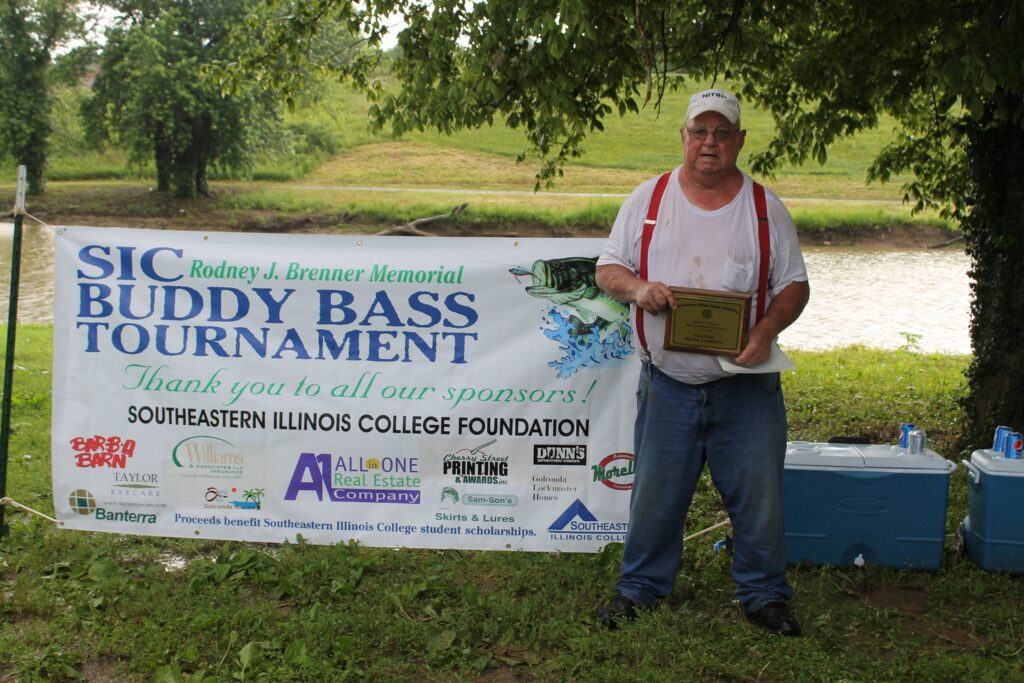 Eighty-five boats roared out of the Golconda Marina Sunday morning, June 1, at safe light as the 170 anglers headed for their favorite fishing hole in hopes of catching enough large-mouth bass to win the $3,250 first prize money in the Southeastern Illinois College Rodney J. Brenner Memorial Bass Tournament sponsored by the SIC Foundation.
This year's entries represent a 40% increase over last year's field of 61 boats and 122 participants, which delighted tournament co-director Roy Xanders. "We are very pleased by the large turnout of anglers in this year's tournament and hope it is the beginning of a trend that brings more and more participants to our area's local fishing tournaments," said Xanders.
Marty Sisk of Evansville, Ind. and Mark Dove of North Vernon, Ind. weighed in 15.01 pounds of fish for top prize of $3,250 and a back-to-back first place finish. Sisk and Dove won the 2013 tournament with a catch of 13.09 pounds. The team of Ron Fletcher of Thompsonville, Ill. and Shane Kendall of Galatia, Ill. took second place with their 14.19 pound catch. They took home $2,250 for their efforts.
With 13.31 pounds of fish, Boo Guill and Zack Guill of Royalton, Ill. earned third place and $1,250 in prize money. Pinckneyville's Walter Ridgeway and Marion Ridgeway took fourth place with 12.77 pounds of bass. Fourth place paid $750. Finally, fifth place prize money of $500 went to the team of Tony Nelson of Shawneetown, Ill. and Jason Hish of Junction, Ill. for their 11.85 pound catch.
In the big bass competition, Marion Ridgeway from Pinckneyville took home first place and a check for $516 for his 5.56 pound fish. Second place and $258 went to Marty Sisk of Evansville with a bass weighing in at 4.99 pounds, while Jim Gibbons of Harrisburg caught a 4.80 pound bass to claim third place and a check for $86.
Major sponsors of this year's tournament were All In One Real Estate Company (Elite Sponsor); Taylor Eye Care (Master Sponsor); Chris Haas (Master Sponsor); Cherry Street Printing & Awards (Angler Sponsor); Morello's Restaurant & Catering (Angler Sponsor); Williams & Associates Insurance; (Angler Sponsor); and Banterra Bank (Angler Sponsor). Other sponsors included Oasis on the Ohio Golconda Marina, US Angler's Choice, Golconda Lockmaster Homes, Dunn's Sporting Goods, Sweetwater Saloon, Marion Pepsi, and the Herald-Enterprise.
The SIC Brenner Memorial Bass Tournament was established by the Southeastern Illinois College Foundation in remembrance of Mr. Rodney J. Brenner to raise funds for scholarships to provide to incoming SIC students from the college district. Brenner was a charter member of the Southeastern Illinois College Board of Trustees and was very instrumental in pursuing Illinois Department of Natural Resources (IDNR) funding for the development of the Golconda Marina.
###
Written by Archie Blair, SIC Public Information