SIC's Outdoor Shooting Range is Open for Class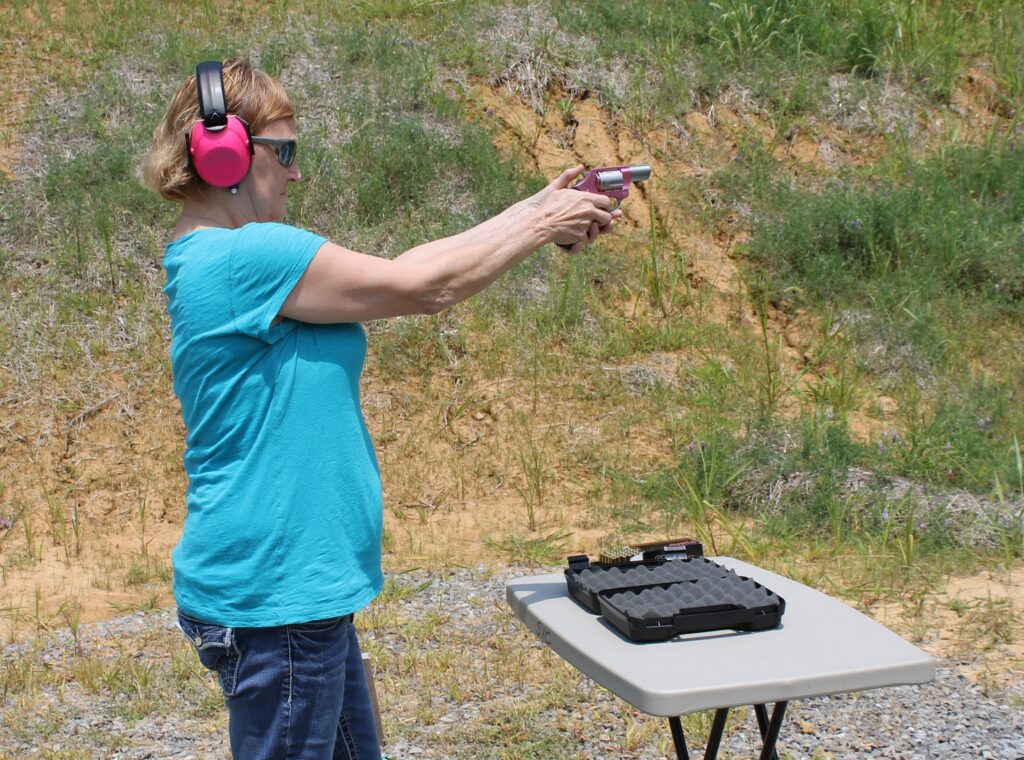 July 26 was somewhat of a family affair at the new Southeastern Illinois College outdoor shooting range. Several small groups of family and friends participated in the third class to be held on the new range. Ages and interests varied, but security was the general reason for taking the course.
James Moore, Jr., and his father, Jim Moore, both of Pope County, took the class and James Moore, Jr., said he had been waiting on the state to allow concealed carry.
"As a responsible citizen, I should be able to protect loved ones in the event that someone poses a violent threat to me or the people that count on me," said James Moore, Jr.
Cathy Wall of Harrisburg, along with her husband, Harrisburg firefighter, Don R. Wall, his father, Donald Wall of Marion, and her father Marshall McCullough of Thompsonville also decided to take the course together.
Donald Wall learned to handle guns in the service and knew what to expect, but he also discovered that he enjoyed learning more and that it's good to refresh your memory on lots of things pertaining to the handling of firearms.
Of course it does help to have previous experience with a gun prior to the class, like Donald Wall, but instructor Kerry Jones says it's not necessary, as students will have handling and shooting practice during the class. Additionally, a student doesn't have to have a handgun to take the course. In fact, according to Jones, some find it helpful to take the class first to learn about the differences between handguns, in order to make an informed decision about what gun is best for that person and their needs.
Jones, an Illinois Department of Natural Resources master instructor for Saline and Gallatin counties, and his partner, Dwight Howton, IDNR master instructor for Hardin and Gallatin counties are both certified as National Rifle Association (NRA) handgun instructors and range safety officers. They have taught for IDNR for more than 30 years, beginning with hunter safety training, which they continue to instruct in their respective counties. The duo have been teaching Utah Concealed Carry Classes for SIC for the past two years, have taught the Illinois course since its inception, and may soon be teaching the Florida concealed carry course, as well.
The new shooting range at SIC was designed by Bacon Farmer Workman engineers to NRA specifications for safety and constructed by Lakeland Corporation. The range is 60 yards deep and 20 yards wide. The back berm is 20 feet tall and the sides are eight feet tall. Only those supervised by a range safety officer are permitted to use the outdoor facility, and a fence was erected as an additional safety precaution.
Although it is set up as a five-station shooting range, Howton estimates that about 10 targets can be placed on the range at one time if needed. The range is housed past the fire science classroom and burn tunnel near the archery and shotgun team ranges on the east end of the college grounds facing an empty area several miles deep.
According to Ed Fitzgerald, SIC Environmental Services Director, a second phase of the shooting range project builds a covered shooting line that incorporates secondary safety zones that allow the shooting line to move back. Currently, the furthest shooting distance allowable is 10 yards, and phase two will bump that number to 50 yards. The college hopes to have the second phase completed by next summer.
For the ultimate test to earn their concealed carry cards, students must score 21 of 30 total shots within the designated target area or 70 percent accuracy to pass the course. The first 10 shots are fired at 5 yards, followed by 10 shots at 7 and 10 yards. But inexperienced students need not worry, as practice is offered on the range prior to the test. In addition, a shooting simulation machine is set up to practice indoors during the class. Not only does the simulation present an opportunity to practice your skills with a laser gun that has a real gun feel to it, but it also leads students through situational scenarios where others are at risk of serious harm. The students get a feel for reacting in a threatening situation on a large screen while the class watches.
"The laser shot simulator is unique to our program here at SIC, and the students really like that part of the course," said Jones. "So far we've never had a student fail one of these courses, and I believe part of that is due to the additional practice we offer with the simulator."
The laser shot simulator is also used for training in the college's criminal justice program.
Those applying for the Illinois Concealed Carry License must put in a total of 16 hours of training. Some of those hours can be earned in military training, hunter safety courses and other concealed carry courses, such as the Utah Concealed Carry course, which is good for 36 states.
The cost of the eight-hour class is $99 and the 16-hour course is $197. This cost does not cover fingerprinting, application or other additional fees. The total cost runs just over $400 for in-district residents. Senior citizens (62 or older) receive a tuition discount if they are in the Southeastern district. Students must be at least 21 years of age to take the course. A schedule of 8-hour and 16-hour Illinois Concealed Carry classes offered by SIC and their associated costs are listed at www.sic.edu/ilcc. The next Illinois class begins Aug.18. The class can accept a maximum of 20 students per session, and there is a class scheduled every month.
The next Utah class, which covers every state that touches Illinois, will be held Aug. 21, 6-10 p.m. at SIC, and these classes are currently offered every other month. For a list a Utah concealed carry classes to be held this spring, visit www.sic.edu/utahcc.
For additional information, call Donna Hearn at 618-252-5400 x 3213. To register for a class, call the Enrollment Services office at 618-252-5400, ext. 2443 or 2441.
A short renewal class at reduced cost is needed for recertification every five years for both Illinois and Utah.
###