New Faces Bring Fresh Ideas to SIC's Humanities Department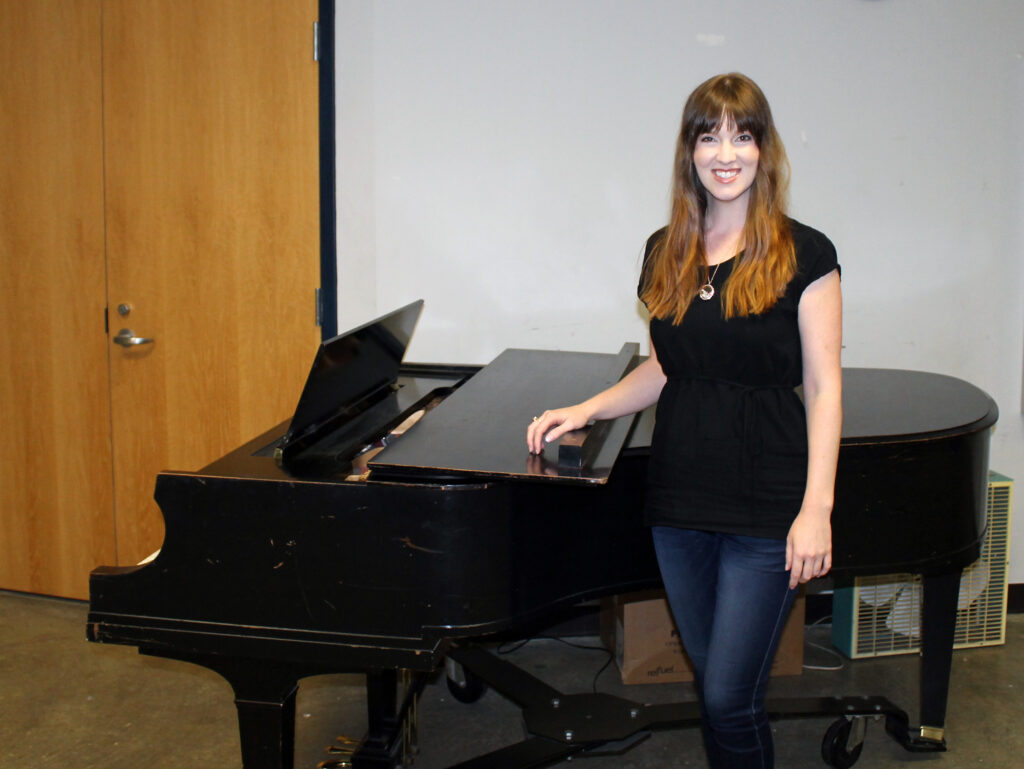 The humanities department at Southeastern Illinois College has a couple of new faces this year. Sara DeNeal of Harrisburg joins the department as an art instructor and Tiffany Kesler of Marion joins as a music instructor.
DeNeal joins SIC with a Bachelor of Science in Art Education and a Master of Arts from Rockford University. She comes with a background of teaching art in elementary and high school settings in both Mt. Vernon and Harrisburg.
DeNeal also brings other valuable skills to SIC. She helped coach the Harrisburg High School Speech Team for seven years, was active in the theater program in Harrisburg, helping co-direct shows and with set design and sponsored several different clubs including art, book and history clubs.
Kesler comes to SIC with a Bachelor of Arts in Music Theater from Southern Illinois University and a Master of Music in Voice Performance from Chicago College of Performing Arts, a music conservatory at Roosevelt University in Chicago. Kesler not only has two years of experience teaching similar courses, but she also gives lessons in her own private voice studio.
Kesler's experience and skills do not end there. She has performed in musicals, professional summer shows and operas, and has a background in dance. Kesler has choreographed department shows and summer music festivals for Southern Illinois University.
DeNeal and Kesler both have ideas for the humanities department at SIC. They would both like to see student involvement increase and better enrollment.
Specifically, DeNeal would like to see more of an art presence in local high schools and further community involvement.
"I would like to see quality community gallery shows resurrected," said DeNeal. "This can be done through featuring local high school artists and other artists in the community in our art gallery. I would like to work with many different groups, ranging from young artists to art majors to senior artists. This would be not only a great resource for enrollment, but it would let others in the community have their art be shown. "
Currently, Kesler is also community involvement minded and is working to develop a variety of instrumental lessons to be available at SIC, while still increasing numbers in piano and voice lessons.
"I want to expand our instrumental department by bringing in adjunct faculty who can teach an array of instruments, increasing enrollment numbers and developing an SIC community band," said Kesler.
Kesler is looking forward to the student recital this year, a concert where all applied lesson students perform the pieces that they have worked on during the year. She is also looking forward to combining SIC's student choir with the SIC Community Choir for a performance of "Music's Golden Era" in the spring of 2015.
"These are both great opportunities for students to be exposed to performing on stage," said Kesler.
DeNeal and Kesler are both excited to begin their journeys at SIC.
"SIC is full of friendly, supportive people. Everyone is very understanding and so willing to help," said DeNeal. "I am looking forward to growing as an instructor and learning from my colleagues and my students."
Kesler echoed that supportive statement, "SIC has a great family atmosphere. Everyone works so well together and makes you feel like you are a part of the team. The employees here genuinely want to help each other out and will go at length to make sure needs are met."
For more information on SIC's Art program, contact Sara DeNeal at 618-252-5400 ext. 2232, or sara.deneal@sic.edu. For further information on SIC's Music program, contact Tiffany Kesler at 618-252-5400 ext. 2235, or tiffany.kesler@sic.edu.
###