SIC Archery Falcons Collect Three More National Titles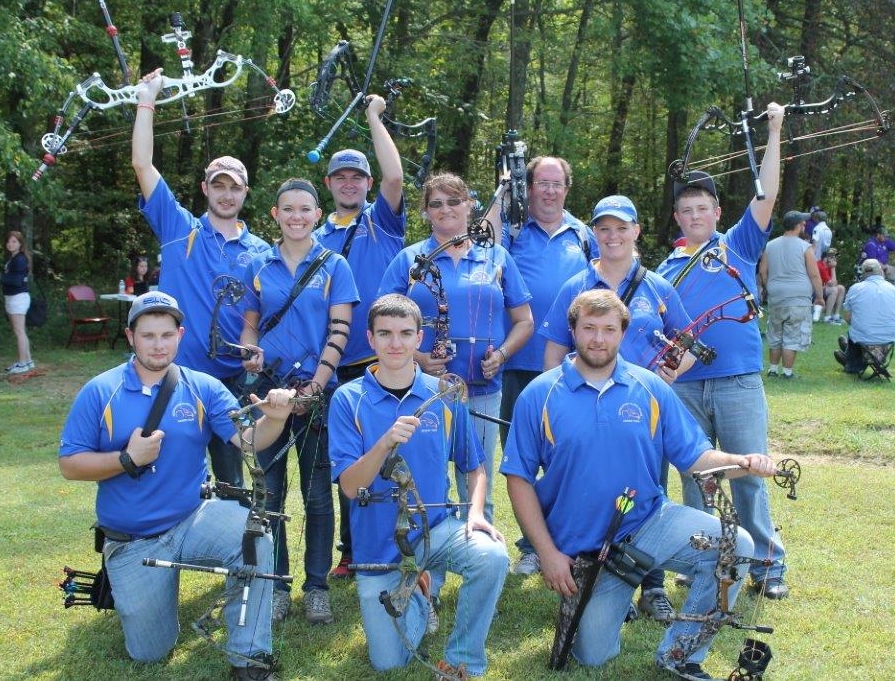 —Tracy Hatton of Eldorado finishes as runner-up at USCAA national tournament—
When many in our area were preparing for the opening weekend of the 2014 bow hunting season in Southern Illinois, members of the archery team at Southeastern Illinois College were in route to the University of Missouri at Columbia to compete on the biggest stage in collegiate archery — the US Collegiate Archery Association's (USCAA) US Intercollegiate Archery Championships.
However, their goal was not to harvest record class whitetails; it was to win national championships. After a disappointing string of second place finishes at the US Regional Intercollegiate Archery Championships in London, Kentucky in September, Southeastern's Archery Falcons came up huge the weekend of October 4-5 to add three national titles to their existing five for a total of eight national championships in only three years.
Shooting coach Roger Snodgrass was elated. "I don't know how we do it year after year. All the hard work and training just seem to come together in October. I'm so very proud of these young men and women."
Coach Darin DeNeal agrees. "Our coaching staff can do only so much. It's the students' desire to persevere through stinging losses and periods of failure that makes them champions. That's simply the bottom line."
Clayton Hall of Grayville and Tracy Hatton of Eldorado were Southeastern's top bow hunter division shooters after day one of competition. Their scores placed them in the Mixed Team championship against 11 other colleges and universities, a championship that SIC won in 2013.
Hall and Hatton advanced to the second round of the championship by besting Oklahoma State University. The duo then took on Michigan State University, beating them to move into the gold medal round against University of Wisconsin. When the dust settled, Southeastern came out victorious, claiming the school's first national title of 2014 and back-to-back team victory.
"Clayton and Tracy were simply phenomenal," exclaimed Snodgrass. "As you can imagine, the pressure to make it to the championship round against varsity teams from Division I giants the likes of Oklahoma and MSU was immense. I can't say enough about their stellar performance. It was life-changing to say the least."
What happened next was quite extraordinary and demonstrated the resilience, tenacity, and pride SIC's shooters took into MIZZOU. Two weeks prior to nationals, Southeastern's women's bow hunter team and its men's compound team finished second to the University of the Cumberlands at the US Regional Intercollegiate Archery Championships.
As predicted, Southeastern's women and men found themselves at nationals facing their nemesis, Cumberlands, in the gold medal rounds of their respective divisions.
The bow hunter team of Kira McCalip and Kimberly McCalip of Rantoul and Tracy Hatton of Eldorado turned the tables on Cumberlands in a dramatic showdown between the nation's two powerhouse women's archery teams, winning SIC its second national title and regaining the crown Southeastern lost to Midway College in 2013.
Minutes later, in the gold medal round of the men's compound division, SIC's Tyler Butts of St. Peter, Cody Nelson of Carmi, and Casey Poe of Arthur were into their second overtime against a seasoned and powerful Cumberlands squad. Southeastern's men's compound team entered the tournament as the reigning champions.
After shooting identical team scores in regulation and the first overtime, the men's compound division national championship, considered by many to be the crown jewel of collegiate archery, came down to the best arrow shot after a second overtime tie of 28 to 28. To the delight of his teammates and coaches, Poe's score of 12 topped all other shooters, bringing SIC its third national title and second back-to-back title.
In addition to the three national championships, SIC's men's bow hunter team of Clayton Hall, Brennan Street of Harrisburg, and Austin Carey of Herrin placed third in the nation. Four SIC archers were named All-American (top 10 in the nation) for 2014: Tracy Hatton, Kira McCalip, Kimberly McCalip, and Casey Poe.
Tracy Hatton missed a tie for first place and a chance for an individual national championship in women's bow hunter by only two points, claiming the nation's runner-up spot.
All-American compound shooter Tyler Butts, one of only two archers returning from the 2013 national championship team, became the college's first back-to-back national champion.
Scores from the college's high school guest shooters were impressive as well. Bradford Sauls from Norris City, had he been a college student, would have tied for fifth in the nation in the men's bow hunter division, giving him All-American honors. Kasey Herrin from Marion, Kentucky would have tied for 15th place in women's bow hunter, while Dalton Conn from Hardin County would have tied for 15th place in men's bow hunter.
"These championships bring the best collegiate 3D archers in the country together to compete for national honors," expressed SIC archery coach Archie Blair. "To win three more championships and add four All-Americans to the college's eight from last year are testaments to a team concept shared among our students, parents, faculty, staff, administration, board, and local communities. It takes each group doing its part to make our archery program at SIC a program of champions."
###