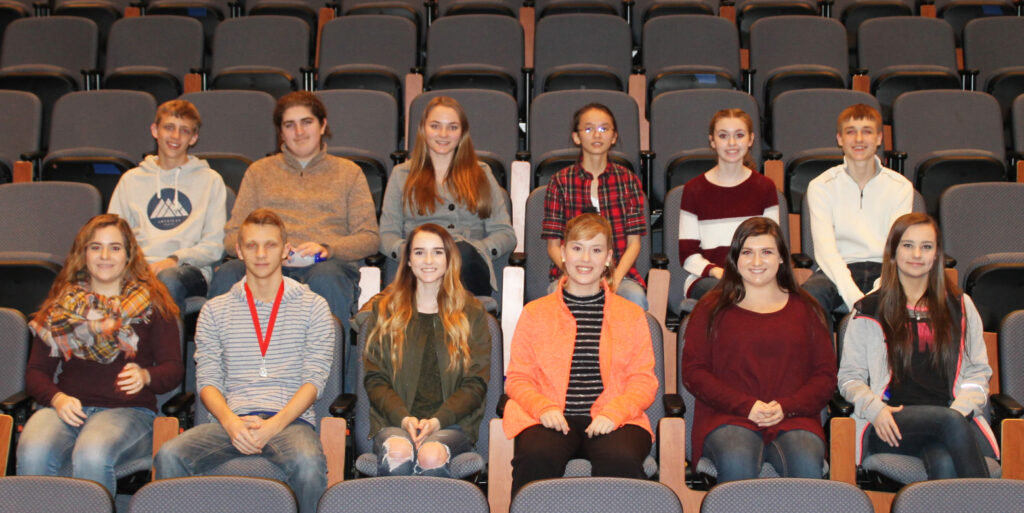 Over 140 high school students from the area met on the campus of Southeastern Illinois College Thursday, Feb. 5, to take a series of regional exams as part of the Worldwide Youth in Science and Engineering (WYSE) academic competition.
Exams administered during the three levels of WYSE competition are designed to test students' knowledge of biology, chemistry, computer science, engineering graphics, English, math, and physics.
Jason Fitzgerald, chair of the Math and Science Division at the college, along with Dr. Mila Maring-Sims, anatomy and physiology instructor at SIC and regional WYSE director, hosted the event.
"The WYSE completion is such an important event for the area high school students because it allows them to broaden their knowledge base in math and science areas," said Fitzgerald. "This event also provides them with a means for socializing with like-minded individuals from surrounding schools and introduces them to some of the excellent math and science faculty that we have at SIC."
Fitzgerald noted that many of the Math & Science Club students who volunteered their time to help with the event are former WYSE participants and they look forward to the time when they can again be part of the WYSE competition by proctoring and grading exams, handing out awards, and helping out in any way.
"It seems like just yesterday I was taking the biology and English exams myself", exclaimed SIC sophomore and biology major, Meredith Wolf of Harrisburg. "Those of us in SIC's Math and Science Club want to see those high school students do so well on all of the subject exams and experience success like we did. It was great to partake in this 'academic Olympics' of sorts, to see some familiar faces, and hopefully those students will join us at Southeastern in the future!"
Regional winners, both in team and individual competition, qualify for sectional exams, which will be held March 11 at Southern Illinois University Carbondale (SIUC). Illinois state finals are scheduled for April 13-16 at the Illini Union, University of Illinois Urbana campus in Champaign. The 300 division (or small school division) will compete on the thirteenth and the 700 division will compete on the fourteenth.
Team and individual results are listed below. Teams marked with an asterisk move on to the sectional competition at SIUC, and individuals marked with an asterisk, who are not members of an advancing team, are allowed to take the sectional exams as individual competitors.
Small School (300 Division) Team Winners:
*Gallatin County High School–First Place
*NCOE High School – Second Place
Galatia High School – Third Place
Larger School (700 Division) Team Winners:
*Carmi-White County High School – First Place
*Harrisburg High School – Second Place
Eldorado High School – Third Place
Small School Division Individual Winners:
Biology
Gallatin County High School – *Candace Lindsay – First
Gallatin County High School – *Hannah Logsdon – Second
Carrier Mills-Stonefort High School – Alex Smith – Third
Chemistry
Gallatin County High School – *Dustin Oldham – First
Gallatin County High School – *Dylan Boggs – Second
Gallatin County High School – *Jacob Watson – Second
Carrier Mills-Stonefort High School – Nick Cofield- Third
Computer Science
Norris City-Omaha-Enfield High School – *Stephanie Johns – First
Galatia High School – *Dylan Williams – Second
Hardin County High School – Dallas B Fricker – Third
Engineering Graphics
Gallatin County High School – *Dustin Oldham – First
Gallatin County High School – *Nathan Schultz – Second
Gallatin County High School – *Aaron Walters – Second
Norris City-Omaha-Enfield High School – Katie Walker – Third
Pope County High School – Jordan Worthen – Third
English
Gallatin County High School – *Candace Lindsay – First
Hardin County High School – *Taryn R. Weatherly – Second
Pope County High School – John Spivey – Third
Math
Norris City-Omaha-Enfield High School – *Drake Carter – First
Hardin County High School – *Jasie T. Owen – Second
Galatia High School – Allie Downs – Third
Physics
Galatia High School – *Allen Creek – First
Norris City-Omaha-Enfield High School – *Melanie Ellison – First
Norris City-Omaha-Enfield High School – *Drake Carter – Second
Hardin County High School – Jasie T. Owen – Third
Pope County High School – Emma Wasson – Third
Large School Division Individual Winners
Biology
Carmi-White County High School – *Joe Matz – First
Harrisburg High School – *Meredith Russell – First
Harrisburg High School – *Madeline Douglas – Second
Carmi-White County High School – Eva Ochs – Third
Chemistry
Carmi- White County High School – *Chance Hamblin – First
Harrisburg High School – *Emma Eldridge – Second
Harrisburg High School – Gabriella Tison – Third
Computer Science
Carmi-White County High School – *Hadyn Browning – First
Eldorado High School – *Hunter Davis – Second
Carmi-White County High School – Peyton Frymire – Third
Engineering Graphics
Eldorado High School – *Dylan Phelps – First
Eldorado High School – *Brandon Powell – Second
Carmi-White County High School – Griffin Hart – Third
Eldorado High School – Christian Stanley – Third
English
Harrisburg High School – *Alex Jones – First
Carmi-White County High School – *Chance Hamblin – Second
Carmi-White County High School – Eva Ochs – Third
Math
Carmi-White County High School – *Hailey Winkleman – First
Eldorado High School – *Dylan Phelps – Second
Eldorado High School – Caleb Huelsmann– Third
Eldorado High School – Alex Jones – Third
Harrisburg High School – Zachary Mitchell – Third
Harrisburg High School – Gabriella Tison – Third
Physics
Carmi-White County High School – *Joe Matz – First
Eldorado High School – *Christian Stanley – First
Carmi-White County High School – *Peyton Frymire – Second
Eldorado High School – *Brandon Powell – Second
Harrisburg High School – Bryce Beal – Third
###