Mayor Proclaims Child Abuse Prevention Month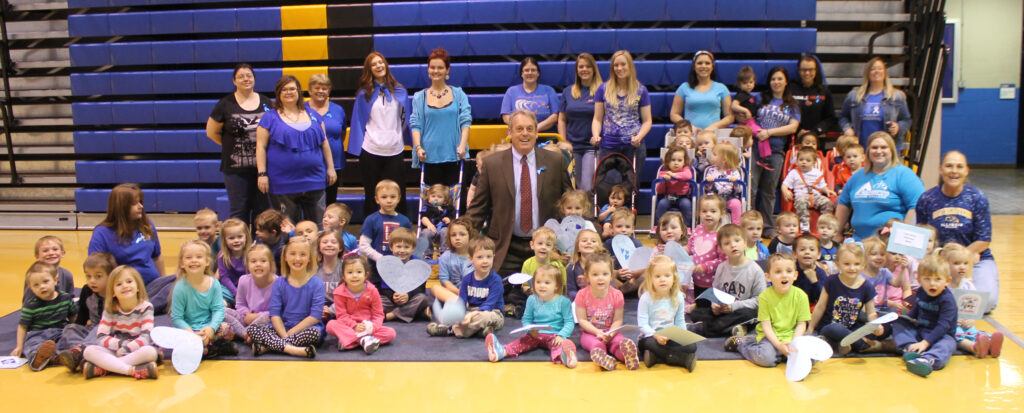 April is Child Abuse Prevention month in Harrisburg thanks to a proclamation signed by Harrisburg Mayor Dale Fowler on Tuesday, April 7, at the Mary Jo Oldham Center for Child Study (MJOCCS) at Southeastern Illinois College. He was joined by Krystal Hicks of the Guardian Center; City Commissioner Natalie Miller, also mental health counselor at Egyptian Health Department; and Toni Anderson from the Egyptian Health Department.
After signing the proclamation, Mayor Fowler led the children on a mini-parade through the SIC campus to encourage awareness of child abuse.
"We are so grateful for these kinds of opportunities for our families. The children are always excited for the chance to go on a parade, and it is such an important aspect of our job to educate these children about abuse," said Ellen Prince, acting director and lead preschool teacher for the MJOCCS. "Our staff does an excellent job teaching about abuse in such an appropriate way that the children don't even realize they are learning."
"We also appreciate Mayor Dale Fowler coming out to sign the proclamation for us proclaiming Child Abuse Prevention Month. He is a former MJOCCS parent and it was such an honor having him march around campus in the parade with us," said Prince.
The MJOCCS is accredited by the National Academyof Early Childhood Programs, a division of the National Association for the Education of Young Children. The center currently serves approximately 120 area children.
###