Single, Working Mom Proves College Degree IS Achievable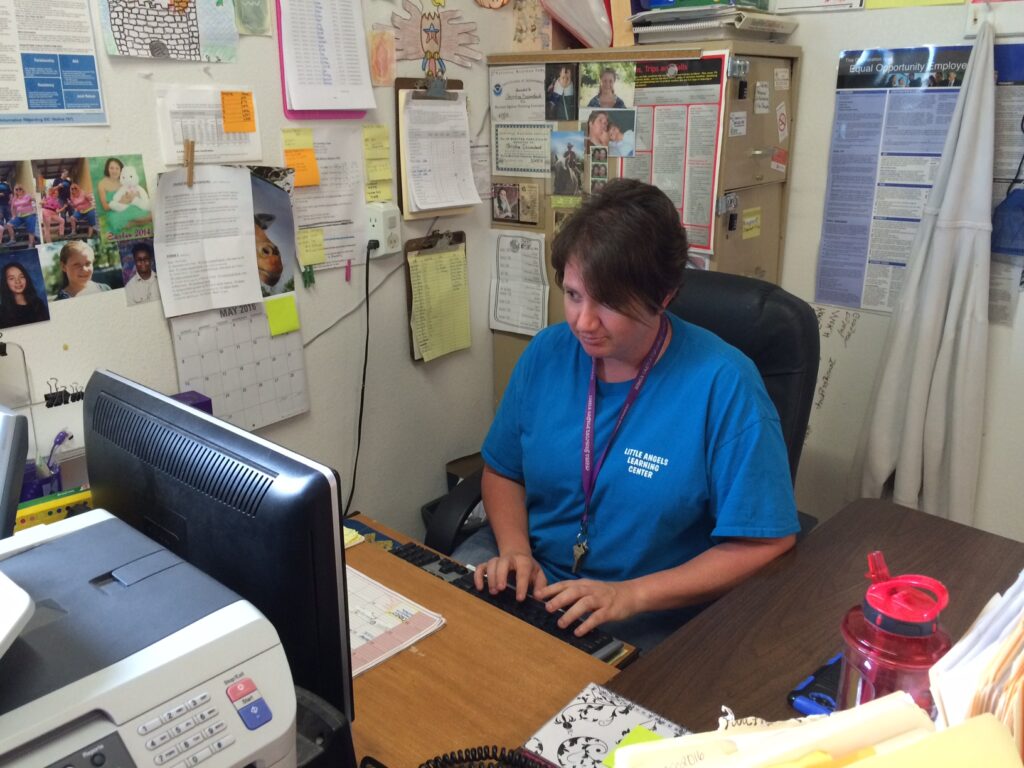 When one finds herself raising a child as a single mom and working full time to make the best life she can for herself and her child, the thought of getting a college degree on top of everything else may seem impossible to some – but not to Christina Dosenbach.
Dosenbach, a resident of Harrisburg for the past 12 years, graduates from Southeastern Illinois College this year with an associate degree in business management, after three years of online-only studies.
A native of Houston, Texas, Dosenbach never planned to attend college. She admits that once on her own after high school, she fell into the wrong crowd because living on a minimum wage part-time job just didn't pay the bills. After a short time, she decided to join the military. She joined the Army, and after the Twin Towers fell on 9/11, she served much of her time in the infantry at Fort Bliss in Texas.
At the end of her military service, Dosenbach moved to Southern Illinois to be near her mother, MaryJane Dosenbach, and start raising her new baby. Sadly, at first, she fell back into some bad habits, but was determined to work her way out of it, and lean on the support of new friends at Little Chapel Church in Harrisburg. Soon she was washing dishes and working her way up to Sous Chef at Heartland Regional Medical Center which she enjoyed, but the work came with an erratic schedule.
So in 2013, despite lacking a formal education, Dosenbach applied for an office job at Little Angels Learning Center (LALC) in Harrisburg in an attempt to work out a better schedule for herself and her daughter. She was surprised to learn that she got the job with the understanding that she would take classes to learn more formally about managing a business. Since she began that job and started taking online classes at SIC, Dosenbach has taken that small business from red to black for the past two years.
Christy Bailey, owner and director of LALC, said of Dosenbach, "She's universal – Christina can be in more than one place at once. She's great in the office, she's great in the kitchen, she's great with the kids, and I love that she's a Christian and has those values. We work well together."
Some of her duties as office manager include payroll, scheduling, coordinating with different agencies such as the Illinois Department of Children & Family Services and Early Intervention, arranging field trips, scheduling staff training, managing social media and more. By proving herself with her newly developing skill set, Dosenbach soon went from hourly employee to salaried employee.
But is wasn't an easy road.
"I hadn't been to school since 1999, and I wasn't a great student then. It was pretty overwhelming during the first semester, and I quickly learned how important time management was," said Dosenbach. "If I didn't stick to my schedule, I couldn't have functioned."
That schedule included working full time during the work week at LALC, taking care of her daughter Makayla and keeping up with her activities, and fitting in class time on weekends.
"I'd stay up working on my classes until 2 a.m. on a Friday night, get up at six and work on classwork until noon, spend the afternoon with Makayla and jump back into homework at night," said Dosenbach. "I studied. I sacrificed time with friends, with Makayla. Makayla sacrificed her time as well, because often times over the last three years, we had to go without doing things, going places, or enjoying the beautiful weather so I could work on classes. I tried very hard to do my very best and would not settle for just getting through it or getting by. I balanced working full time, raising a kid, and taking classes online where the only way I could succeed is if I managed my time wisely. It was exhausting, but worth it."
An unexpected benefit of Dosenbach's determination surfaced this year, when her daughter entered middle school and began to experience a more stressful load of homework. Dosenbach was able to not just tell Makayla, but to show her how to manage her time and put her schoolwork first. Consequently, Makayla has brought up her grades to all A's and B's and is working independently on her homework now more than ever.
"If she's got homework on a Friday, she knows that she has to study on Friday so that she can enjoy the rest of her weekend, and the great part is she does it on her own!" said Dosenbach. "Makayla already talks about going to college, and is already researching colleges online. I'm a first generation college student, and I don't think Makayla would have been thinking about college – not yet, anyway – without seeing me go to college first."
For fun, and as time allows, Dosenbach and her daughter love art projects, traveling with and providing food for the local A Band Called River, hiking, and cliff jumping. They also enjoy something they call "runaway weekends" where they choose a place no more than eight hours away and drive there for the weekend. Dosenbach is also a member of Team Red, White & Blue, an organization that works to bridge the gap between veterans and the civilian community.
Said Dosenbach, "All the obstacles life throws at you does not mean that those things get to hold you down. If you want it, go get it. If it's important, you will find great satisfaction. It may not be huge to anyone else but me, but for me, I set out to accomplish something I never thought I could do. When I clicked submit on my last final, I felt the weight of the last three years lift, because I have my degree. I proved to myself, I could. It's not always easy, but it's always worth it, when you find you are far stronger than you ever thought you could be."
Dosenbach paid for college by qualifying for federal Pell grants, and still has her GI Bill available. She is considering continuing her education in criminology or business at a university, and would love to work in records management in a crime lab.
For now, she's celebrating this milestone in her life with a trip to Dairy Queen and a weekend spent celebrating with family.
To learn more about online degrees at Southeastern Illinois College, visit www.sic.edu/onlinedegree.
###