SIC Hosts National Archery Championships at Sahara Woods Oct 15-16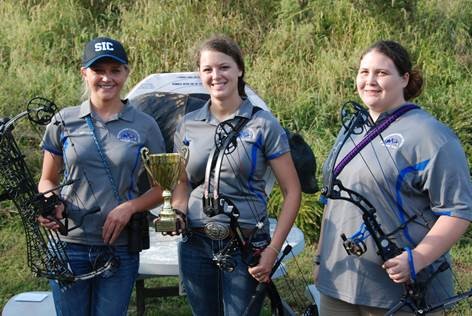 –Southeastern wins seven Division I regional titles –
When the dust settled at the 2016 US Intercollegiate Archery North Regional Division I Championships, held September 17 on the campus of Southeastern Illinois College, the SIC archery falcons had garnered a total of seven out of eight regional titles in head-to-head competition with Hocking College located in Nelsonville, Ohio.
The US Collegiate Archery Association sponsors regional competitions throughout the United States each year in preparation for the 3D US Intercollegiate Archery Championships in October.
Three of SIC's gold medals came via individual scoring performances during a grueling 40 target competition. Division I national champion and Academic All-American Alli Armstrong of Elizabethtown, Illinois, won the top spot in the women's bow hunter division; freshman Elijah Bond from Thompsonville, Illinois, won first place in the men's bow hunter division; while Division I national champion and Academic All-American Casey Poe of Arthur, Illinois, won top honors in men's compound.
Southeastern also won three team titles. In the women's bow hunter division, Alli Armstrong, Jessica Morris of Golconda, and Makayla McKenzie of Carmi took top honors. In men's bow hunter, Elijah Bond, Garrett Lane of Elizabethtown, and Jeffrey George of Shawneetown took home gold, and in men's compound, the scores of Casey Poe, Rhett Bullard of Iuka, Ill., and Stephani Poe of Arthur, Ill. were enough to capture first place.
SIC's combined average for all shooters during the tournament won the school its fourth High Overall Average trophy.
The 2016 US Intercollegiate 3D Archery National Championships will take place Saturday and Sunday, October 15-16, at the Sahara Woods State Fish and Wildlife Area just west of Harrisburg and north of Carrier Mills. Many know this area because of the popular fishing hole Sahara Lake.
Formerly held at the University of Missouri in Columbia, the two-day tournament was moved to Illinois in 2015 when the California-based US Collegiate Archery Association (USCAA) inked a ten-year agreement with the Illinois Department of Natural Resources to hold the event at the Sahara Woods site.
Varsity squads from major Division I colleges and universities across the nation will be on hand during the weekend, with competition beginning at 9:00 a.m. on Saturday and again at 9:00 a.m. on Sunday.
In its first four years of competition, SIC's archery team has collected 10 divisional national championships and two HOA national championships, while crowning 20 All-Americans and four Academic All-Americans.
###