SIC Concert Choir prepares for Wonderful Words concert — October 20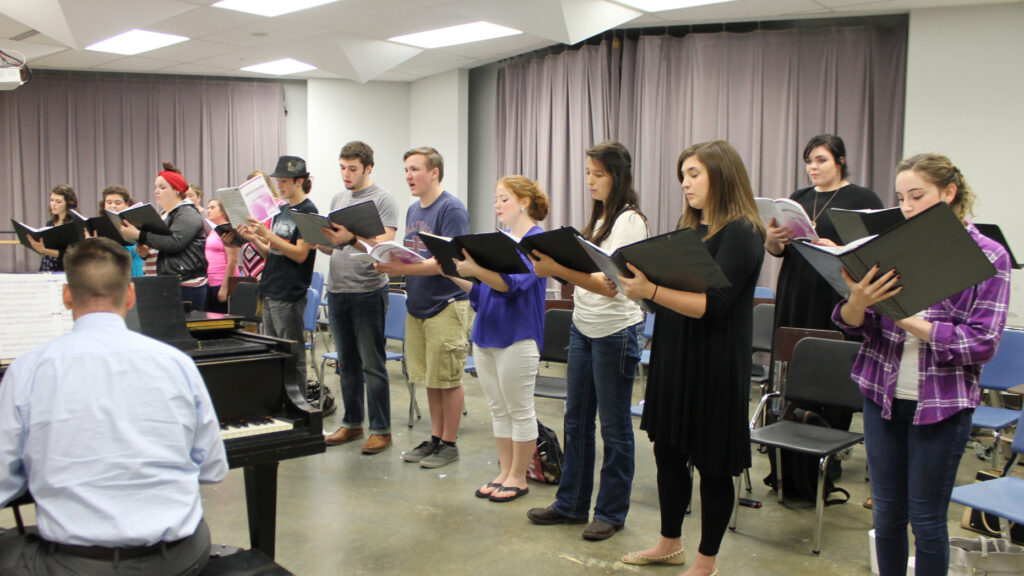 Classic poetry will be featured in the Wonderful Words concert performed by Southeastern Illinois College's Concert Choir on Thursday, Oct. 20 at 7 p.m. in the George T. Dennis Visual and Performing Arts Center Lobby.
Wonderful Words is a celebration of great texts and great music. This concert will consist of various classic poems set to music. Selections include the frivolity of Lewis Carroll's "Jabberwocky" from Alice in Wonderland, the witty "Three Quotes" by Mark Twain, and the elegance of Emily Dickenson's poem, "I Shall Not Live in Vain," along with much more.
"This concert features great music set to some of my favorite poems and sonnets," said Cory Garmane, SIC Concert Choir Director. "When selecting pieces, I wanted to be sure to touch on many different facets of human emotion. There are songs of love, joy, sorrow, and solace.
"One of my personal favorites was written in response to the devastating 2004 Asian tsunami. It is strikingly simple in its execution, but the mournful words and the glimmer of hope contained within its measures are stunning. The choir has worked extremely hard to put this concert together. I couldn't be more proud of their work ethic and accomplishments thus far."
The concert will be conducted by Garmane and accompanied by Lisa Alexander with special guest, Lydia Rogers, playing the violin.
Southeastern's Concert Choir is also seeking more SIC students. The choir rehearses on Thursdays from 3-4:50 p.m.
For further information on the Wonderful Words concert, or becoming a choir member contact Cory Garmane at 618-252-5400 ext. 2235 or cory.garmane@sic.edu. Admission to the event is free, however, donations to the program are appreciated.
###
Written by Callie Smith, SIC Student Worker