Early Childhood Education Expo Held at SIC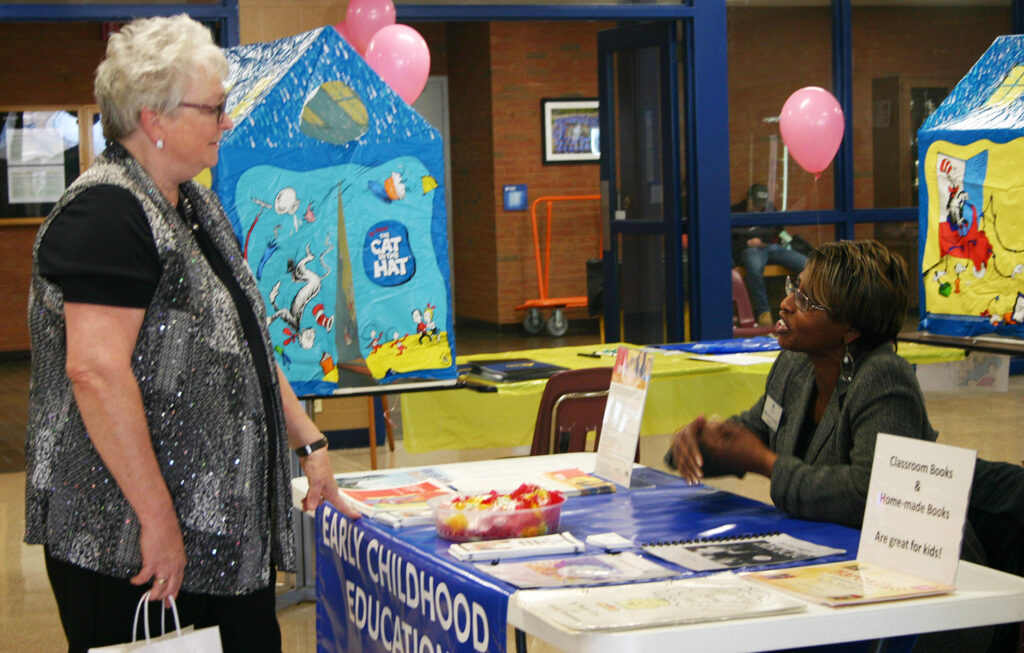 With a shortage in the early childhood education profession, Dr. Diane King, Coordinator of the Early Childhood Education & Education Programs at Southeastern Illinois College, hosted an event at the college that brought in more than 100 early childhood education professionals and students on Saturday, March 4.
The third annual Early Childhood Education Expo included more than 20 exhibitors spotlighting career and education opportunities in Illinois. Southern Illinois Association for the Education of Young Children (SIAEYC) helped sponsor the event.
Some of the exhibitors included Southern Illinois University Carbondale Early Childhood Program; Wabash Area Development Inc. Head Start and SIUC Head Start; Illinois Network of Child Care Resource & Referral – Gateways to Professional Development Program; Child and Family Connections – Wabash Ohio Valley Special Education District; and Project Connect – Egyptian Public & Mental Health Department.
A number of local and regional early care and education programs were represented including: SIC's Mary Jo Oldham Center for Child Study (MJOCCS); Open Door Family Child Care Home (Elizabethtown); Mrs. Cindy's Group Day Care (Harrisburg); Rainbow Day Care (Eldorado); Learn Grow and Discover (Norris City); and Puka School Inc. (Carbondale).
Jan Goolsby, SIAEYC President, SIC graduate and owner of the Open Door Family Child Care Home said, "This expo really allows its attendees one-on-one time to discuss career and educational opportunities available to them."
Dr. King added, "The early childhood professional pathways have a number of credentials and degree options beginning at the associate level and continuing on to bachelor's and master's degrees. They offer many career options ranging from teaching or being a teacher aide or substitute in the public schools to working in Head Start, DCFS, Child, Family Connections, or any number of agencies that require early childhood backgrounds."
Attendees also enjoyed lunch and networking opportunities.
The goal of the expo, according to King is to obtain information about educational requirements for Gateways Credentials, ExceleRate Illinois, and career opportunities available locally, regionally and in the state.
Participants began the day with a workshop, "One in Five: The Effects of Poverty on Children and Families," conducted by Susan Sloop and Toni Kay Wright from University of Illinois Cooperative Extension. Participants engaged in activities to raise awareness and consider strategies they can apply in their work with children and families.
King believes it is important to bring together current early childhood educators and related professionals, along with college and high school students during this time of shortages in the early childhood education field.
"I am ramping up my efforts to advocate, recruit and market early childhood education as a critical societal demand and need along with the clear connection to the highly qualified professional workforce to sustain the staff in such a wide array of early childhood programs," she said.
"Currently, 98 percent of my students are employed in an early childhood setting. If they are not working, it is by choice – meaning that they are focusing on their ECE coursework. When my students start in the on-campus classes, they are immediately hired either by our center on campus or by a local program. My graduates all have jobs waiting if they want them."
The current shortage in early childhood educators in the state and region became apparent about five years ago, according to King.
"When the changes for admissions into teacher education programs took effect along with increased educational qualifications for teachers in the childcare programs, we started to see fewer people going into early childhood education as well as education in general," she said.
She also mentioned that due to concerns about potential budget cuts in school districts along with a lower than state average salary, some prospective early childhood educators choose other types of employment in this region.
However, preschool teaching jobs are expected to increase seven percent through 2024, according to the Bureau of Labor Statistics. Additionally, childcare programs are a necessity when it comes to economic development because they are the core support system for the workforce – most of whom are working families.
Early childhood education programs prepare individuals to teach and care for young children as lead preschool teachers, childcare or preschool assistant teachers, family childcare providers, paraprofessionals in public schools or childcare center administrators.
Students with degrees in elementary education or another discipline can take the SIC early childhood education (ECE) courses to earn the hours required by DCFS, Gateways, and Head Start. The program at SIC will also prepare students to continue their education at a four-year institution.
This year King has had students from as far away as Carpentersville in northern Illinois, Springfield, Belleville, Effingham, and many places in between.
For more information on SIC's early childhood education programs, including the online associate degree or Gateway Credentials, visit www.sic.edu/ece or contact Dr. Diane King at (618) 252-5400 ext. 2221. King and her students can also be found on Facebook at www.facebook.com/sic.early.childhood.education and www.facebook.com/sic.education.
###