SIC Team Wins Fourth Consecutive Championship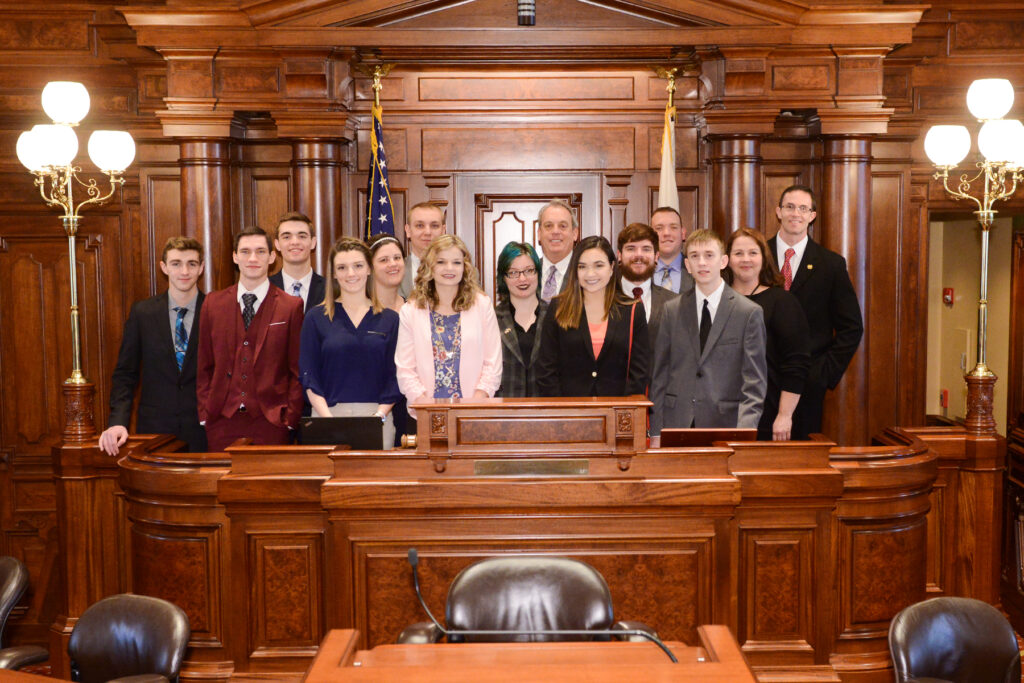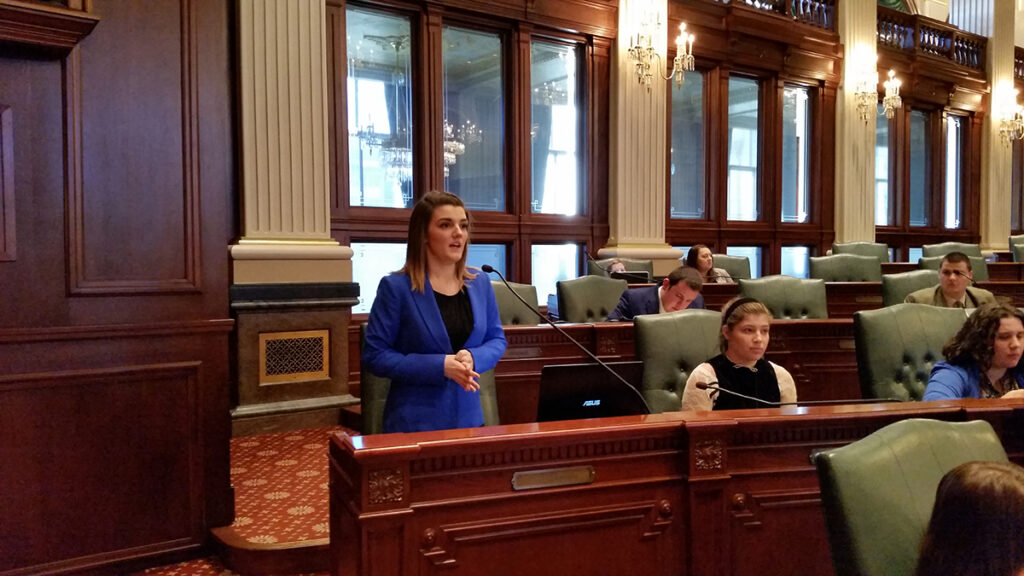 SIC clinched its record fourth consecutive Model Illinois Government championship when it was named, "Outstanding Large Delegation" on Sunday, March 5 during the government simulation competition at the Capitol in Springfield.
The win was yet another in a decade of dominance. This is SIC's tenth state championship in 14 years.
This success comes despite Southeastern's status as the smallest school at the competition against colleges and universities that are up to eight times its size.
"I actually view our size as an advantage rather than a disadvantage," said political science instructor and advisor Matt Lees. "I know the name of each and every student in my classes, and I personally recruit and hand pick every member of the team. You simply cannot do that if you're teaching in a 100-person lecture hall. The success we have experienced is a testament to the quality of our students."
This is the first four-peat ever recorded in the 40-year history of the Model Illinois Government Simulation.
"I can honestly say joining MIG was by far one of the best things I have ever done," said Grant Loudy who played the role of a representative. "I can't wait until next year!"
During competition, students have the opportunity to debate bills in the actual House and Senate chambers in Springfield. This year over 200 students from 15 colleges and universities participated from across the state.
"Before joining MIG I actually hated politics and never wanted to vote or even talk about politics of any kind," said first year delegate Morgan Denbo. "MIG has changed my life for the better."
Southeastern Illinois College led all schools in total points, leadership positions, won three major awards, and controlled both the House Democrat and Senate Republican caucuses. SIC set new school records for floor leadership positions (six) and total points (16).
SIC students were elected to four committee spokesperson positions, two floor whip positions, had two committee chairs, and won elections for House Majority Leader, Assistant Majority Leader, and Floor Whip. SIC students also won elections for Senate Minority and Assistant Minority, and Floor Whip.
The team won awards for Outstanding Original Legislation, Outstanding Person in the House of Representatives, and Outstanding First Year Delegate.
First-year delegates included Chloe Brandon of Carrier Mills; Morgan Denbo and Evan Doughty both of Harrisburg; Reagan Gray, William Johnson, and Grant Loudy all of Eldorado; Braden Scroggins and Nolan Sutton both of Norris City; and William Tippett of Creal Springs.
Returning delegates included Head Delegate Tracy Stokich of Eldorado, Dana Hooven and Ryan Dennison of Harrisburg, and Casper Johns of Norris City.
Delegates securing committee spokesperson positions included Denbo, Gray, Johnson, and Scroggins. Hooven and Brandon were also elected as floor whips. Evan Doughty was elected House Majority Leader and Ryan Dennison was elected Senate Minority Leader. William Tippett and Grant Loudy were also chosen to be the Assistant Leaders in their respective chambers. Doughty became only the second freshman in school history to secure a central floor leadership position.
"I left the MIG simulation this year, with a love for the political process and a love for the people I shared it with," said Doughty.
Dana Hooven and Tracy Stokich were selected as a committee chairs. Stokich was later a finalist for the Outstanding Senate Committee Chair Award while William Johnson was a finalist for Outstanding Committee Person. Stokich and Johns later won the Outstanding Original Legislation Award, William Tippett won the Outstanding First Year Delegate Award, while Morgan Denbo won the Donna Lennon Award for Outstanding Member of the House. Denbo became the first freshman in school history to win the House of Representative's most coveted honor.
In acquiring two positions and one award, Tippett scored three composite points leading the entire simulation in individual points and tying a school record.
Given the number of offices held and overall performance, the SIC team was named Outstanding Large Delegation.
"To compete with the likes of the University of Illinois at Springfield, Eastern, and Western and come out on top speaks volumes about this group," said Lees. "Some delegations had nearly thirty students. To acquire the highest score with 13 students is simply amazing. They really rose to the challenge."
Tracy Stokich and Casper Johns also crafted their own original legislation. Johns, playing the role of a lobbyist, successfully guided it from committee all the way to the Senate floor.
"During the weekend, Casper literally spent countless hours convincing legislators to support her legislation," said Lees.
She was later named a finalist for the Outstanding Lobbyist Award.
"The key to this team's success was its leadership," said Lees. "This group had some of the best leadership I've ever observed during my 15 years as advisor."
Tracy Stokich served as the Head Delegate or team captain.
"Tracy was the glue that held this team together," Lees added.
Returning delegates Dennison and Johns assisted Stokich as team leaders. Senior delegate Dana Hooven also played an instrumental leadership role on the team.
"Dana has been a member of three championships teams," said Lees. "She is always the X-Factor."
###