Eldorado Garden Study Club Celebrates Arbor Day with Planting at SIC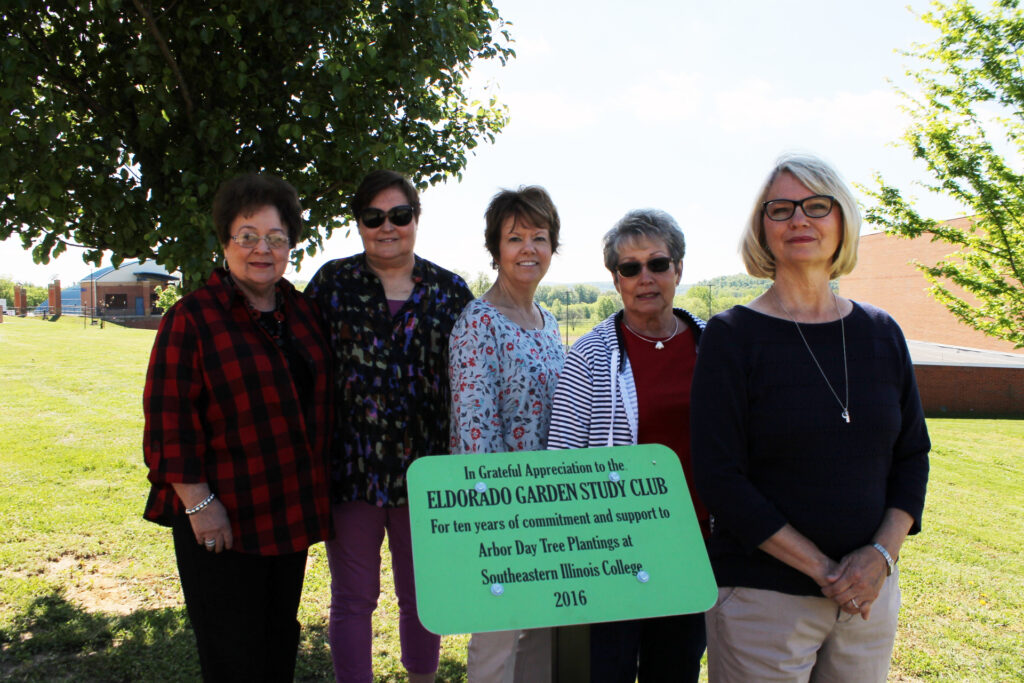 The Eldorado Garden Study Club celebrated Arbor Day by donating an October Glory Maple Tree to Southeastern Illinois College last month.  The club has been donating trees to SIC for the past 11 Arbor Day holidays to establish a grove for the campus.
Dr. Mary Jo Oldham Morgan, Garden Club Arbor Day Chair, spoke during the event about the origins of Arbor Day.  She explained that J. Sterling Morton of Kansas Founded Arbor Day in 1872, and now every state in the U.S. celebrates Arbor Day as do several other countries.  In Illinois, Arbor Day is celebrated on the last Friday in April.
Oldham Morgan reminded those present why it is important to plant trees – to fight global warming and deforestation, improve air and water quality, prevent soil erosion, fight hunger (fruit trees), increase property values, and make a home for birds, among other reasons.
President of the club, Jan Cleveland, added, "As president of the club, it's a real honor that SIC and the club can work together to provide beautiful trees for students to enjoy.  They say the best time to plant a tree is 20 years ago.  The next best time is today."
One Garden Study Club Arbor Day committee member, Nina Brown, talked a bit about musician, singer-songwriter, record producer, actor, environmentalist and humanitarian, John Denver and his affiliation with the Arbor Day Foundation.  Denver had written the song Plant a Tree for Your Tomorrow, which appeared in a public service announcement in the 1990s to encourage tree planting.
New club member, who also is on the Arbor Day Committee, and retiree of SIC, Dr. Dana Keating, said, "I have enjoyed the trees as an employee of SIC and will continue to enjoy them now as a member of the Garden Study Club."
The Eldorado Garden Study Club was organized in 1946.  Currently it has 25 members and is part of the Central Region of the National Garden Clubs, Inc. and the District VII Region of The Garden Clubs of Illinois.  Throughout the years the club has worked on various projects which encourage the love of gardening and floral design and its members work to encourage environmental responsibility in themselves, their neighbors and in their community.
The Arbor Day Foundation is a 501(c)(3) nonprofit conservation and education organization. A million members, donors, and partners support its programs to make the world greener and healthier.  For more information, visit www.arborday.org.
###