PowerSports Technology Now Offered at SIC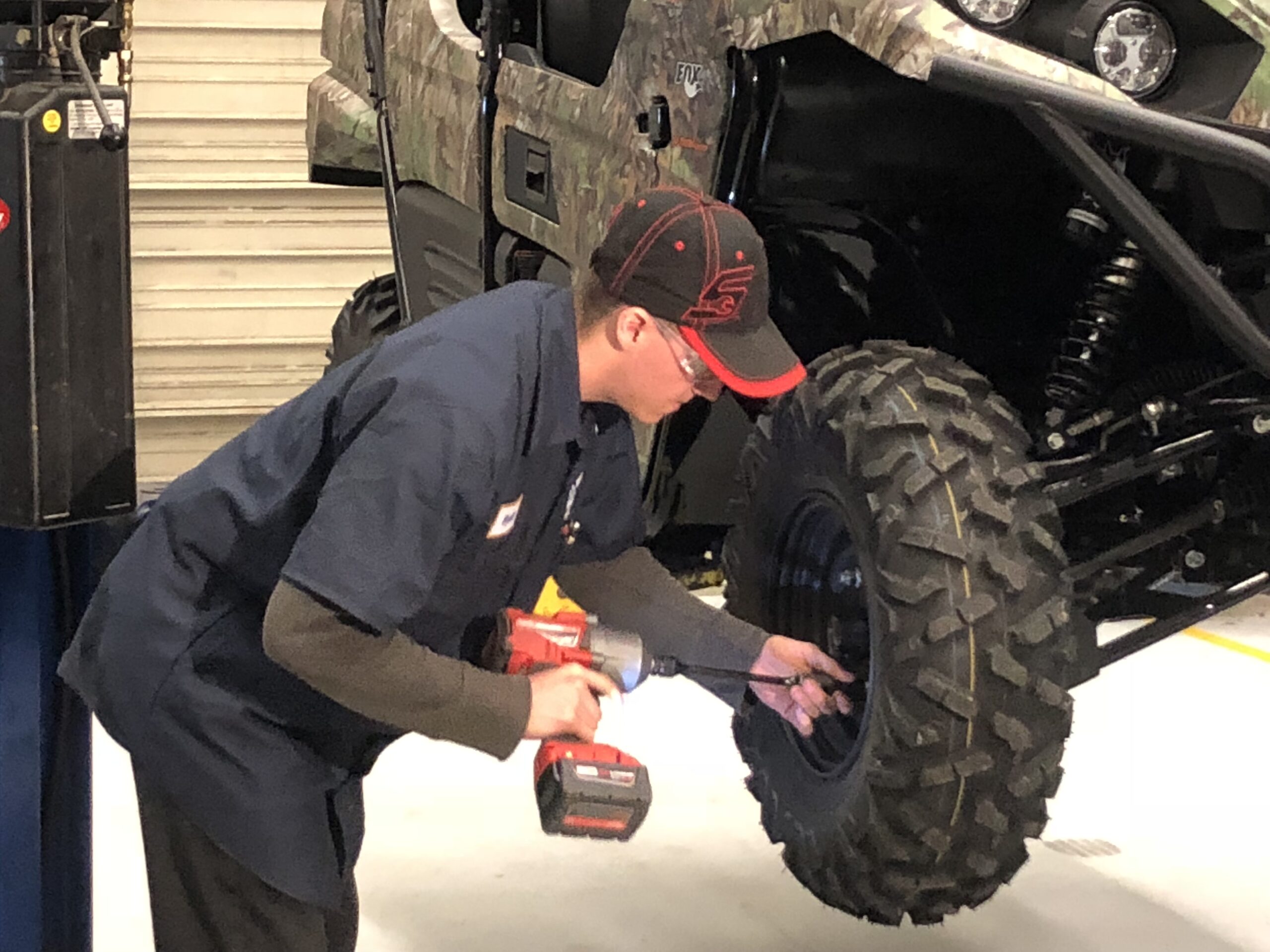 In response to regional industry needs, Southeastern Illinois College will now offer a two-semester certificate program in PowerSports Technology.
The first of its kind in the region, SIC instructors are working directly with industry dealers in ATVs and UTVs to come up with a curriculum to prepare students for maintenance and repair of side-by-sides, 4-wheelers, gators, and other recreational vehicles.
"SIC has always been proud of our ability to be nimble to industry and community needs," said SIC President, Dr. Jonah Rice. "With new off-road development and expected influx of tourism into the area, we see this as an opportunity to be proactive. Plus, this is one of the few programs like this in the entire country."
PowerSports training will include the diagnosis and repair of gasoline and diesel engines, transmissions, electrical/electronic systems, brake systems, steering systems and suspension systems. Students will have the opportunity to work on top brands including CAT Utility Vehicles, Honda, Arctic Cat, Kawasaki, John Deere, Polaris and more.
"Not only is PowerSports an extremely popular and growing industry, research shows a faster than average growth potential for future technicians in this field of study," said SIC instructor, Ralph Boots. "After meeting and speaking with different manufacturing reps and dealer principals we now know of the demand for technicians locally and nationally. We are excited for this opportunity and feel this is the right time and right direction to take."
SIC's PowerSports Technology program will be guided by an advisory board made up of local and regional industry members who review the curriculum, ensuring that students are learning the skills needed by employers. SIC works directly with area dealerships for internship placement and anticipates high job placement rate for graduates.
According to the U.S. Department of Labor's Occupational Outlook Handbook, employment of small engine mechanics is projected to grow 10.3 percent from 2016 to 2026, which is faster than average for all occupations. The median annual wage for small engine mechanics was $35,280 in 2016.
The classes are not just open to those planning to enter the career field of recreational vehicle mechanics, but also for hobbyists who want to learn how to service their own recreational vehicles or small engines.
For those who may be interested in starting their own powersports maintenance or repair shop, SIC can provide additional support through the Workforce & Illinois Small Business Development Center (WISBDC).
"Through the WISBDC, we can give entrepreneurs the tools they need to get their business off the ground," said Lori Cox. "Our experienced business counselors have helped numerous area businesses, and many of our services come at no charge."
Space is limited for the PowerSports Technology program, and registration is going on now for fall classes.
For additional information about the program, visit www.sic.edu/PowerSports or contact recruiter Rachel Parish at 618-252-5400 ext. 2245 or email recruiters@sic.edu.
###