Herrin Tigers Varsity Standout Signs With SIC Bowling Team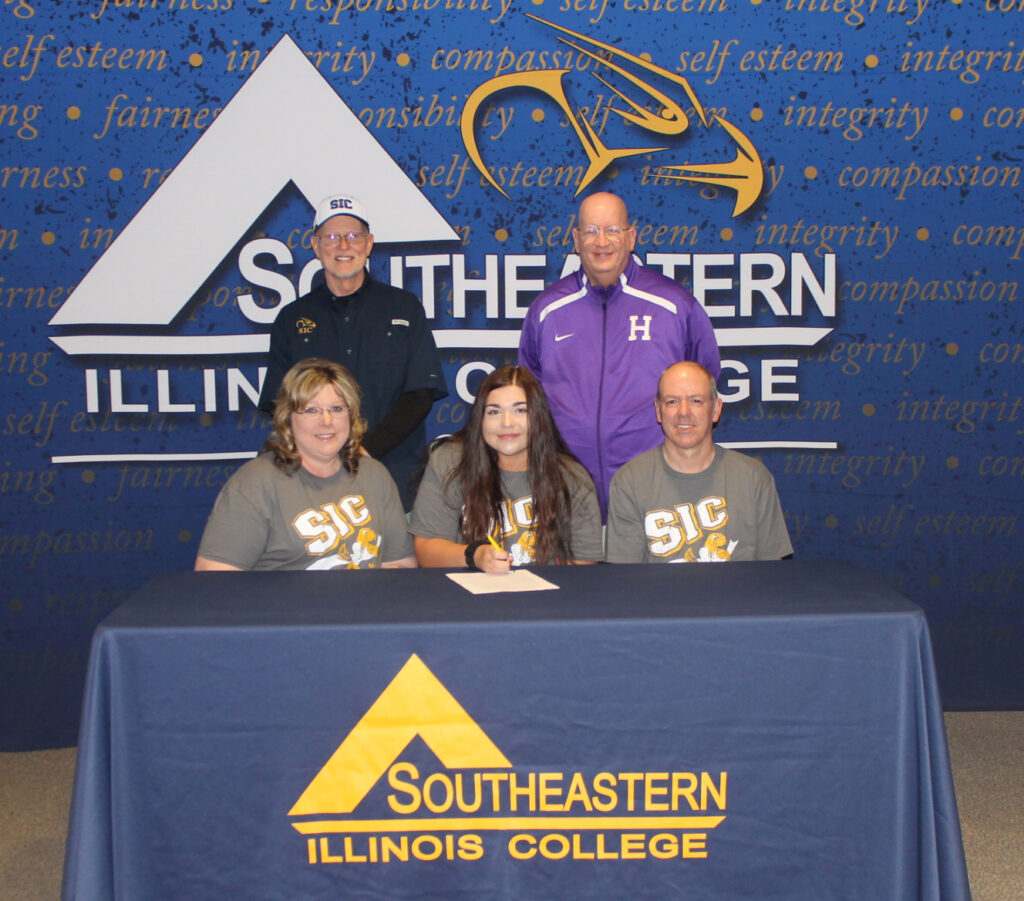 —Four-year varsity bowler Maddy Carey brings experience and talent to new SIC squad–
In his first year of recruiting for Southeastern Illinois College's bowling team, head coach Archie Blair has learned one thing. Attracting top players to a new United States Bowling Congress (USBC) collegiate program is tough business, especially when your competitors are well-established programs at senior institutions from across the country.
One of those top players who decided to stay close to home and join SIC's new team is Herrin High School's Maddy Carey, a four-year varsity starter for the Tigers' girls bowling team and a recent high school graduate.
High school bowling coach Barry Hubbard had nothing but high praise for his team's veteran bowler.
"Maddy is an exceptional bowler and fierce competitor. She finished her senior season with a 185 average in helping lead the team to its 4th consecutive trip to the IHSA girls state bowling finals, finishing 59th as an individual."
Hubbard went on to say that Carey won several individual medals during her high school career, one of which was a 4th place finish in the 2015 IHSA regional bowling championships.
"What is most outstanding about Maddy is that over her four years as a varsity starter, she helped lead the Tigers to a perfect regular season record of 42-0."
Harrisburg High School bowling coach Doug Cottom shares those sentiments.
"As an opposing high school coach for the Harrisburg Bulldogs, I sure am glad to see Maddy graduate," he jested. "She was a four-year starter on Herrin's team, and they produce great bowlers year in and year out!
"When Coach Hubbard, and before him Coach May, penciled in her name, they knew they were going to get 200 each game and sometimes more. We are very fortunate that she has decided to stay close to home and compete for the Southeastern Illinois College Bowling Falcons!"
In addition to his duties as the Bulldogs' head bowling coach, Cottom serves as the lead bowling coach for Southeastern.
With the likes of Carey, Blair and Cottom are excited about the team's prospects for the upcoming 2018-19 season. Carey will join teammates Keely Reed from Harrisburg, Elizabeth Davis from Norris City, and Lizzie Powell from Troy on this year's women's team.
Men and women interested in trying out for Southeastern's bowling team, which begins play in August, should contact Coach Doug Cottom at 618-253-8417 or at dcottom1@gmail.com.
Tuition waivers and other incentives are available to those qualifying for team membership.
###