SIC Recognized with Honors at PBL National Leadership Conference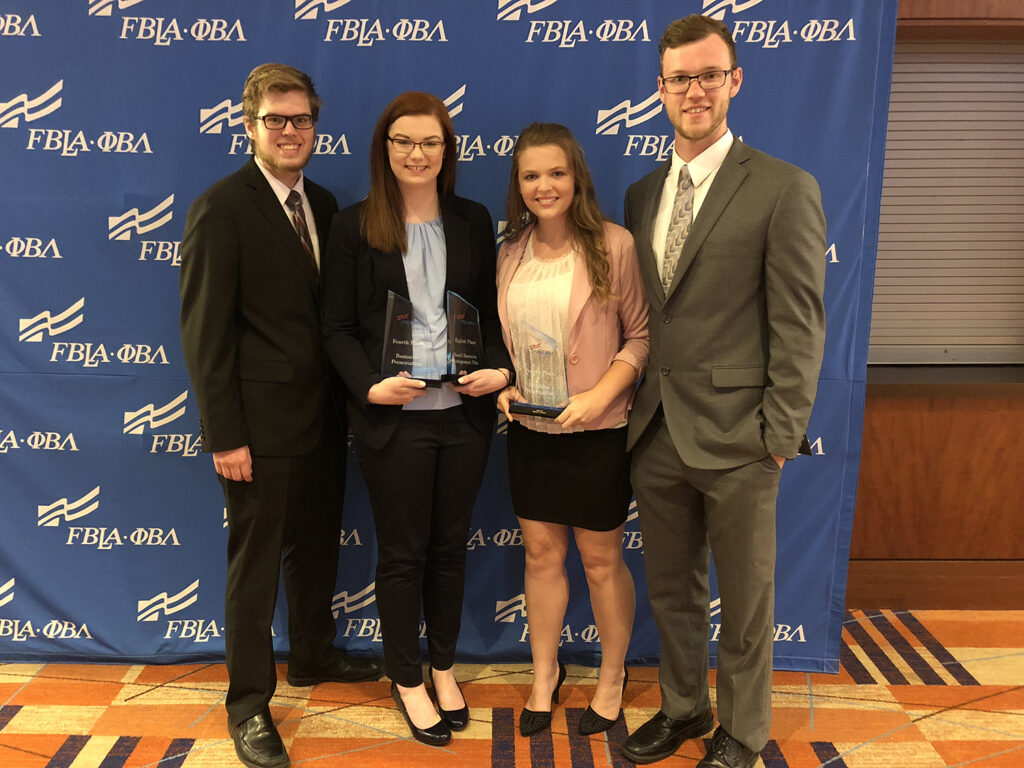 Southeastern Illinois College Phi Beta Lambda (PBL) students, Bradley Hydrick of Carmi, Adam Partridge of Eldorado, Mattie McGowan of Eldorado, and EmmaLee Pruitt of Norris City, along with advisor Kelsie Bond-Rodman, joined more than 1,800 of America's best and brightest college students as they traveled to where Francis Scott Key wrote The Star Spangled Banner to connect with top future business leaders and showcase their talents in business competition.
The PBL National Leadership Conference was held June 23–26 in Baltimore to help college students enhance their business skills, expand their networks, and participate in 60 business and business-related competitive events.
McGowan and Pruitt placed 4th in the nation in Business Presentation by presenting an idea to the chamber on a way to develop and enrich new entrepreneurs. They advanced to nationals by winning first at the state PBL competition in April.
"I knew when I joined PBL that it was going to give me some great opportunities and look good on a resume but I never imagined I would get an opportunity like competing at a national level," said Pruitt.
McGowan added, "It was so awesome to be able to see how all of the hours spent revising speeches and business plans and presentations and practicing those presentations paid off in the end," said McGowan. "Our Business Presentation was about the CEO Program, and our timekeeper actually took Emmy's information because he wanted to try to implement the program where he was from, which ultimately was the goal of our presentation. To be able to see a successful outcome of our presentation before we even got onstage and received our award for it was just so rewarding in itself."
McGowan also placed 8th in the nation in Small Business Management Plan. Her prepared plan included a company description, target market, competitive analysis, marketing plan and financials among many other pieces that were presented. She advanced to nationals by winning first at the state PBL competition in April.
Hydrick and Partridge earned a first-place finish in the state PBL competition in April and advanced to national competition in Emerging Business Issues. Pruitt earned a third-place finish in the state PBL competition in April and advanced to national competition in Job Interview.
"Even though Brad and I did not advance at nationals, the learning experience that PBL and Baltimore had to offer was rewarding," said Partridge. "We worked very hard in preparation for the speech and the skills I've obtained in this preparation will be valuable for my future career. Seeing how our peers interacted with each other made me realize we all have potential, we just need to go out there and work for it."
Hydrick added, "Going to the conference was more than just competing. It was a time to learn more about business ownership and how we can improve ourselves in the business world."
The awards were part of a comprehensive national competitive events program sponsored by FBLA-PBL that recognizes and rewards excellence in a broad range of business and career-related areas. For many students, the competitive events are the capstone activity of their academic careers. In addition to competitions, students visited an information-packed exhibit hall and heard from motivational keynotes on a broad range of business topics.
Bond-Rodman urges high school students in FBLA to continue their participation in the collegiate version, PBL at SIC.
"Knowing that we are a part of a small community college and were able to bring home two national awards while competing against some of the biggest and best schools in the nation is amazing," said Pruitt. "Mrs. Bond-Rodman does a great job working with all of us and making sure we do our best. Overall, PBL has already taught me a lot and I can't wait for next year."
For more information on SIC's business program and PBL, contact her at 618-252-5400 ext. 2322 or at kelsie.rodman@sic.edu.
Future Business Leaders of America-Phi Beta Lambda, Inc., the premier student business organization, is a nonprofit 501(c)(3) education association with a quarter million members and advisers in over 6,500 active middle school, high school, and college chapters worldwide. Its mission is to bring business and education together in a positive working relationship through innovative leadership and career development programs. The association is headquartered in Reston, Virginia, just outside of Washington, D.C.
###