SIC Men's Bow Hunter Team Wins Gold at Nationals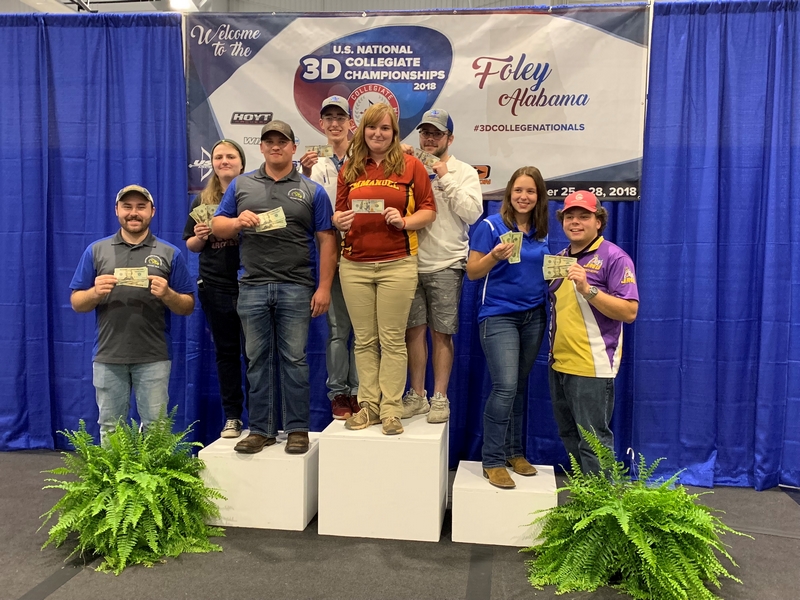 The SIC Archery Team traveled to Foley, Alabama, over the weekend for the U.S. National Collegiate 3-D Championships Oct. 26-28. 
After equipment inspections and open practice Friday, each individual archer shot a total of 40 3D targets that were divided into two 20 target courses. This determined where each individual placed among the other archers. 
Two SIC archers placed in the top 10 in their divisions. Elijah Bond of Thompsonville placed seventh in the nation as an individual for the Men's Hunter Class. John Whalen of Boonville, Indiana, placed sixth in the nation as an individual for the Men's Compound Class. 
"I am proud of how the team shot this weekend. We had a lot of fun at this event and are already looking forward to next year. Next, we'll be preparing for our indoor archery season that will begin soon," said Head Archery Coach Alli Armstrong.
Saturday evening at the awards banquet, a Mixed Team Fun Shoot Down was held. Each team had to consist of three different classes and both genders. Elijah Bond, John Whalen, and Briley Hearrin from Kentucky Christian University formed the second place winning team for the Mixed Team Fun Shoot Down. Each of the students won money for their efforts. 
Sunday during the team rounds, both the Men's Compound and the Men's Hunter Teams competed for medals. The Men's Hunter Team made of Elijah Bond, Colton Goines of Vienna, and Isaiah Conkle of Cave-In-Rock took home gold medals and the National Champion titles for their class. The Men's Compound team missed the bronze medal by only one point which put them in fourth place. 
###