Falcons hope their experience pays off this season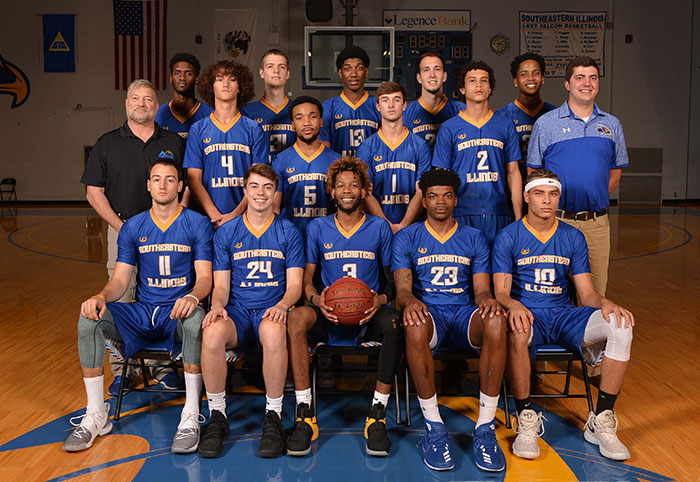 Last season, the Southeastern Illinois College men's basketball team was one of the youngest teams in the country. When the season tipped off, the Falcons had just one player with any college experience on their roster and that was Matthew Norl, who had played in three games the previous season. The Falcons' inexperience showed throughout the season as they struggled to just one win.
This year, however, the Falcons' youth has matured into experience. SIC returns six sophomores with a wealth of college games under their belts. That group includes 6-foot-3 point guard Sam Swinford of Marion and 6-foot-5 wing Winslow Martin of Carbondale, who started a combined 54 games for SIC last season.
Swinford played 32.8 minutes a game and averaged 6 points and team-leading six assists, while also leading the team with a 38 percent three point percentage. He ranked 27th nationally in assists per game, while ranking 23rd in the nation in minutes per game. His assist-to-turnover ratio was the 76th best in the country among all NJCAA Division I players.
Martin, meanwhile, played 31.5 minutes a game and led the team in scoring with 20.1 points per game, which ranked 21st in the country and was among the league leaders in the always tough Great Rivers Athletic Conference. His totals included a 47 point effort against Greenville and a pair of 30 point outings against Wabash Valley (36) and Olney Central (31) to close out the season.
"Sam and Winslow both had great freshman seasons, but I expect them to have even better sophomore years," interim head coach Riley Swinford said. "They have both worked hard and put a lot of time in the gym this offseason to get even better."
Two other returnees, 6-foot-8 forwards Nikola Radovic of Belgrade, Serbia and Robert "Trey" Gadson III of Tampa, Florida, combined for 24 starts and saw extensive playing time last season. Radovic averaged 6 points and 3 rebounds a game, while Gadson provided nearly four points and four boards a contest.
"Niko and Trey have both worked on their games and have put a lot of time in," Swinford said. "I expect them to show a lot of improvement this year. I think our fans will be surprised."
A pair of other sophomores, 6-foot-7 forward Randy Crittendon of Ozark, Alabama and 5-foot-7 Demaria Nance of Cadiz, Kentucky, bring experience to the floor for the Falcons as well. Crittendon played for SIC and then-coach Dominique Taylor during the 2016-2017 season as a freshman before he redshirted last season to focus on academics. Nance played his freshman season at Morthland College in 2016-2017 and sat out last season after transferring.
"Randy and Demaria are two of our hardest workers and will be fun to watch," Swinford said. "They both put a lot of time in on and off the court to improve during their redshirt seasons. Randy plays above-the-rim and contests a lot of shots and will get some highlight reel dunks, which will excite the crowd. Demaria will be the smallest guy on the court, but don't let that fool you. He'll be one of the quickest players in our league and will give a lot of teams fits with his speed and ability to get to the rim. He defends really well and doesn't let his size hold him back."
In addition to all the sophomores, the team has five new freshmen in the mix this season as well, who will look to compete for playing time.
A pair of Serbians — 6-foot-9 guard/forward Nemanja Tosic and 6-foot-4 guard Alex Pantelic both of Belgrade, Serbia join Radovic as Serbians on this year's team. While they all grew up overseas, both Tosic and Pantelic, come in with a lot of experience with the American game, though. Tosic played his last two years of high school at Eagle Ridge Christian in Cape Girardeau, Missouri and Pantelic has been in the states playing at Lee Academy in Maine.
"Nem is so versatile," Swinford said. "At 6-foot-9, he can really play all five spots on the floor. He puts the ball on the floor as well as some of our guards and maybe is our best three-point shooter. He can play inside-out and will cause a lot of matchup problems for our opponents.
"Alex is a scorer," Swinford continued. "He is someone who can score 20 plus points anytime out and when he's hot, he can really shoot the ball. He's a competitor."
Another international freshman — 6-foot-8 Arnaud Nkusi — from Rwanda, Africa will provide size for the Falcons this year as well. Nkusi most recently played at Potter's House Prep in Jacksonville, Florida, which is one of the nation's top prep schools. He also grew up playing on his country's national team.
"We are lucky to have Arnaud here," Swinford said. "His prep school produces players to big-time schools every year. One of his high school teammates is at Kansas right now. Another one, Jimmy Beane, committed to Southern Illinois University, Carbondale. Arnaud's played a lot of basketball and has played at a very high level."
While the team does have a lot of international flavor, there is a good mix of players from the surrounding area. Taye Calloway, a 6-foot-3 guard who played at Louisville's Doss High School as a senior, grew up in nearby Morganfield, Kentucky in Union County and played his first couple years of high school basketball at nearby Henderson County, Kentucky.
Ian Torrey, a 6-foot-5 wing, is from Portageville, Missouri, where he was a multi-sport standout. Another nearby product, Braden Webb of Goreville, plans to sit out this season as he recovers from a back injury.
"Taye and Ian are two guys who got a lot of recruiting interest in high school," Swinford said. "They had a lot of interest from a lot of schools, including D-1 interest. Ian was getting recruiting for baseball and football as well. We are lucky to have them here.
"Taye is going to be one of the best shooters and scorers not only on our team, but in the league. Ian is a freak athlete, who just does some things athletically that will really impress our fans."
Swinford, who will start the season as the interim head coach, assisted Mark Motsinger last season. While it's his first stint as a college head coach, he has a built-in familiarity with most of the roster because he coached all of the sophomores last season and has coached a majority of the roster for years. Swinford has ran the Southern Illinois Select AAU basketball program out of Marion since 2012 and Martin, Sam Swinford, Calloway, Torrey and Tosic all played at least two seasons with him. Torrey, Tosic and Calloway won an AAU national championship at Disney World in Orlando, Florida with Swinford this past season.
"I've known Sam, obviously his whole life, and coached him since fourth grade," he said. "I've known Winslow since he was 13 and I met Ian, Taye and Nem in 2016. The other sophomores got to know me last year. There's a lot of familiarity between me and the guys."
The Falcons started the year with preseason games at Elgin Community College on Oct. 13 and they will host a couple preseason scrimmages at SIC on Oct. 27. The team's final tune-up was Oct. 30 at West Kentucky Tech in Paducah before the season starts on Nov. 7 at Bethel. The team will also travel to Campbellsville on Nov. 13 before the first home game on Nov. 14 against Kaskaskia. For a full schedule, visit the men's basketball page on sic.edu.
"We will definitely put a better product on the floor this season," Swinford said. "I'm excited for our fans and the community to see how much we've improved from last year. I encourage everyone to come out and take a look at this year's team."
###
Southeastern Illinois College Men's Basketball Schedule
2018-2019
November
7th @ Bethel 7:00
13th @ Campbellsville 7:00
14th Kaskaskia 7:30*
20th @ Vincennes 7:30*
26th Bethel 7:00
28th @ Wabash Valley 7:30*
December
1st Shawnee 3:00*
2nd Campbellsville 2:00
8th John A. Logan 3:00*
10th @ Campbellsville-Harrodsburg 7:00
13th Western Kentucky Tech 7:00
January
5th @ Southwestern Illinois 3:00*
9th Lewis and Clark 7:30*
12th Rend Lake 3:00*
13th Elizabethtown Community College 1:00
16th @ Lakeland 7:30*
19th @ Olney 3:00*
23rd Lincoln Trail 7:30*
26th @ Kaskaskia 3:00*
27th @ Elizabethown Community College 1:00
30th Vincennes 7:30*
February
2nd Wabash Valley 3:00*
6th @ Shawnee 7:30*
9th @ John A. Logan 3:00*
13th Southwestern Illinois 3:00*
16th @ Lewis and Clark 3:00*
20th @ Rend Lake 7:30*
23rd Lakeland 3:00*
26th Olney Central College 7:30*
March
1st @ Lincoln Trail 7:30*
NJCAA Region 24 Tournament
*Denotes GRAC/Region 24 Game