Forensic Falcons Win College of DuPage Invitational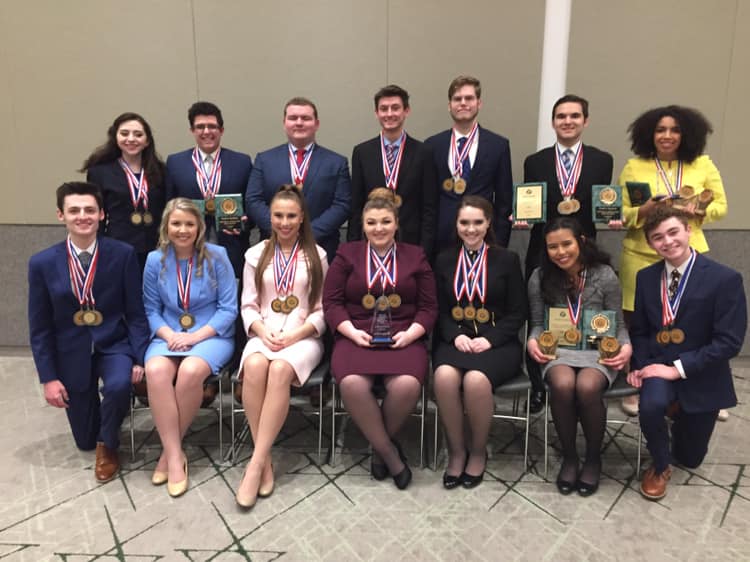 The Southeastern Illinois College Forensic Falcons placed first at the College of DuPage Invitational Tournament on Jan. 19 in Glen Ellyn, Illinois.
SIC earned the team title in both open and two-year divisions, besting 14 other colleges and universities. Sophomore Cheriaca Huntley was named top speaker in the open division at the tournament. The top five competitors at the tournament were all from SIC.
"We appreciate the team's hard work in preparing for the tournament," noted Dr. Tyler Billman, who coaches the Falcons with Paul Cummins and Jenny Billman. "We always enjoy opportunities to showcase our students' hard work and talent."
The team completes its regular season in two weeks at the University of Illinois Invitational Tournament in Champaign, Illinois. From there, the Falcons will travel to the IIFA State Tournament in Peoria, Illinois, and the Phi Rho Pi Region Four Tournament before finishing the year at the Phi Rho Pi National Tournament in Reno, Nevada.
Individual results from the tournament are as follows.
Cheriaca Huntley (Carrier Mills): 1st Overall Sweepstakes, 1st Open Poetry, 1st Open Program Oral Interpretation (POI), 2nd Open Duo, 2nd Two Year Sweepstakes
Jasmine Teston (Harrisburg): 1st Two Year Sweepstakes, 1st Open Communication Analysis (CA), 1st Open Dramatic Interpretation (DI), 2nd Prose, 3rd Overall Sweepstakes, 5th Open Duo (with partner Billy Lewis)
Braden Cummins (Carrier Mills): 2nd Overall Sweepstakes, 3rd Two Year Sweepstakes, 2nd Open CA, 2nd Open Duo (with partner Cheriaca Huntley), 3rd Open Poetry
Angelica Harrelson (Eldorado): 1st Prose, 2nd DI, 4th Open Duo (with partner Tucker Murphy)
Kenzee Dycus (Mt. Vernon): 1st Informative Speaking, 3rd Open Persuasion, 6th Open CA
Tucker Murphy (Golconda): 1st DI, 3rd Poetry, 4th Open Duo (with partner Angelica Harrelson)
Tiffany Turner (Galatia): 2nd Open Persuasion, 3rd Open DI, 4th Open Poetry
Billy Lewis (Carrier Mills): 3rd Open Prose, 4th Open DI, 5th Open Duo (with partner Jasmine Teston)
Bradley Hydrick (Carmi): 3rd Informative Speaking, 3rd Speech to Entertain (STE), 6th Open Extemporaneous Speaking
Paige Clore (Norris City): 3rd DI, 5th Open Prose, 5th Open CA
Donovyn Valdez (Carrier Mills): 4th Overall Sweepstakes, 4th Open Impromptu, 5th Open STE, 5th Open Informative Speaking, 7th Open Prose
Emma Bradley (Eldorado): 4th Open CA, 5th Open Persuasion, 6th Open Prose
Christian Murray (Harrisburg): 4th Open STE, 5th Open Impromptu
Jacob Rice (Marion): 4th Informative Speaking,  6th Open Impromptu
###