SIC's PBL Club Celebrates Victories at State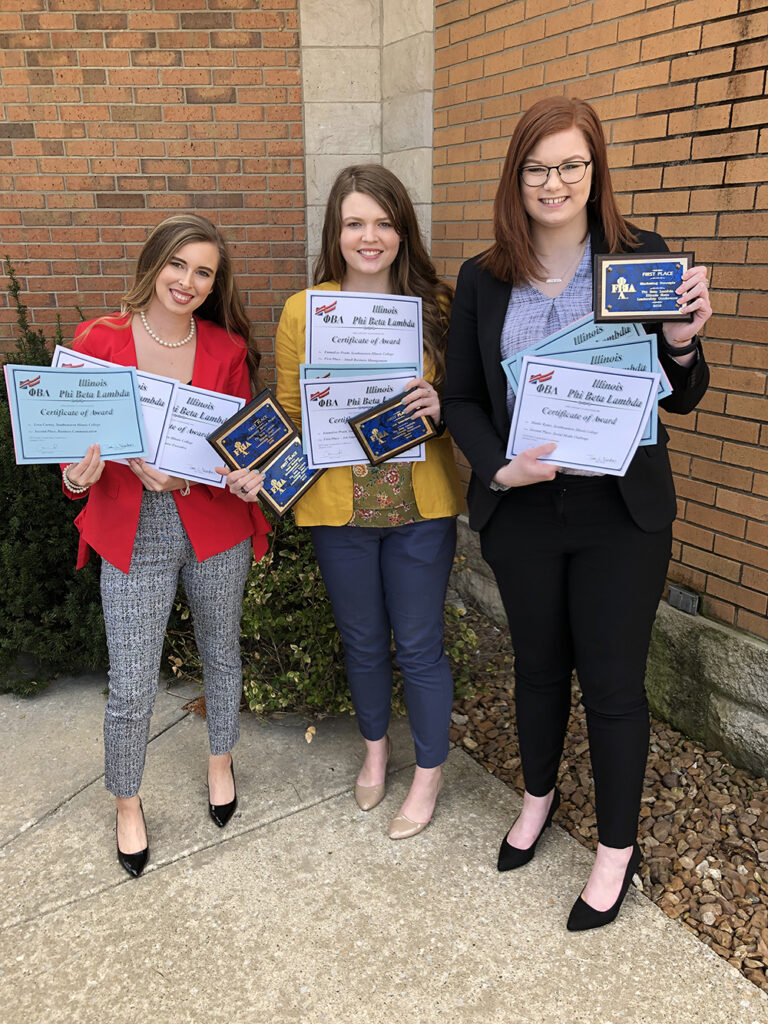 Southeastern Illinois College's Phi Beta Lambda Business (PBL) Club traveled to Effingham to compete at the 2019 Illinois Phi Beta Lambda State Leadership Convention at the Thelma Keller Convention Center April 5-6.
Of the six SIC PBL members, those that attended the conference were Lexa Carney of Eldorado, EmmaLee Pruitt of Norris City, Mattie Ryder of Eldorado and advisor and SIC business instructor, Kelsie Rodman. Bradley Hydrick, who competed in the prejudged events, did not attend the conference.
There were competitors from other Illinois colleges and universities included students from Heartland Community College, Illinois Central College, Illinois State University, Kaskaskia College, Olivet Nazarene University, Southern Illinois University –Carbondale, University of Illinois, and the Phi Beta Lambda Virtual Chapter. All PBL members in attendance competed in business-related events ranging from interviews to professional presentations and competed against students from other colleges and universities from across the state.
At the State Leadership Conference, competitors who place first or second place are given the opportunity to represent Illinois PBL at the National Leadership Conference. Of the events that the SIC PBL students competed in, four first-place entries included Community Service Project, Job Interview, and Small Business Management Plan by Pruitt, and Marketing Concepts by Ryder.
"Over the past couple of months I have been working on three events for the State PBL Conference, community service project, small business management plan and job interview," said Pruitt. "I was so excited when they announced that I had placed first in all three events. We all had a very successful trip and I can't wait to go to nationals in Texas this summer."
SIC also had three second-place entries that included Business Communication by Carney, Entrepreneurship Concepts by Ryder, and Social Media Challenge by Carney and Ryder. Third place entries are awarded at the state level and are given the opportunity to attend the National Leadership Conference in the event that a first or second place winner is unable to attend. The third place winners from SIC included Future Business Executive by Carney.
"Being able to compete at state for a second year was such an awesome experience and I'm so glad that I was able to return to represent SIC again," said Ryder. "Attending nationals in Baltimore last year was so rewarding and I'm so excited to be able to have the chance to make it onto the stage in San Antonio this summer!"
All members that placed first or second in an event are attending the Phi Beta Lambda National Leadership Conference that will take place in San Antonio, Texas, in June. There they will compete against business students from across the nation in a series of preliminary and final rounds of competition.
"The State Leadership Conference was a one of a kind experience," said Carney. "I pushed myself out of my comfort zone and competed in events that I normally wouldn't have competed in. After many long hours working to prepare, I'm so grateful to have received the awards that I did. I want to thank Mrs. Rodman for taking us and always pushing us to do our best! I would definitely encourage other business students to take this opportunity next year!"
SIC Phi Beta Lambda is currently in the process of taking the comments and critiques from the judges from the state conference and working hard to update their presentations and projects to prepare for the national competition in San Antonio. All of the students who advanced are excited to travel to compete and hopefully continue the successfulness of the team at the national conference.
For further information on SIC's business program and PBL, contact Rodman at 618-252-5400 ext. 2322 or at kelsie.rodman@sic.edu.
Future Business Leaders of America-Phi Beta Lambda, Inc., the premier student business organization, is a nonprofit 501(c)(3) education association with a quarter million members and advisers in over 6,500 active middle school, high school and college chapters worldwide. Its mission is to bring business and education together in a positive working relationship through innovative leadership and career development programs. The association is headquartered in Reston, Virginia, just outside of Washington, D.C. For more information, visit fbla-pbl.org.
###
Written by Mattie Ryder