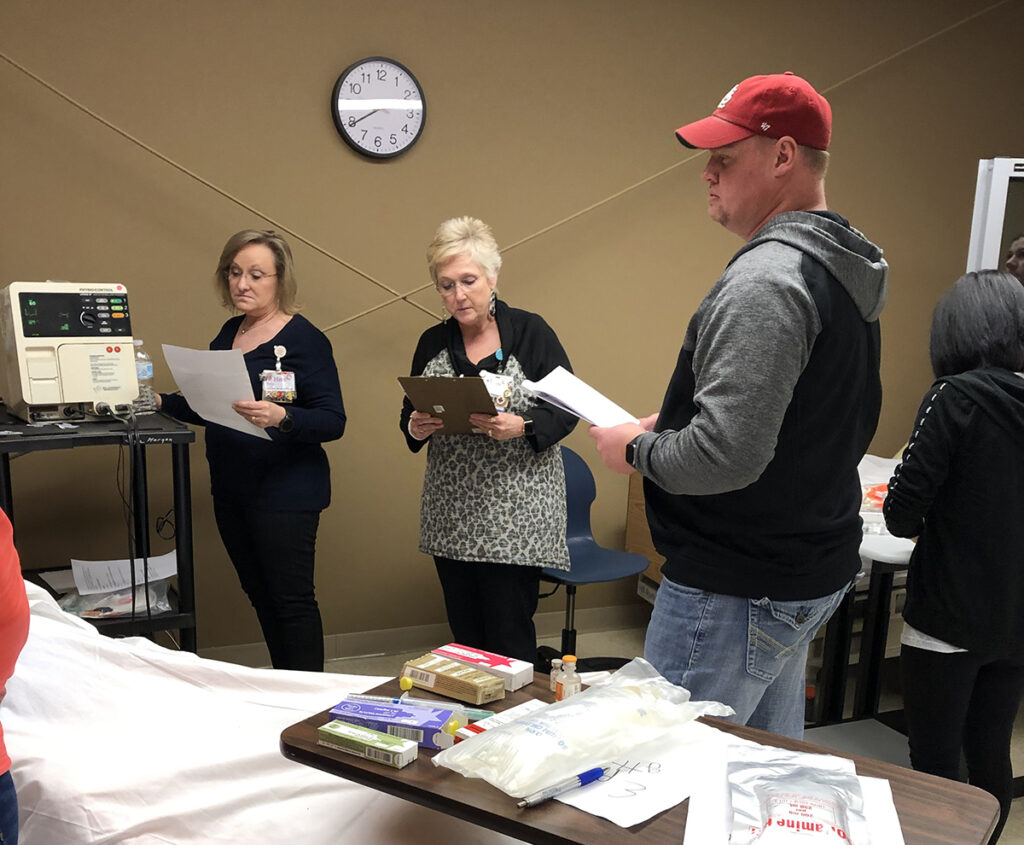 Southeastern Illinois College is known for its highly reputed nursing programs. SIC has held the state's top practical nursing (PN) and registered nursing (RN) programs among public colleges for the past three years. Pass rates for 2018 licensure exams among SIC nursing grads were 100%. Only four out of 42 RN programs in Illinois received 100% pass rates.
One of those students to graduate this year is Daniel Scheffer of Marion. What makes Scheffer unique is that he came back to college seeking a career change and became a new dad less than two months prior to graduating with his Associate Degree of Nursing.
Scheffer said health care has always been of interest to him. He obtained a bachelor's degree in Healthcare Management from Southern Illinois University-Carbondale in 2002. But with no prior experience or a master's degree, it made finding an administrative position in health care challenging.
"I knew I needed to either pursue a nursing degree or an MBA. Nursing seemed like the better choice for me at this point in my life," said Scheffer. "Also, due to the shortage of nurses, I believed there would be a job waiting for me."
Scheffer completed the RN program at SIC last week, and has already accepted a preceptorship nursing position working for Southern Illinois Healthcare at Herrin Hospital.
Amy Murphy, Director of Nursing, said, "It has been a pleasure having Daniel in class. His work ethic is admirable and he always conducts himself with integrity and professionalism. I've no doubt that he will be a positive addition to his chosen work environment."
His wife, Jennifer Roehm-Scheffer, who happens to be the Spanish instructor at SIC is proud of his accomplishments and explained the commitment and sacrifice it took.
"I'm so excited to see him graduate and fulfill the degree he has worked so hard to obtain. It definitely wasn't easy for him or me…" said Roehm-Scheffer. "There were nights where Daniel would stay up all night and study. God is good all the time and without Him none of this would be possible."
Of course, Scheffer had positive things to say about his wife and the support she provided during the experience."
"My wife is my rock, and without her support I would not have made it through school. She taught extra classes to help us financially. She understood the importance of me being back in school and needing to focus solely on it. Thus, she carried us, so that I didn't have to worry with working during these past two years."
Scheffer also noted the extra challenges during his second year of nursing studies.
"During my second year of nursing school my wife was pregnant with our first child. It was a high-risk pregnancy, so there were extra challenges with going to all of the doctor appointments and being present to help my wife when I had class or needed to be studying for a test. Also, we bought our first house and had to move right before Thanksgiving. While both of these things are blessings, it just makes life a little more complicated when you need to be two places at once."
Their son, Kade Arthur Scheffer was born March 19, during SIC's spring break.
Before he started the program, Scheffer was worried about how it might be to study nursing alongside those just out of high school. However, he soon realized that was a non-issue, as he wasn't the only parent or over-30 adult in the program.
"There were three of us older than 40 and several others in their early to mid-30s. There were seven guys in the program including myself," he explained. "Also, I was very impressed with how mature and intelligent the younger students were in the nursing program. The younger students made those of us who were older feel very welcome. All of us worked well together."
According to Executive Dean of Academic Services and former Director of Nursing, Gina Sirach, non-traditional students like Daniel bring a lot to the classroom.
"The real-life and work experiences that non-traditional students have adds value to group discussions and projects in the classroom. Interaction between non-traditional and traditional students provides for rich learning experiences for all students and faculty," explained Sirach.
Scheffer found his clinical experiences were rewarding and memorable due to the people he provided care for while honing his nursing skills. He also credits his success to caring instructors.
"One of my instructors this year, Mrs. Lampley, believed in me and my ability to become a good nurse. She was fundamental in developing my critical skills and always had an encouraging word for me and her other students. Although she is retiring this year I know she will always be there to lend a helping hand or provide an encouraging word.
"The instructors in our program genuinely care about the students and push us to be the best nurses we can be. Our nursing program is one of the best in the state of Illinois and I'm proud to say I'm a graduate of SIC," he continued.
Now that classes are over, he is looking forward to some family fun time, golf, watching sports and vacationing, which he missed out on a lot during his studies. The pair also feel his experience will be something to share with their son as he grows up.
"Daniel will be able to share his story with our son with the message to never give up on what you want most in life. Good things come to those who persevere," said Roehm-Scheffer.
In the future, Scheffer plans to continue his education and pursue his bachelor's degree in Nursing.
The Southeastern Illinois College nursing program is ranked #1 in the state of Illinois with pass rates of 100%. The program began in 1955 with a class of 13 students in the lower level of Harrisburg High School. It was the only program of its kind in Illinois, south of St. Louis, at that time. Since then, it has grown to approximately 100 students each year and includes online and traditional classes.
Nursing program applications and testing must be completed by March 31 each year for the fall semester, and a number of prerequisite classes must also be met prior to entry into the nursing programs. For more information, contact Amy Murphy at 618-252-5400, ext. 2331 or nursing@sic.edu, or visit www.sic.edu/nursing.
###