New Museum, Mine Competition and Carmi Programs at SIC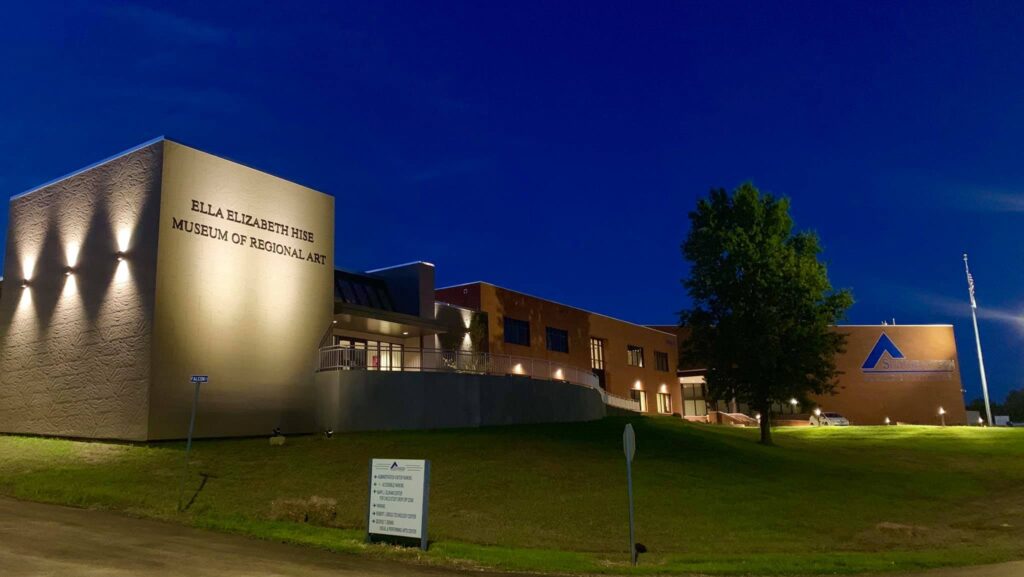 The Southeastern Illinois College Board of Trustees met Tuesday, Aug. 13, to discuss the new academic year; new programs, events, and initiatives; and budgets.
The board learned that enrollment on the first day of class was up nearly two percent.
"An increase in full-time equivalent hours is amazing given 2019 was the smallest high school graduating class we have seen in years in our district," said SIC President Dr. Jonah Rice. "We attribute this increase to new recruiting channels, new programs, and more students in our district choosing SIC due to affordability and quality."
Proof of that quality was found in a student satisfaction survey for fiscal year 2019. Results show that over 85 percent of students surveyed scored the college with high marks. Nearly 120 SIC students responded to the survey, and less than 5 percent had challenges with services and instruction.
The latest new construction addition to SIC is now complete. After more than a year of construction, the Ella Elizabeth Hise Museum of Regional Art is nearly ready to open for the public. The first exhibit, "Art of Our Region: 1930s-2019" is under installment this week. A grand opening ceremony will be held at 10 a.m. Friday, Aug. 23, in the George T. Dennis Visual and Performing Arts Center Theatre. The public is invited to attend the ceremony followed by a ribbon cutting, tour, and a light reception.
The board learned that after eight years of regional competitions, SIC has been chosen to host the national mine safety skills competition next year.
"We have been working toward this for several years now, and are proud to announce that we will be hosting the national mine safety skills event next year.  Given the new grant-funded simulated coal mine, burn tunnel and our training complex, we are excited to host this prestigious competition," stated Rice.
Possible good news is also underway in Carmi at SIC's David L. Stanley Center. The campus extension site is being considered for expanded programming pending discussions with White County Schools.
"We are currently working with our K-12 partners in White County to expand dual credit offerings in Carmi. With an interest in health care, we are going to be offering a certified nurse assistant course this fall at the White County extension center for Carmi-White County High School and Norris City-Omaha-Enfield High School students," stated Dr. Karen Weiss, vice president of Academic Affairs at SIC.
In financial news, the board reviewed the end of year budget, which was in the black, as well as a tentative budget for fiscal year 2020 (FY20). This year will show a modest deficit due to multiple one-time purchases for programs and new positions, including multiple new faculty positions. According to administrators, state reimbursement was modestly increased this year, but the previous four years of less funding including two years of no state budget are still being felt. Mitigation possibilities are well underway for the budget including anticipated savings for FY 21.
The board also finalized plans to refinance bonds at a rate of 1.88 percent, thus saving taxpayers nearly $100,000 directly.
Trustee Dr. Frank Barbre announced that as Chair of the Illinois Community College Trustees Association (ICCTA) Legislative Committee, he will help form a legislative agenda for the state's community college system and boards of trustees.
Work continues on the Saline Valley Conservancy District's proposal to use the college's water tower for its operations. Attorneys are negotiating a water rate and mutually protective clauses. A vote by the board is expected in September.
In personnel, the board approved transfer of payroll clerk Devona Morales to Learning Commons paraprofessional, the transfer of student resource assistant Kayla DePriest to Dana Keating Student Success Center assistant; approved the hire of part-time student resource assistant Anne Eisenhauer, and approved adjunct faculty.
The next meeting of the board will be Tuesday, Sept. 17, at 6 p.m. in the Rodney J. Brenner Board Room at SIC. More information about SIC can be found at www.sic.edu.
###