Ferrell Hospital Sponsors SIC Learning Commons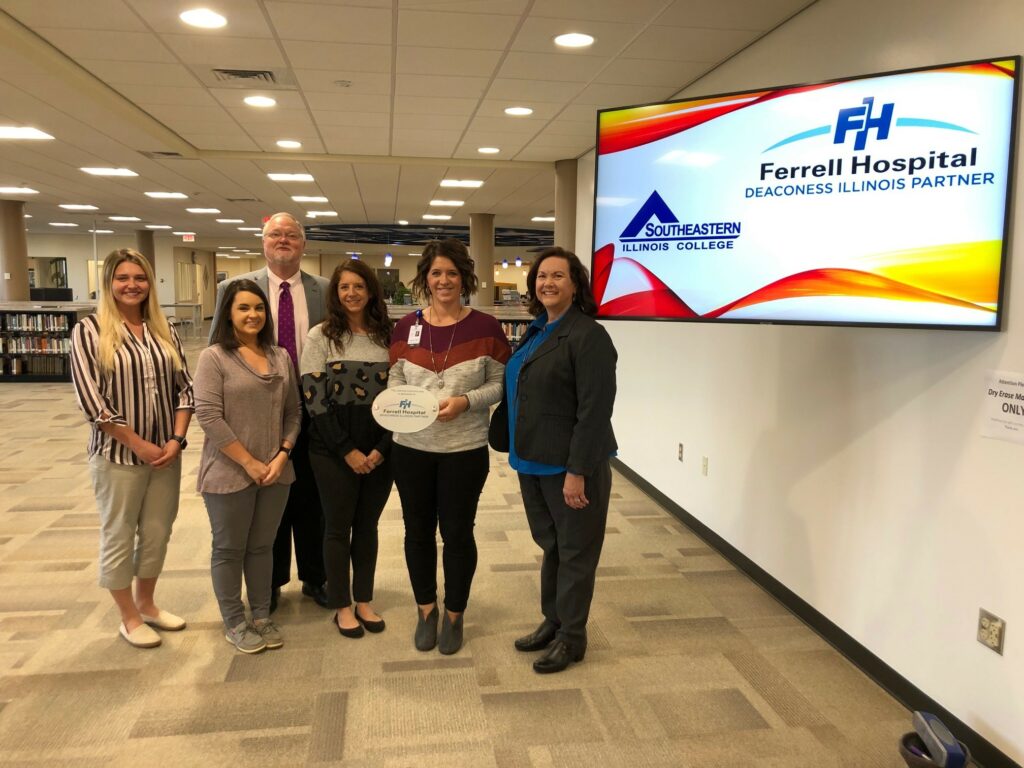 Ferrell Hospital's Caleigh Bruce, Chief Compliance Officer-Director of Human Resources, and Allison Sisk, Marketing Specialist and Community Education Director, visit Southeastern Illinois College recently to see the Collaboration Station space that they have chosen to sponsor in the renovated Learning Commons Area.
The SIC Learning Commons houses the Melba Patton Learning Resource Center, Online Learning & Educational Technology department, and the Dana Keating Student Success Center. The Collaboration Station is a place for students to project content from their wireless devices and work together on large group projects.
"Ferrell Hospital is proud to be a sponsor of the new Learning Commons area. We are excited to see the students utilize this station for group studies and presentations, which allows them a better environment to collaborate and work as a team," said Bruce. "Ferrell Hospital is excited to see what SIC continues to be able to offer to their students, and our communities, as our partnership is very valuable and we continue to work together for the better of our community."
Ferrell Hospital has partnered with SIC's nursing program for a number of years and also works with the SIC Foundation on joint fundraising.  The next joint fundraiser between the two is Concert For A Cause with Howl at the Moon Dueling Pianos set for Feb. 15 in the SIC Cafeteria.  This is the second year for this event. Tickets will go on sale in January.
"Ferrell Hospital has been so gracious to help us in offering state of the art technology tools for groups of students to collaborate on team projects," said Karla Lewis, Associate Dean of Learning Commons at SIC. "I know this will be a favorite spot for our students to join forces and learn together."
A ribbon cutting celebration for the Learning Commons is being tentatively scheduled for Wednesday, January 22, at 11:30 a.m. To become a sponsor, contact Lewis at (618) 252-5400, ext. 2326 or email karla.lewis@sic.edu.
###