Local SIC Alumnus Charlie Morgan Speaks to Math and Science Majors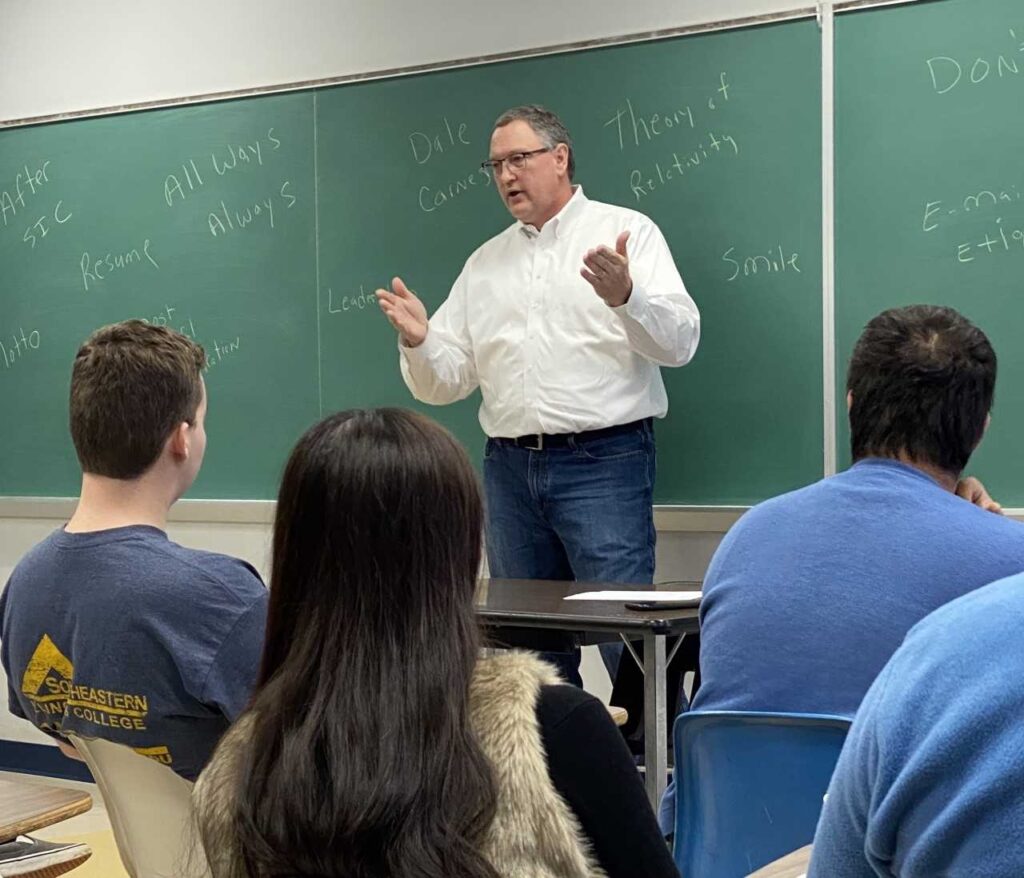 Southeastern Illinois College math and science majors were in for a treat last month (before COVID-19 restrictions went into effect) when Charlie Morgan, Vice President of Technical Marketing at Wieland Rolled Products North America came to speak to students during a special Math & Science Grad-Talk breakfast organized by math instructor, Kim Martin.
Morgan was raised in Harrisburg and is an alumnus of SIC. He talked about his exciting experiences traveling with his job, international cultures, how he got to where he is today, and offered a question and answer session to students regarding next steps after SIC and finding a job that's a great fit, among other topics. He encouraged the students to visit other countries if they have the chance.
He also pointed out some key traits to success using a number of mottos he goes by, including, "Where you are from depends on where you are" (the name of his future book), "Don't ever give up," "Your first mistake usually won't get ya – it's usually the second one," and "A problem well-defined is a problem half-solved."
Sophomore mathematics major, Jacob Bridges, from Norris City enjoyed the Grad-Talk.
"I really liked the way he explained how to get prepared for interviews and how to create a resume," said Bridges. "His wealth of knowledge was amazing. I wish we could have talked with him for two hours!"
Another student, chemistry major Paige Clore said, "Something that really resonated with me was how much he emphasized the importance of getting a degree in something you love and are passionate about. It was interesting when he said that the reputation of the college from which you graduated won't get you a job—you have to do that on your own—but it can get you an interview."
Morgan is a pre-engineering graduate from SIC, has an electrical engineering degree from University of Illinois, attended University of Chicago's Booth School of Business and Northwestern University's Kellogg School of Management. His education and experiences have given him a unique combination of business and technical experience with a strong background in business development, sales, marketing and technical service engineering. His extensive international experience includes multi-year ex-patriate assignments in Singapore and Germany.
His journey started in the copper industry with Olin Brass in East Alton, Illinois, which included two years living in Germany and three years in Singapore. He then shifted to the zinc industry, working with Jarden Zinc in Greeneville, Tennessee, before returning to copper with Aurubis in Buffalo, New York. He then re-joined Olin Brass, which recently merged with Wieland Werke.
Wieland is a global metal-working company specializing in copper and copper alloy, using 80% recycled material. More about Wieland can be found at www.wieland.com. Morgan's role at Wieland focuses on global new product and new business development; in prior positions his responsibilities and areas of expertise include profit and loss responsibility, negotiating large customer sales contracts, leading annual sales/margin budget planning, margin analysis, product mix management, establishing distribution networks, managing sales channel partners, and employee development.
"Mr. Morgan really inspired my students by sharing a wealth of experience, knowledge, and wisdom about education, careers, and world travel," said Martin. "The students are all working toward a STEM major of some kind and agreed that his visit motivated them to focus even more on defining and pursuing their goals. I am grateful that this very successful alumnus is willing to return to campus and share such valuable information with our students. Charlie and I have already made plans for his return to campus next spring!"
Ever the motivational speaker, Morgan recommended one of his favorite authors, Dale Carnegie, whose books, such as How to Stop Worrying & Start Living and How to Win Friends and Influence People have made a big impact on his life.
Martin encourages aspiring high school junior and senior STEM majors to visit SIC and sit in on one of her calculus classes. Interested students should email kim.martin@sic.edu to take advantage of this opportunity once on-campus classes resume.
###