THREE PORTALS SCULPTURE BY ADDINGTON NOW ADORNS SIC CAMPUS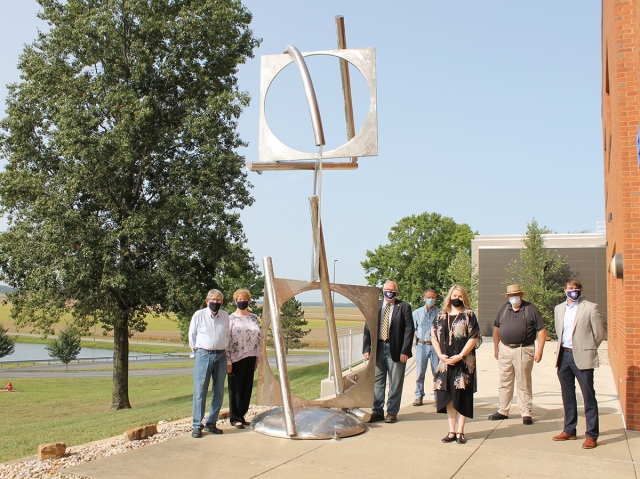 Artist, Aldon Addington of Carbondale recently donated a sculpture to The Ella Elizabeth Hise Museum of Regional Art at Southeastern Illinois College. The 16-foot tall, welded stainless steel sculpture titled "Three Portals" now stands centered in front of the grand windows of the Harry W. Abell Administrative Building on the south side of campus. This ties together both the George T. Dennis Visual & Performing Arts Center and the museum.
"We are thrilled to accept this generous and beautiful donation," says Melody Bryant, museum curator and events professional at SIC. "It is an outstanding addition to the museum and SIC's campus as a whole. We are grateful that Aldon thought of us for this particular work."
Addington notes that while his work is abstract, the "Three Portals" suggest the expansive quality of art and of education, making it an ideal work for a college campus.
"The Ella Elizabeth Hise Museum of Regional Art is a wonderful addition to the artistic vitality of the region," Addington said.
Addington taught sculpture and 3-D design in the School of Art and Design at Southern Illinois University for 34 years, retiring in 2001 as an emeritus professor. Since his retirement, Addington has continued to pursue his work as a sculptor in his home studio. He had a "Recent Works" exhibition at SIU's University Museum in 2018. In 2019 he installed a 13-foot stainless steel sculpture at Albrecht-Kemper Museum of Art in St. Joseph, Missouri. His sculpture is represented in the permanent collections of the Federal Reserve Bank of St. Louis, Missouri, the Illinois State Museum, the University of Illinois, Champaign-Urbana, and Cedarhurst Center for the Arts in Mt. Vernon, Illinois. The Grovewood Gallery in Asheville, North Carolina, represents the artist.
The Ella Elizabeth Hise Museum of Regional Art was made possible by a generous gift from retired Air Force Col. William C. Hise and his brother, the late Air Force Brig. Gen. James C. Hise, who wished to honor their late sister Ella Elizabeth Hise, who was a pioneer in art education in Illinois and began her career in Harrisburg Public School. The Museum, located on the south side of the museum, contains three spacious galleries, as well as a beautiful front entrance foyer, classroom/reception area and professional workspace. The mission of the museum is to honor Ella Elizabeth Hise and foster an appreciation for visual arts works, exhibits, programs, and cultural partnerships that celebrate southern Illinois and the surrounding region.
Due to the current COVID-19 pandemic, the museum is limiting capacity to no more than 10 visitors in the museum at one time. Due to the possibility of abrupt closures due to the virus, appointments are encouraged. Face masks are required in the museum as well as on SIC's campus and no food or drinks are allowed in the museum.
Hours of operation for the Ella Elizabeth Hise Museum of Regional Art are Tuesday-Friday, 9 a.m. – 4 p.m.; the first Sunday of the month, 1-4 p.m.; or by appointment. For more information, contact 618-252-5400 ext. 2599, email hisemuseum@sic.edu or visit www.sic.edu/hisemuseum.
###