SIC's Eisenhauer Awarded SIU Chancellor's Scholarship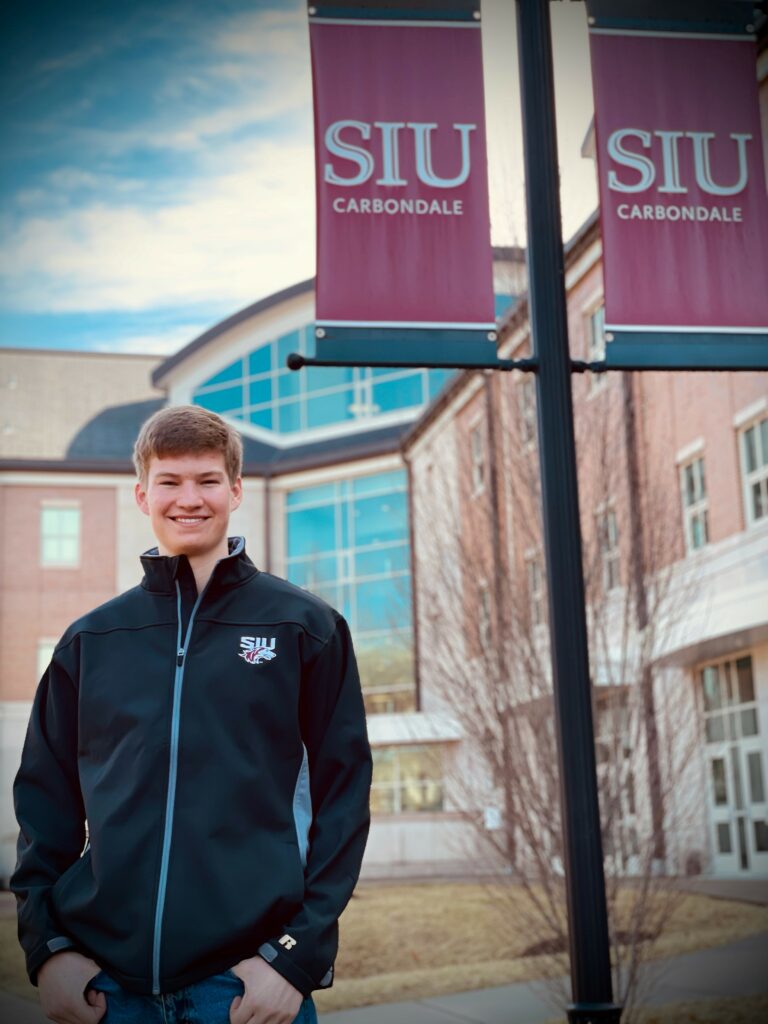 Luke Eisenhauer will transfer from Southeastern Illinois College with a full-ride scholarship to Southern Illinois University – Carbondale. Valued at $102,000, the SIU Chancellor's Scholarship is the university's top award. Only 26 of these scholarships were awarded for the 2020-2021 academic year and over 450 people were interviewed this year. Expenses covered by the scholarship include tuition, room and board, mandatory fees, and a meal card.
According to the SIU website, "Chancellor's Scholars are our bright stars on campus who are a model of leadership, integrity, and service. The program provides students unique and specialized opportunities such as study abroad assistance, the opportunity to begin research projects as freshmen, specialized faculty mentoring, cultural enrichment events, externship opportunities, and leadership training."
Eisenhauer is a homeschooled, dual credit student from Galatia, who started college earlier than fellow students of the same age. He chose classes that coincided with his career interest of business, as well as his personal interest of the outdoors with the Outfitter Wildlife Management (OWL) program.
"The Outfitter Wildlife Management program has been really unique, and no other schools offer anything similar," says Eisenhauer. "Even though it wasn't my direct career pathway, it offered a great learning experience about wildlife and the natural world."
Jordan Hammersley, SIC OWL instructor, said, "Any time one of my students is offered such a great opportunity to continue their higher education within a baccalaureate program, I am extremely proud of them. This particular student is very deserving of any award given to him, and Southeastern is proud to have him as an alumnus."
Eisenhauer's community projects and leadership roles have included; Red Coat Ambassador with the VA Medical Center, Illinois Senator's Youth Advisory Board, SIC Student Government, Toastmasters, and Teen Pact, among others.
Eisenhauer will be graduating with an Associate of Science degree in May while simultaneously graduating high school. He'll be transferring to SIUC at the same time other students his age will be just at the beginning of their post-secondary education. He will study business analytics during his time at SIU.
"I picked SIU because of the courses offered, and the university offering the exact degree I was looking for," the soon-to-be SIC graduate remarks, noting the transferability of courses between SIC and SIU. "Plus, it's local and my father went there."
Location is important to Eisenhauer; when asked about what he appreciated most about Southeastern, he noted that the location was close to home and the prices were very affordable.
"SIC has really prepared me to transfer into a larger university, and has offered a great head start at my higher education," Eisenhauer reflects. "The College of Business at SIU is considered prestigious. I am looking forward to the internship opportunities and networking offered by the university."
The road ahead may be intimidating, but Eisenhauer is confident that he will graduate from SIC fully prepared for university. Luke aspires to graduate from SIU and begin a career in technical business management.
Registration at SIC for summer and fall will begin March 22. Email advising@sic.edu to set up an appointment with an advisor. For more information, visit www.sic.edu.
###