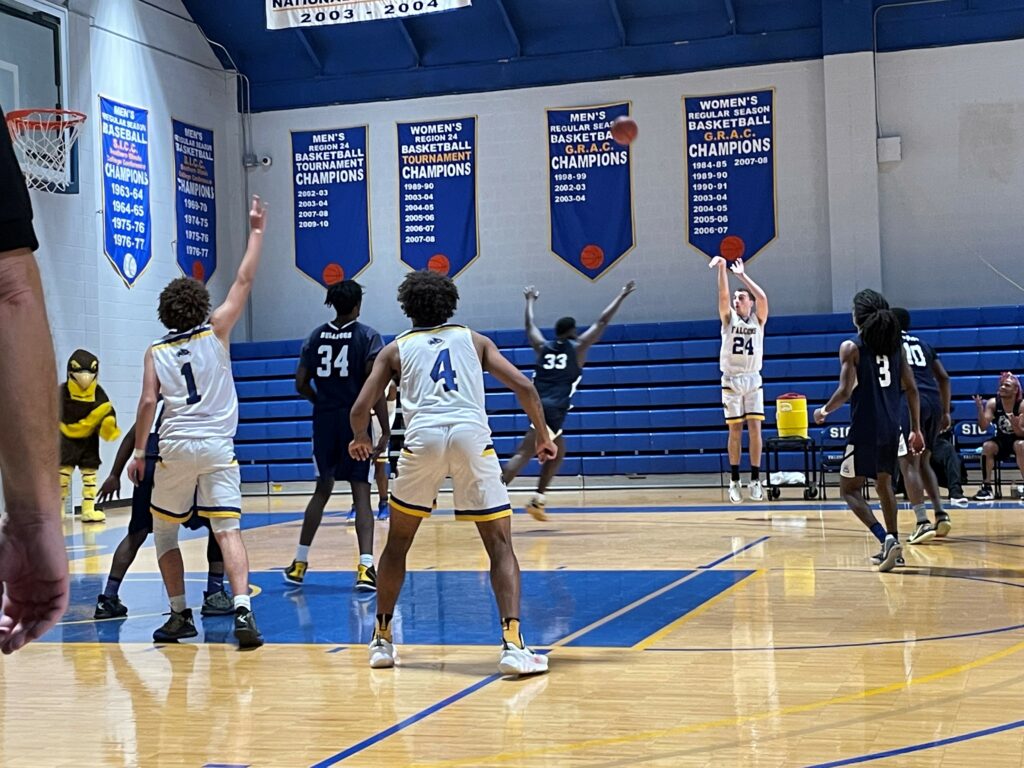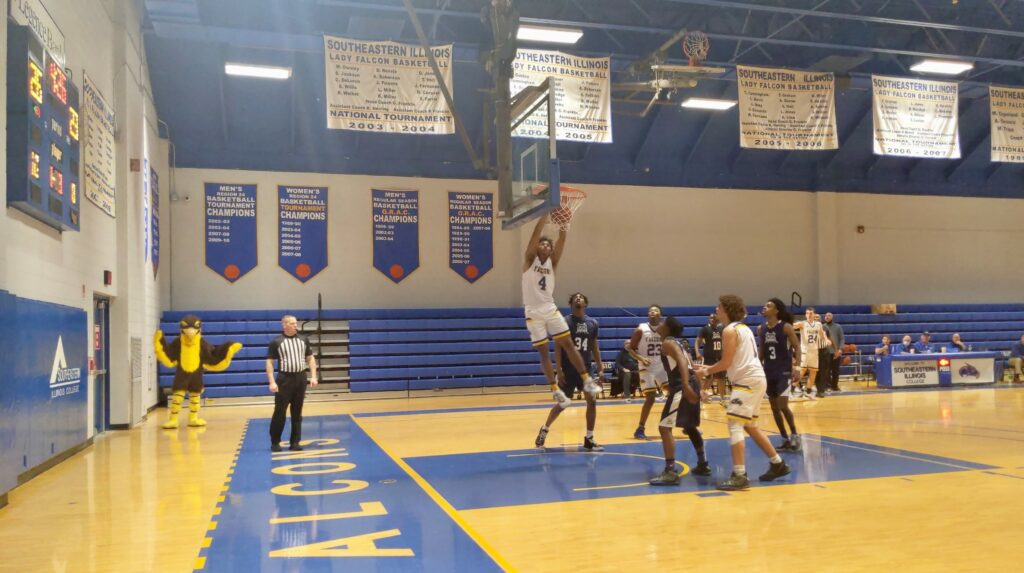 The Southeastern Illinois College men's basketball team won its long-awaited home opener 78-64 over the Springfield (Illinois) Bulldogs Wednesday night in front of a nice crowd inside Deaton Gymnasium.
It had been nearly two years since the Falcons were able to host a home game due to the COVID-19 pandemic but they took advantage of the opportunity to finally play in front of their home fans.
SIC overcame some early jitters and built a 17-point halftime lead behind the spark of freshman Kevon Williams' (New Madrid, Missouri) putback dunk and hot shooting from freshmen Calen Banks (Hardin County), Kaleb Ramer (Golconda), Devin Rankin (Carmi) and Noah Curry (Henderson, Kentucky).
In the second half, SIC held off a Bulldog rally thanks to strong defense from Jemarco Burse (Annapolis, Mo.), Peyton Edwards (Carmi), Amir Spann (Mt. Vernon) and Bryce Simpson (St. Louis). Burse also added a huge putback dunk down the stretch that sealed the win.
Freshman guard Brandon Anthony of Herrin teamed with Curry, Spann, Bands and Rankin to beat the Bulldogs' tough defensive pressure. Anthony led SIC with a team-high 8 assists, while also scoring eight points.
Curry led all scorers with 21 points on just 12 shots. Rankin was the only other Falcon to reach double figures (10) as the team of all freshmen first-year players had a balanced attack with points from all 10 players who dressed.
Burse added nine, Williams and Anthony had eight, Spann and Edwards both chipped in six, Banks had five, Ramer added three, and Simpson had two.
"I'm proud of our guys," first-year SIC coach and former Falcon guard Sam Swinford said. "They've worked so hard for this opportunity to play in front of friends and family again. For most of these guys who graduated in 2021, they hadn't played in front of fans since 2020 due to COVID. I could tell they had some jitters at first but once we got settled in, they all contributed and it was a total team effort."
The Falcons return to action this weekend with a pair of home games on Saturday and Sunday against SEMO Prep and Vision Collegiate. Both games tip at 1 p.m.
###