Falcon Basketball Rolls to Fifth Win of the Season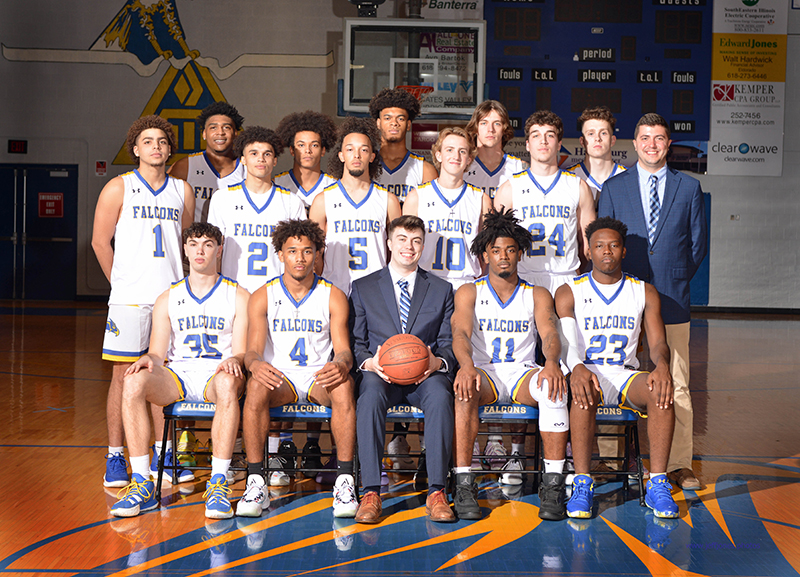 The Southeastern Illinois College Falcons men's basketball team rolled to its biggest win of the season Thursday night when it defeated Concordia, 105-60, at the historic Pederson Fieldhouse in St. Louis.
SIC led 56-27 at halftime and never looked back behind the strength of its hot-shooting and contributions from up and down its bench from all nine Falcons who played.
Brandon Anthony (Herrin) led the way with a full statsheet of 23 points, 10 assists and nine rebounds. Kaleb Ramer (Golconda) hit a season-high seven 3-pointers and finished with 21 points. Calen Banks (Cave-In-Rock) also had the hot hand with four 3-pointers on his way to 12 points. Kevon Williams (New Madrid, Missouri) added his third double-double of the week with 12 points and 12 rebounds. Devin Rankin of Carmi continued his strong play with 14 points, while Jemarco Burse (Annapolis, Missouri) had 11 points, Bryse Simpson (St. Louis) had six and Noah Curry (Henderson, Kentucky) and Peyton Edwards (Carmi) finished with four points and two points respectively.
The Falcons have now won five games on the season, including wins in four of their last five games entering a game at West Kentucky Community and Technical College Wednesday night. SIC is trying to avenge a close 90-81 loss to the Stars this past Tuesday. In that loss, Rankin led SIC with 23 points.
"We are starting to play really well together as a team and we hope to build off this recent momentum as we enter the final stretch of the season," SIC coach Sam Swinford said.
The Falcons will return to home to host Brescia JV Sunday, Jan. 30 for a 1 p.m. tipoff in a recently added game.
###