Portland, TN Resident Signs to SIC's Archery Team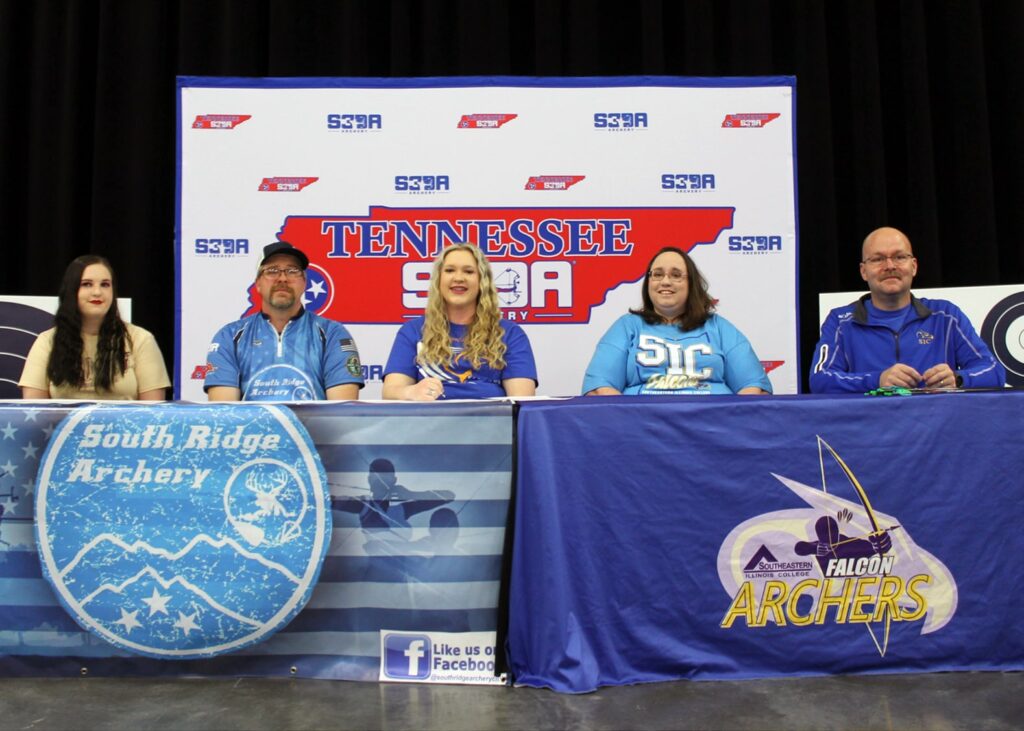 While attending the Tennessee S3DA State Indoor Tournament, Emma May signed her intent to compete with the Southeastern Illinois College Falcon Archers for the 2022-2023 season. The tournament was held at the Opryland Hotel during the National Wild Turkey Federation Convention.
"I'm so excited to further my education at SIC and can't wait to further my archery career," says May. "At SIC I plan on majoring in science in hopes to one day be a forensic scientist. I want to thank my parents, other family members, friends, and coaches for helping me get this far and continuing to support me."
A Portland, Tennessee, native, May has been shooting for over five years and is a member of the South Ridge Archery Club. She currently shoots in the Female Olympic Recurve division and has competed in S3DA and ASA events. She plans to get her Associate of Science at SIC then transfer to Mississippi College to complete her degree. She hopes to one day be a forensic scientist for the FBI.
"Emma will be the first Olympic Recurve archer to ever join the SIC Falcon Archers," says Ricky Sauls, SIC Archery Head Coach. "I am looking forward to working with Emma and I know she will accomplish great things on and off the range. She is full of excitement all the time."
"I met Emma and began coaching her in 2019," says Brian McDougal, South Ridge Archery Head Coach. "She has always been very dedicated to her archery career and has a work ethic like no other. Emma is normally the first person to practice, and the last to leave. When most young adults her age are out having fun, she is at the range putting in work. She is an outstanding young lady, and an amazing role model for all of our youth archers on our team. She is always willing to lend a helping hand when needed. I will be forever grateful for the opportunity I have had to be her coach, and I can't wait to see how this next chapter in her life unfolds as she becomes a collegiate archer."
The SIC Archery Team started with a small group of students as a pilot program in 2011. Since that time, the Falcon Archers have won national awards against Division I universities, added an indoor facility, an indoor team, and host high school tournaments. The team is a member of USA Archery. For more information about SIC's archery team and facilities, visit www.sic.edu/archery or contact ricky.sauls@sic.edu or 618-252-5400, ext. 2248.