SIC Hosts Scholarships Night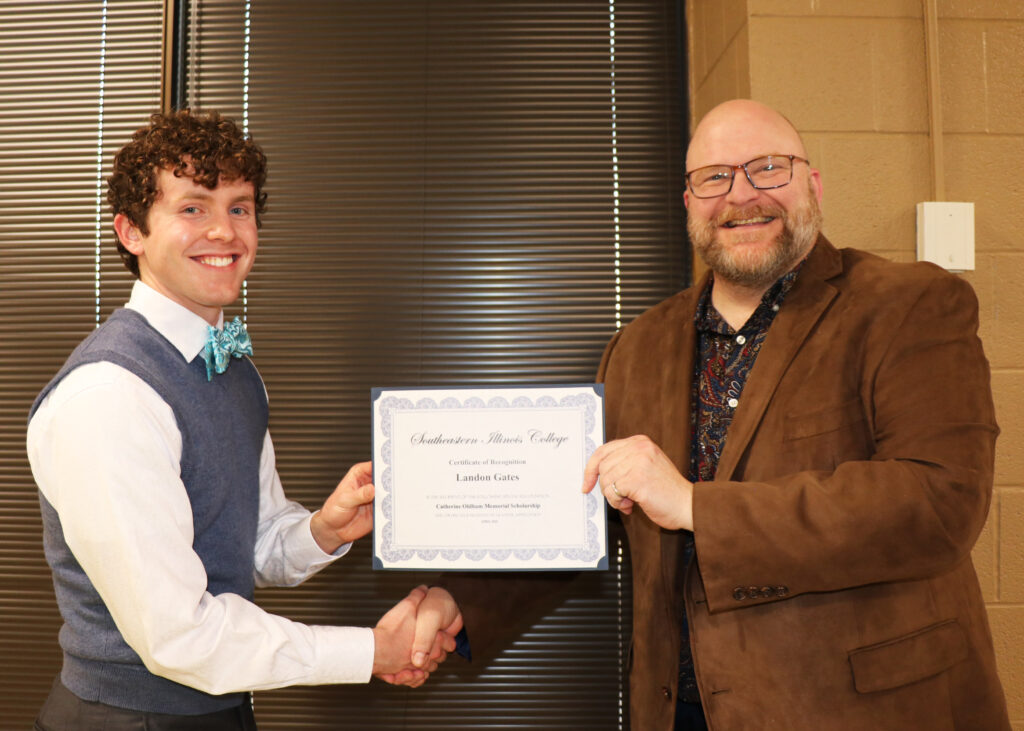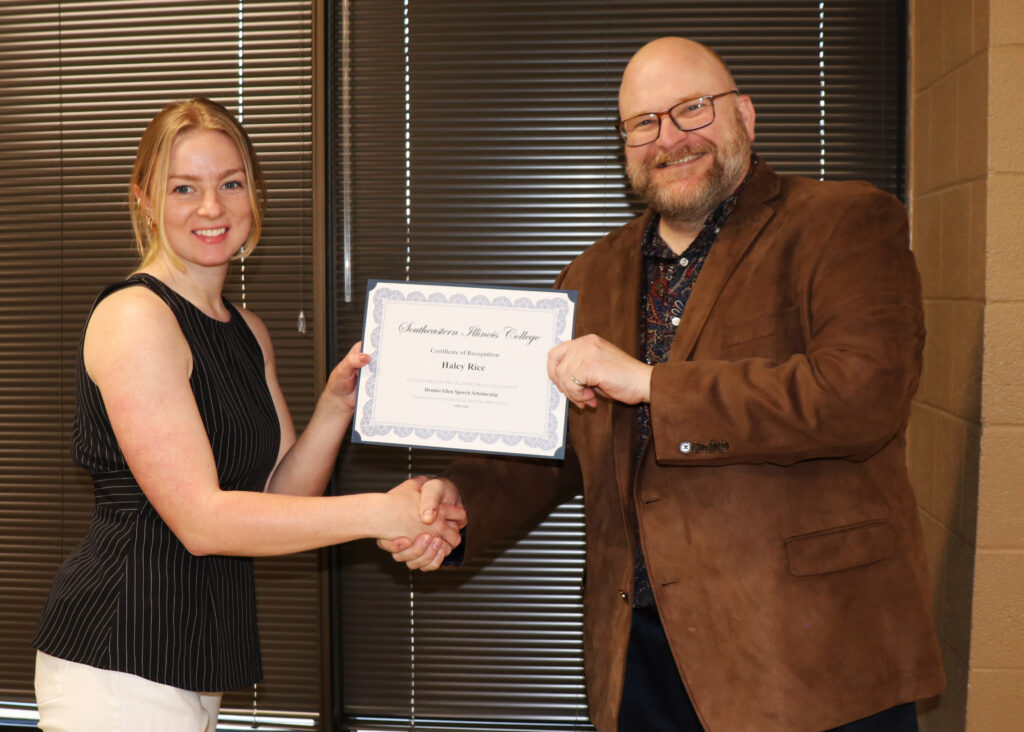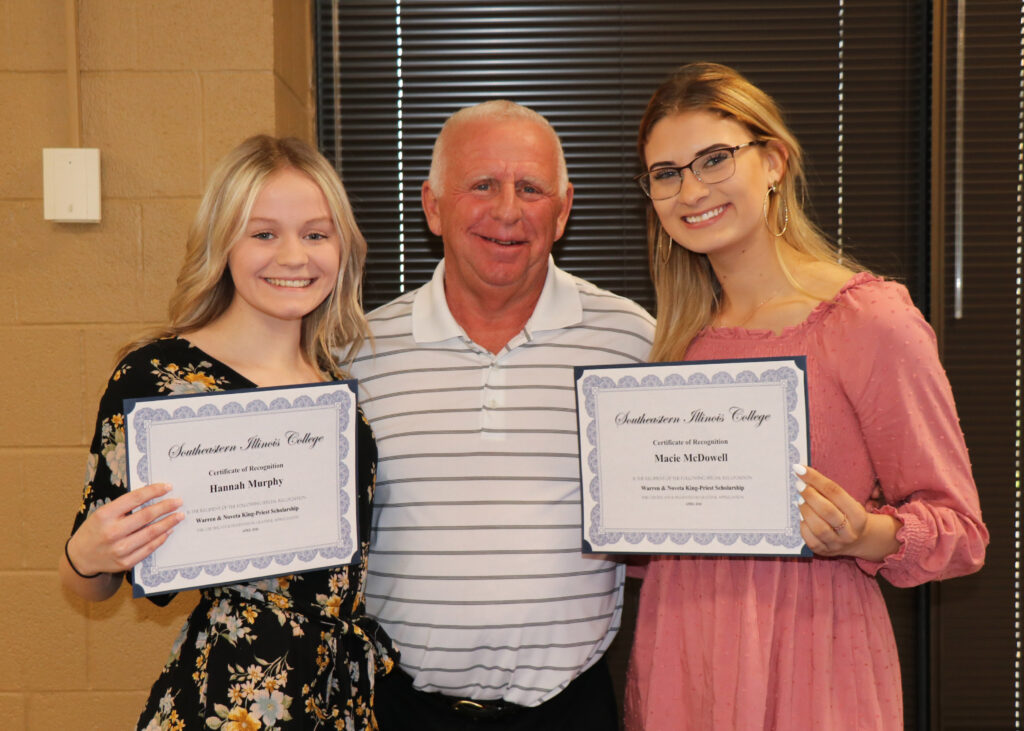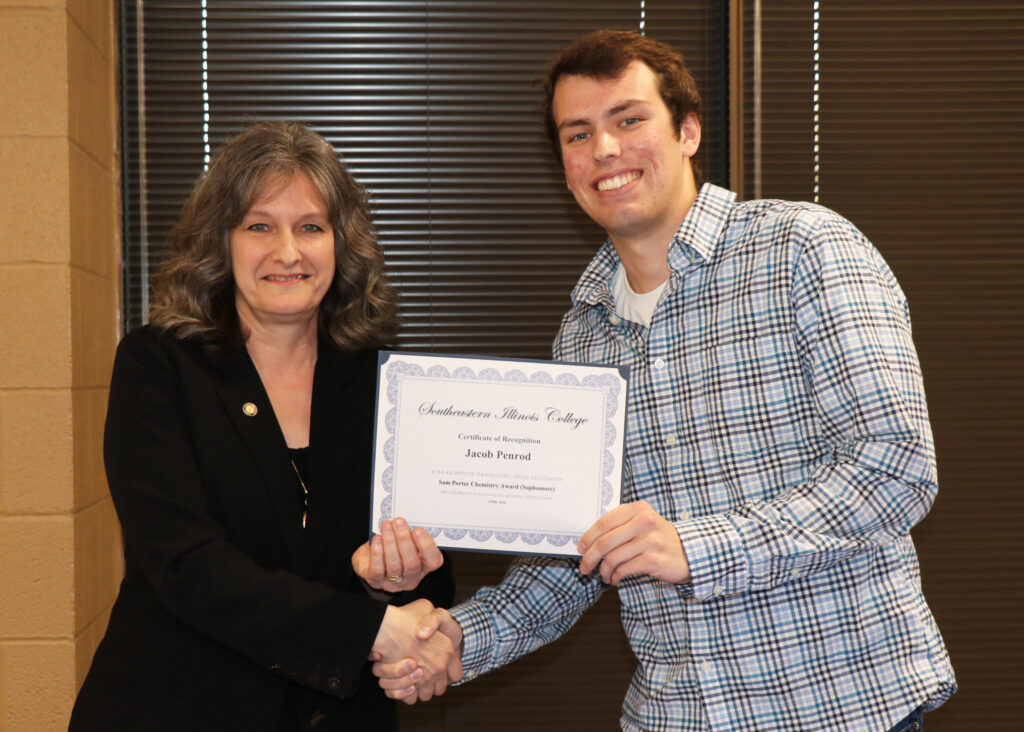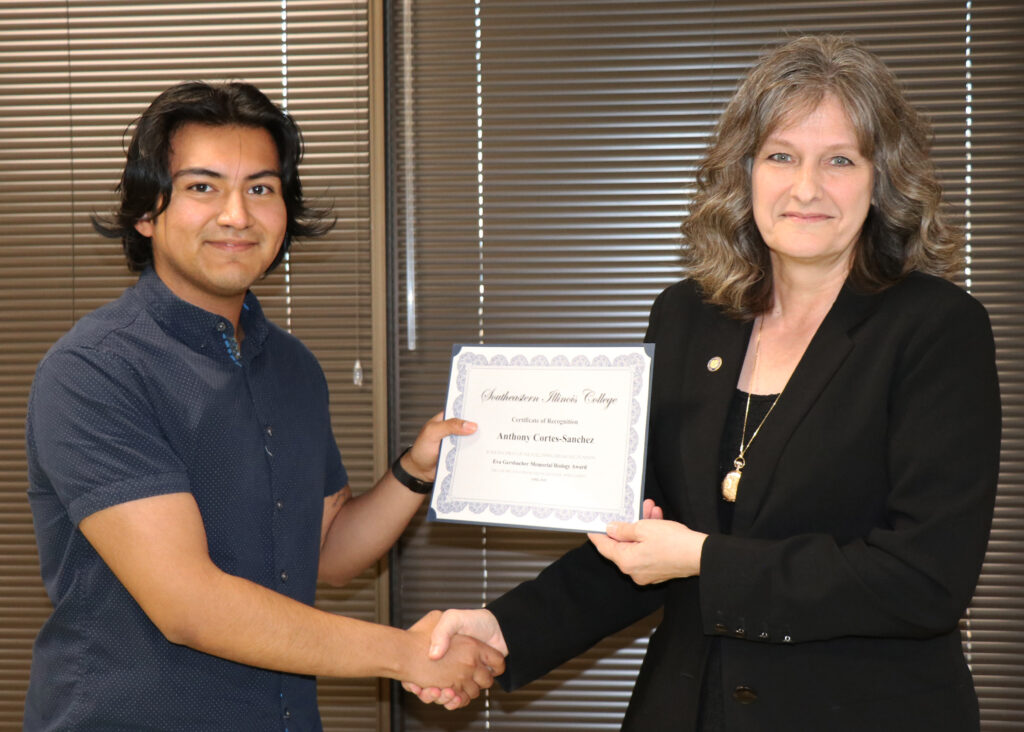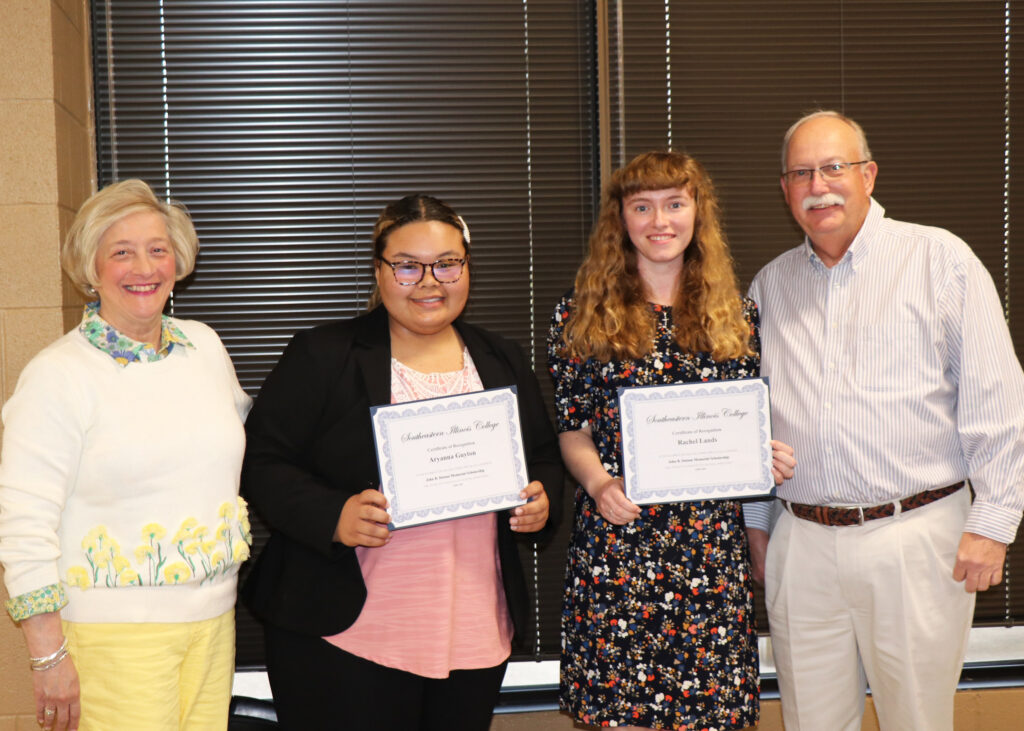 Southeastern Illinois College held its annual Scholarships Night April 26 with an Italian-style dinner catered by the Falcon Bistro in the Harry L. Crisp Student Center. A number of awards were presented.
Landon Gates, electrical engineering major from Harrisburg, was presented the Catherine Oldham Memorial Scholarship by Forensic Falcons coach Paul Cummins. Catherine Oldham was a member of SIC's first national championship speech team in 1986. She represented genuine determination and leadership, and her attitude remains the benchmark for competitors. The award is occasionally given to a speech team member who shows the best qualities of leadership and team spirit. Gates was also awarded the June Rice Malan Mathematics Award. He is the SIC Math and Science Club president and a member of Phi Theta Kappa. He was also this year's SIC winner of the Paul Simon Essay Contest.
Haley Rice of Stonefort was awarded the Dennis Allen Speech Scholarship in honor of the SIC speech team's founding fathers, George Dennis and Gary Allen. The award is given to a transferring team sophomore who excels academically, personally, and competitively. Rice was named most valuable speaker in five tournaments this year (more than half that the team attended). Forensic Falcons coach Paul Cummins presented the award. She also earned the outstanding student award of forensics.
The George T. Dennis Memorial Scholarship was created to honor those qualities in Dennis that made him a true renaissance man. Presenter Paul Cummins explained, "George Dennis embraced all aspects of the humanities, and this year the award goes to someone who has shown a deep appreciation in multiple areas of the humanities – Oliver Abell from Ridgway."
The Warren and Noveta King-Priest Scholarship was awarded to three recipients this year: Elementary education major Hannah Murphy (left), early childhood education major Macie McDowell (right), and Ryan Wilson (not present), all of Harrisburg by Jerry King, nephew of Warren and Noveta. Warren and Noveta King-Priest served as educators in Saline County for many years. They both had great appreciation of the value of education and believed that education was key to independence and productivity. Throughout their lives, they had many opportunities to assist students in achieving educational success. At the time of their deaths, this award was established by their daughter to support a student from Saline County pursuing a degree in education.
The Sam Porter Outstanding Freshman Chemistry Award presented by math instructor Kim Martin was awarded to Tyler Lester, a pre-engineering major from Eldorado. Lester can be seen around campus regularly helping other students with questions in chemistry and calculus. Sam Porter, for whom the award is named, was a beloved member of the chemistry faculty at SIC from 1965 to 1990 and chair of the math and science division.
The Sam Porter Outstanding Sophomore Chemistry Award presented by math instructor Kim Martin was awarded to Jacob Penrod of Harrisburg. Penrod came to SIC on a high achiever scholarship as valedictorian of his high school class. He will transfer to SIU-Edwardsville this fall to continue his pre-medicine studies. He's active in Phi Theta Kappa and Student Government at SIC.
The Eva O. Gersbacher Memorial Biology Award is granted in honor of a member of SIC's biology faculty from 1964 to 1973. The award is given to the student who has the highest academic record in freshman biology, possesses the attributes of a responsible citizen, and gives evidence of leadership. This award was presented to Anthony Cortes-Sanchez, pre-med major from Harrisburg, by math instructor Kim Martin. He is looking into transferring to University of Evansville and then to Medical School at Indiana University after completing his second year at SIC. Sanchez was also awarded the Gladys and Raymond Carroll Memorial Scholarship.
Gunner Wilson of Ridgway, last year's valedictorian of Gallatin County High School, was awarded the Matthew J. Fry Memorial Scholarship for mathematics in honor of the late Matt Fry, a1984 graduate of SIC. This award has been given each year since 1988, and was presented to Wilson by math instructor Kim Martin. He was also awarded the Faye Mitchell Memorial Scholarship, established in 1997 by Mitchell to assist students interested in pursuing a teaching or education-related degree. Gunner hopes to become a high school principal one day.
Patti Ferrell presented the Jaylynn Ferrell Memorial Scholarship to two recipients this year: Karsen Price of Eldorado (left) and Sydney Hancock of Carrier Mills (right). Patti Ferrell created this scholarship to help future nurses in honor of her daughter, a 2011 SIC graduate of the nursing program, whose life was taken in the Leap Day Tornado. Price, who hopes to become a neonatal intensive care nurse was also awarded the Eldorado Women's Club Scholarship and the Judith Elaine Milligan-Baugher Scholarship for nursing. Hancock, a 25-year-old single mom who was valedictorian of her high school class, was also awarded the Kathy King Memorial Scholarship by Jerry King in honor of his late wife, a 1971 SIC graduate.
Sherry (left) and Sonny (right) Dotson traveled back from their new home in Ohio to present the John B. Dotson Memorial Scholarship to two outstanding candidates in honor of Sonny's father who was a teacher and coach. The award was presented to Rachel Lands of Harrisburg (third from left) and Aryanna Guyton of Carrier Mills (second from left) who will also be joining the Forensic Falcons next year.
Morgan Oldham of Shawneetown was one of the recipients of the Gladys & Raymond Carroll Memorial Scholarship, established by their family to facilitate the education of deserving students. Morgan is pursuing a degree in exercise science for a career in either chiropractic care or physical therapy. The award was presented by SIC Foundation Board of Directors Chair Brian Surprenant.
The John and Audrey Coyle Scholarship was established in 2014 in memory of his mother, Virginia Coyle, to help provide students with an opportunity to pursue their higher education dreams. Presented by SIC Foundation Board of Directors Chair Brian Surprenant, this award was given to Andrea Bowen of Omaha. She is pursuing an Associate Degree of Nursing at SIC and wants to become an international board-certified lactation consultant.
James Murray of Harrisburg received the Dr. Warren Tuttle Memorial Scholarship from Amy Murphy, Director of Nursing. Dr. Warren Tuttle was a medical pioneer in Southern Illinois and a practitioner at Harrisburg Medical Center. As one of the founders of SIC, he worked hand-in-hand with Shirley Oshel to establish the nursing program. His daughter, Pam Pearson, and family honor his memory through this scholarship to a second-year nursing student. Murray plans to pursue flight nursing or travel nursing.
The recipient of the Carla's Wings of a Butterfly Scholarship is Miranda Wallace of Golconda who returns to SIC this fall to complete the ADN program before gaining experience in an acute care setting then furthering her education. This scholarship was established in memory of a cherished SIC nursing instructor, to facilitate the education of deserving students who would like to pursue their goals and dreams in nursing.
A number of other students also received scholarship awards, though they were not able to be present for various circumstances.
Clay Brigham of Harrisburg is the recipient of the College Club of Saline County Scholarship. The award-winner of the Michael Hillegas Chapter of the Daughters of the American Revolution Scholarship is Ashley Foster of Galatia.
The Eugene and Callie Walden Morris Memorial Scholarship goes to Josie Martin of Harrisburg. Gracie McClusky of Hardin County, who plans to attend medical school, is the recipient of the Frank Schneider Memorial Scholarship. Ashlyn Smith, also of Hardin County, plans to become a nurse anesthetist and received the Rosiclare Chapter #971 Order of the Eastern Star Scholarship.
Hannah Littler of Galatia was selected for the C.R. Gardner Memorial Scholarship. She plans to pursue a degree in nursing and work at a long-term care facility. The Harold Bauman Memorial Scholarship goes to Jacqueline Fedele of Carrier Mills who plans to pursue a degree in nursing.
Carmi's Zachary Little aspires to have a career as a heavy equipment technician and hopes to become an on-the-road field tech for John Deere. He is the recipient of the Harry W. Abell Memorial Scholarship which honors Dr. Harry Abell, SIC president from 1974-1994.
The Wilma Hunter Memorial Scholarship recipient is Rachel Carter of Shawneetown who plans to major in biochemistry. Carter is also the recipient of the Ruth Baird Scholarship.
Jasie Owen of Cave In Rock has been awarded the Maxine Theresa Hobbs Memorial Scholarship honoring the longtime nurse at Hardin County General Hospital. Owen is currently a CNA and is enrolled in the practical nursing program. She plans to attend the ADN program this fall at SIC.
Registration for summer and fall classes is currently open at SIC. Summer classes begin at various times in June for 5- and 8-week courses, and regular 16-week fall classes begin Aug. 15. Email advising@sic.edu to get started or visit sic.edu.
###