LAUNDRY STAYS CLEAN IN CARMI WITH HELP FROM WISBDC AT SIC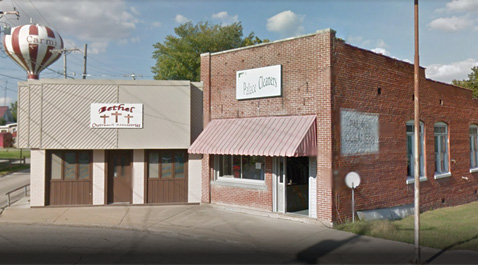 Angie and Joe Bolin were already in the trenches of starting a small business when a second opportunity presented itself. Shortly after finalizing their plans to start construction on Angie's Wash and Fold in Carmi, the couple added dry cleaning to their laundry list of services.
The purchase of Palace Cleaners, a decades-old business located in Carmi, was an easy decision for the Bolins. The couple had been working with Arla Murphy at the Workforce and Illinois Small Business Development Center (WISBDC) at Southeastern Illinois College on their new business, Angie's Wash and Fold for almost a year before Palace became available. The couple did not want to see the business close and knew they could continue the legacy and grow the business alongside their startup.
From prom dresses to quilts, Santa's suits to the Easter Bunny's fur, and business suits to curtains; Palace Cleaners provides quality dry cleaning and press services for a large variety of materials. The couple has also worked with their vendors to use the best cleaning solvents available.
The Bolins have worked with the WISBDC to create a business plan for both of their businesses. They have also utilized the WISBDC for reviewing contracts and purchases, financial projections, understanding marketing and much more.
"The SBDC is very knowledgeable," Angie said. "They knew what to do when we didn't even know where to start. They understand how to put a business together."
She noted that setting up a business and all of the details that come along with it are not just widely known. She stated her experience with the WISBDC was important because it helped them understand the process and gave them a support system along the way.
Palace Cleaners is located at 224 North Walnut Street in Carmi, Illinois.
The WISBDC is a part of the Illinois Small Business Development Center Network which serves as a dynamic, integrated, small business assistance delivery system. The Network's mission is to increase the competitiveness, profitability and growth of Illinois businesses in a global economy. The WISBDC has been developed through a partnership involving the U.S. Small Business Administration, the Illinois Department of Commerce and Economic Opportunity and the college as a service to Illinois small businesses in Gallatin, Hardin, Pope, Saline and White counties and portions of Hamilton, Johnson and Williamson counties.
To become a client, set up an appointment, or to learn more about the Workforce and Illinois Small Business Development Center, email arla.murphy@sic.edu or call 618-252-5400 ext. 2312.
###