SIC men's basketball program joins prestigious nationwide organization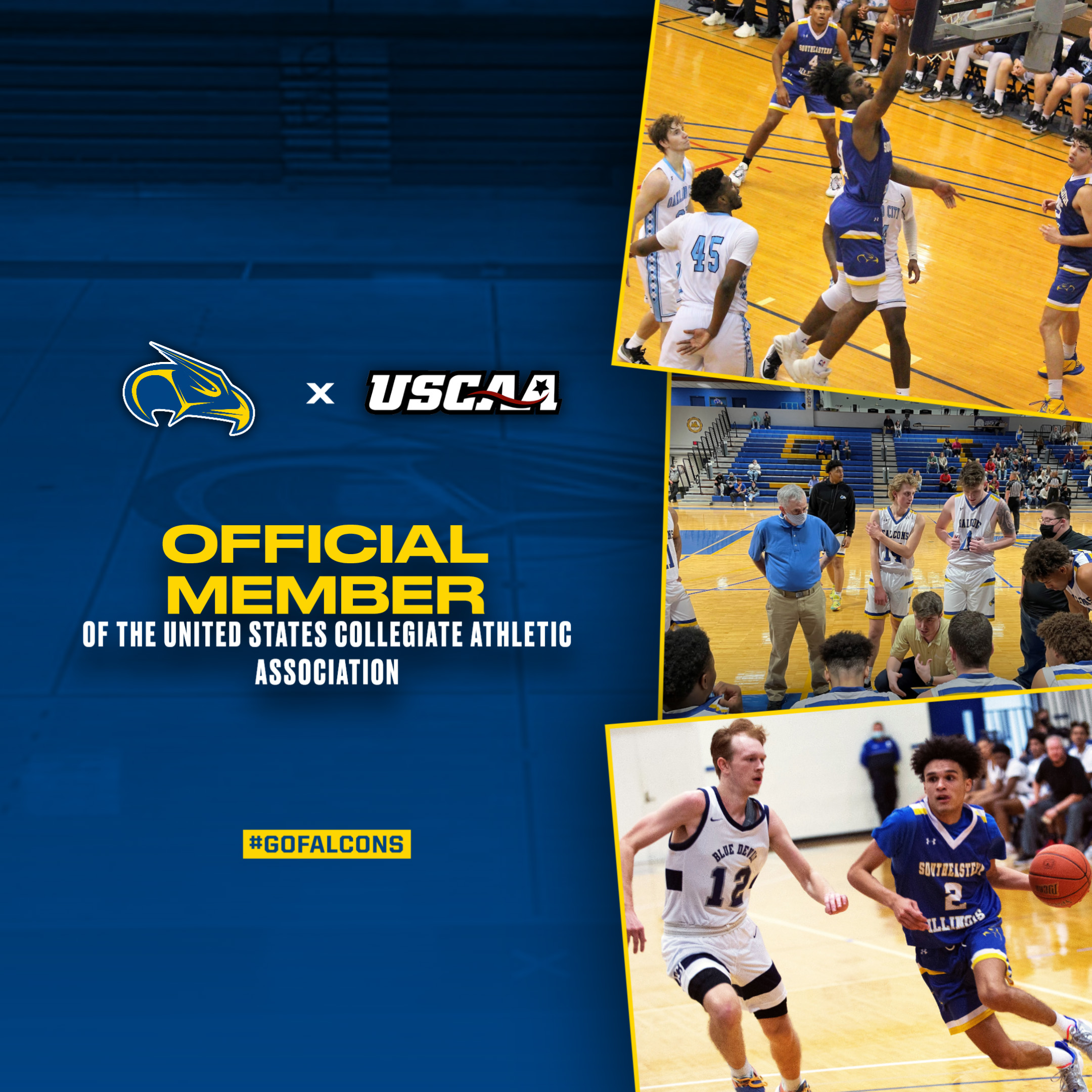 The Southeastern Illinois College men's basketball team will compete for a national title alongside other community colleges and even four-year universities from all across the nation as part of its new affiliation with the United States Collegiate Athletic Association.
Southeastern Illinois College is one of the organization's four newest members for the 2022-2023 academic year. The USCAA is a Pennsylvania-based national organization made up of approximately 70 colleges and universities spread from coast-to-coast and is designed to level the playing field for colleges with enrollment under 5,000 students and smaller operating budgets for athletic departments.
The SIC men's basketball team is piloting the college's membership with the USCAA. The Falcons will compete at the USCAA Division I level alongside dual-affiliated members that compete at the NCAA D2, D3, NJCAA, and NAIA D1 and D2 varsity levels.
Along with voting SIC into its membership this year, the USCAA also welcomed Atlantis University (USCAA D1), Shaw University (NCAA D2), and Salem University (NCAA D2). The SIC Men's basketball team will be the pilot sport to participate with other sports at the college, hopeful to follow in years to come.
"I am excited to see what Southeastern Illinois College brings to the United States College Athletic Association," USCAA COO BJ Bertges said. "Not unlike some of our other community college members, they provide both traditional and trade academic programs while supporting athletics at a high level. I expect them to make their presence known right away with the Association and look forward to all of their sports competing for USCAA National Championships".
According to their website, the primary goal of the USCAA is to provide members with an association that is devoted to the growth, vision and values of their institutions. The USCAA conducts 15 national championships, names All-Americans, recognizes scholar athletes and promotes member schools in various ways.
"We are looking forward to moving our Men's Basketball team to the USCAA Organization," SIC Athletic Director Jeremy Irlbeck said. "We are very excited for the direction of the USCAA with their mission and focus. It will strongly align with the vision and direction of our institution and men's basketball program".
The USCAA Men's Basketball National Tournament field is chosen through a prestigious selection process. The 2023 tournament will be played on the campus of Virginia State University in Petersburg, Virginia this March at the VSU Multi-Purpose Center. When the Falcons' season starts this fall, they will play a competitive schedule of community colleges and four-year institutions, including varsity level competition, to strengthen its chances of securing a bid for the national tournament.
"You play your sport to compete," SIC Men's Basketball Coach Sam Swinford said. "The opportunity for us to compete at the national level against two-year and four-year schools that are similar to us in size and structure is something we couldn't let pass by. We are excited to welcome new opponents into our gym and compete with them not only in regular-season and post-season play, but also weekly in Top 25 polls, player awards, and end of the year academic and athletic all-American nominations moving forward."
The new affiliation makes Southeastern Illinois College the first community college in Illinois to join the United States Collegiate Athletic Association since its formation in 1966. "SIC is excited to join the USCAA and we expect that affiliation to grow," SIC President Jonah Rice said. "This prestigious organization is committed to the concept of what it means to be 'a student-athlete' and celebrates high caliber talent from across the country in a uniquely equitable environment of competition. Our basketball athletes have a chance to compete against not only community colleges, but also universities that share a similar philosophy regarding growth, vision and values through athletics. This will be great exposure for them and SIC."
USCAA Press Release: https://www.theuscaa.com/Press_Releases/2022-23_Press_Releases/2022-23_New_Members
###