SIC and RLC Co-winners of Innovation Award with ICCCA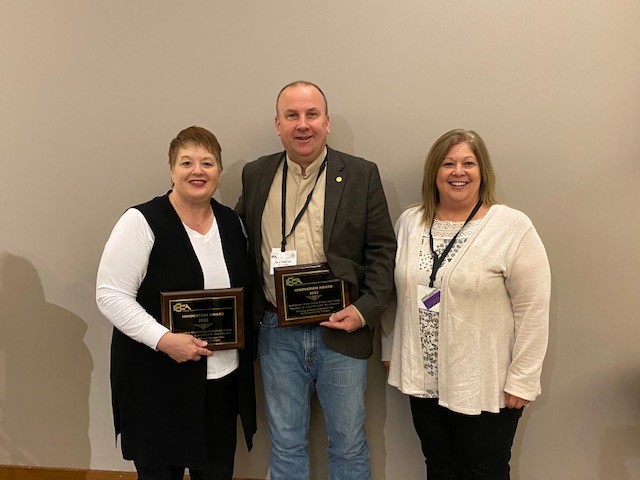 Rend Lake College and Southeastern Illinois College have been named co-winners of the Innovation Award from the Illinois Council for Community Colleges Administration (ICCCA) in coordination with the Illinois Community College Training and Resource and Information Network (weTRaIN).
The innovation project to be awarded is "Forming An Alliance Between Two Rural Community Colleges." The ICCCA noted that the project stood out as a great example of one way that colleges are leveraging collaboration and resources to address some of the instructional and enrollment challenges facing many rural colleges today.
Rend Lake College and Southeastern Illinois College have built a valuable relationship for over a decade. This partnership serves students by recognizing the need for collaboration among rural community colleges and offering programs and resources that would otherwise be unavailable.
The boards of the colleges made the arrangement official in 2021 with an Alliance Agreement that outlines clear and regular communication channels and goals to continue their agreement well into the next decade.
The colleges have worked together to offer coursework in Spanish, sociology, history, physics, music and more, and work together at the program level for Early Childhood Education and Veterinary Assistant. The colleges also have collaborated on maintenance, information technology, and audiovisual services.
"Alliances like what SIC and RLC have created take time and teamwork as well as an overabundance of trust," said Dr. Jonah Rice, SIC President. "There's a give and take in any relationship, so neither of us could come to discussions drawing lines in the sand, making demands, or not willing to have meaningful negotiations."
"Collaborating with Southeastern Illinois College has offered incredible opportunities allowing both institutions to reach new heights," said Rend Lake College President Terry Wilkerson. "We look forward to learning as we maneuver through this promising relationship and offer a brighter vision for our students and the communities we serve."
College leaders will accept the award at the ICCCA/ICCFA conference in Champaign, Illinois, Nov. 17-18.
###
Written by RLC for RLC and SIC. Photo submitted by RLC.