Retired US Diplomat Speaks to Crowd at SIC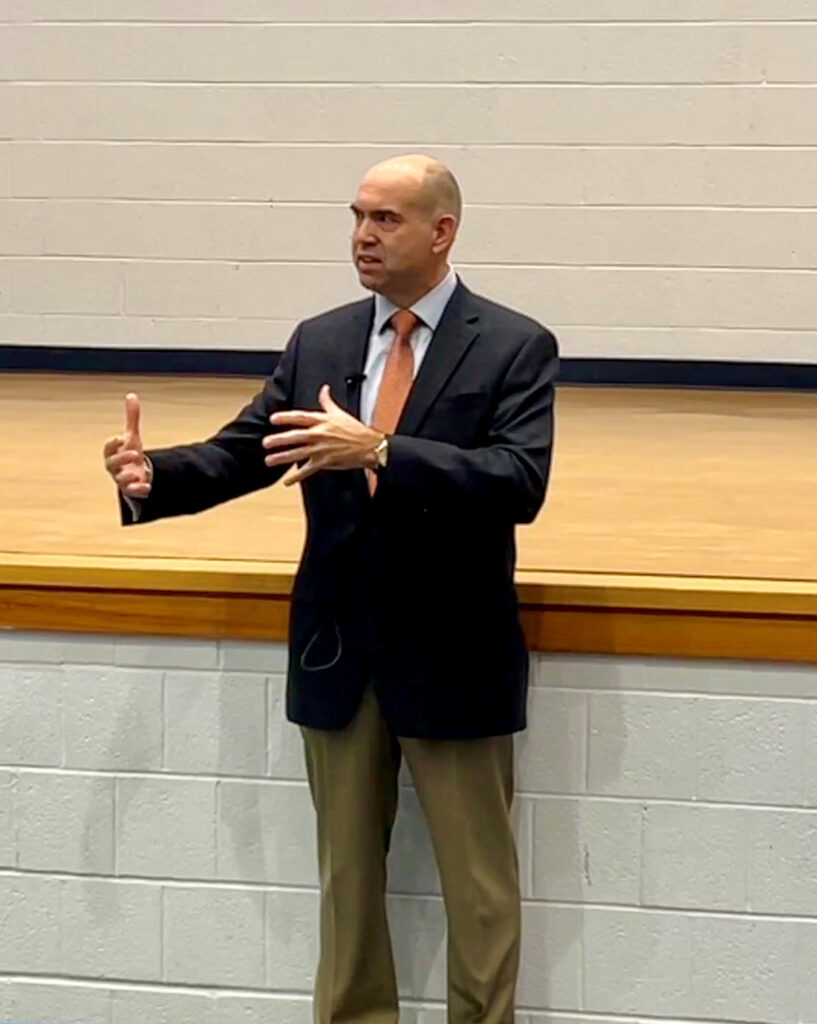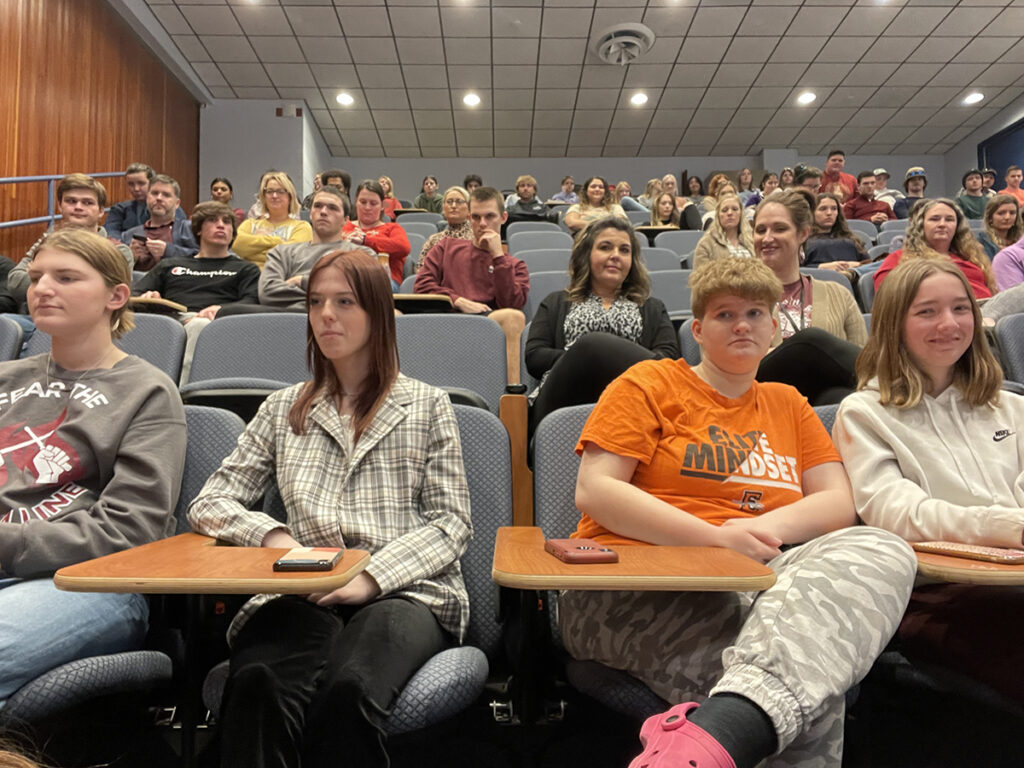 More than 100 people, including many Southeastern Illinois College students and high school students from Carmi, Carrier Mills, and Eldorado, attended a lecture Dec. 9 by Andy Abell, a retired U.S. diplomat, analyst, and policy specialist originally from Southern Illinois.
Abell discussed his journey that led to a career in the U.S. Department of State in diplomatic and military service for 30 years,
A 1990 graduate of Harrisburg High School, Abell took classes at SIC, earned a Bachelor of Science in History from the U.S. Naval Academy in Annapolis, Maryland, and a Master of Arts in Law & Diplomacy from the Fletcher School at Tufts University in Boston, Massachusetts. He has studied Turkish, Arabic, Hebrew, and French languages.
He retired this year, and is currently working as an advisor to private companies in the aerospace and defense industries on such projects as counter-drone technology.
Abell, whose father was Harry Abell, SIC's second president and one of the founders of the SIC Foundation, was accompanied by his brother, SIC alumnus Rick Abell, who was a member of SIC's speech team. Abell was invited to speak by the SIC Student Government and political science instructor Matt Lees.
"Andy's story from Harrisburg to the State Department is truly horizon-expanding," said Lees. "I often tell my students one example is more powerful than a thousand theories. Andy's example truly speaks for itself."
Among a number of questions posed by students, SIC Student Government vice president Addison Bean of Gallatin County asked Abell for advice in pursuing such a career.
His response suggested military background was a conduit for many state department positions. For college majors, he suggested political science major or any majors that center on critical thinking, writing, and communications. He impressed upon the audience the importance of studying foreign languages, as it is easier to learn and retain from a younger age, and he encouraged students to take opportunities to study abroad.
"I want to remind you to follow where your heart leads. Talk to people. You might be surprised. None of these have to be a lifelong career, by the way. Plenty of people do, much like the military, four or five years in the State Department and go do something else," said Abell.
Bean was overheard discussing with Lees after the lecture the important for students to have an opportunity to hear from people with careers outside of the immediate area such as Abell's unique experiences. To which Lees responded that even a small connection can lead to opportunity.
From 2019-2021, Abell managed $400 million in annual security assistance appropriated for Europe, including Ukraine, in the State Department's Bureau of Political-Military Affairs. He designed and led the process by which the U.S. European Command and State Department determined programmatic allocations of security assistance across 25 countries. He also generated bipartisan support for funding decisions by briefing Congressional staff on the strategic and tactical rationale for funding decisions.
Abell's other Washington assignments include service as Regional Lead for the Middle East and
North Africa at the U.S. International Development Finance Corporation (DFC), Director for Israel and Palestinian Affairs at the National Security Council (NSC), Political Advisor to the Joint Staff Directorate for Strategy and Policy (J-5) at the Pentagon, and Senior Syria Desk Officer at the Department of State. He also spent two academic years in Washington on fellowships, first as a practitioner professor at Georgetown University and later as a legislative assistant to Senator Richard J. Durbin of Illinois.
Additionally, Abell served for eight years at diplomatic postings overseas, most recently as Chief
of the Political and Economic Section at U.S. Consulate General Istanbul, Turkey. Previously he
served as an Economic Officer at U.S. Embassy Damascus, Syria, and U.S. Embassy Tel Aviv, Israel.
Prior to joining the State Department, he was an officer in the United States Marine Corps,
completing operational deployments to the Middle East with the 1st Marine Division and to
Europe with the 2d Fleet Antiterrorism Security Team (FAST) Company.
"SIC was honored to have someone with such a vast and rich experience of international relations as Mr. Andy Abell on campus to share his insights and observations about global events that affect us all," said SIC President Dr. Jonah Rice. "The presentation was outstanding and much appreciated."
###