Madrigal Feaste Rings in Christmas Season at SIC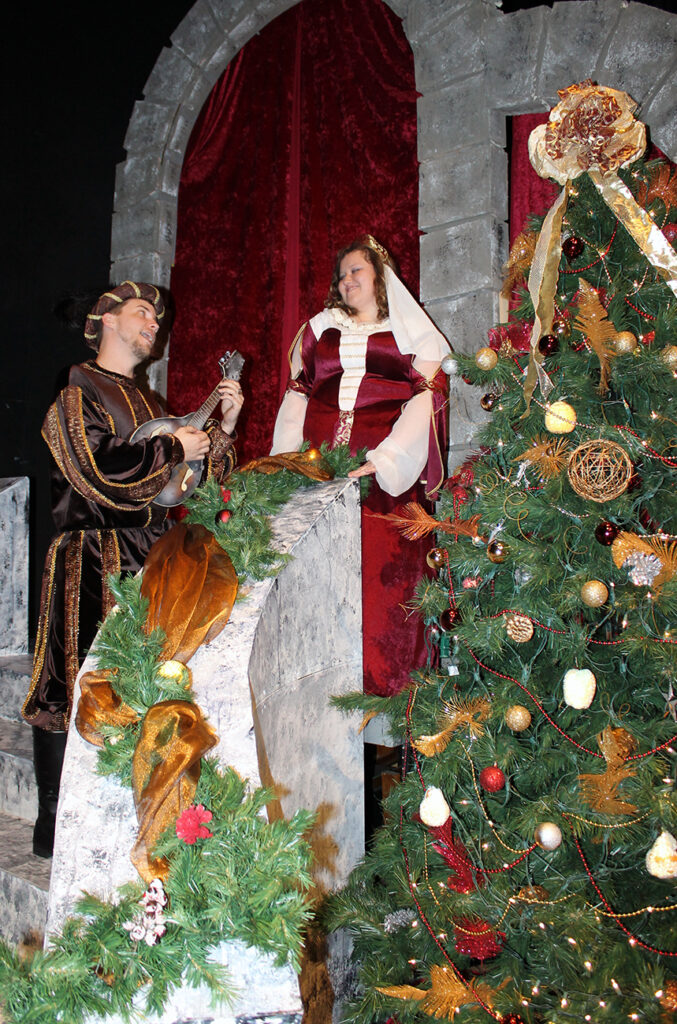 With Christmas fast approaching, Southeastern Illinois College will kick off the season by hosting its 35th annual Madrigal Feaste, Dec. 5 and 6 at 6 p.m., and Dec. 7 at 12:30 p.m. directed by SIC Music instructor Tiffany Kesler. The King, played by Jason Green of Golconda, and Queen, played by Sarah Birkla of Crossville, will preside over this year's festivities.
For the Madrigal, the general audience sits directly on the stage, which is transformed into an exquisitely decorated castle dining hall designed and constructed by students enrolled in Kimball's theater classes. As part of the royal court, Guests enjoy an intimate evening filled with beautiful music of the season with the King and Queen, along with jokes from the court Jester played by Jayden Roper of Harrisburg. A few invited guests will be knighted.
The kingly, yet southern, dinner will be catered by BBQ Barn of Harrisburg. Of course, no renaissance dinner would be complete without a boar's head and hot wassail (spiced apple cider).
Musical selections will include many traditional holiday favorites, including: The Boar's Head Carol, We Wish You a Merry Christmas, First Noel, Silent Night, Deck the Halls, Carol of the Bells and more.
SIC's Madrigal has been a Christmas tradition in Southern Illinois since 1979. It was created by Bruce Boone, former music director, and the late George T. Dennis. From 1994-2003, it was produced by CJ Harbison at Harrisburg High School, but returned to SIC in 2004 to grace the George T. Dennis Visual and Performing Arts Center for the first time under the direction of Allan Kimball.
"The Madrigal Feaste is the best way to kick off the holiday season and is sure to be a hit for the entire family," said Kimball.
Tickets to this year's event are $25 per person, which includes the meal and show. Reservations are required in advance, and the deadline for making reservations is Monday, December 1. Call 618-252-5400 ext. 2486 or 2487 or 618-841-4649, or email boxoffice@sic.edu.
What: Madrigal Feaste – Renaissance Dinner Theatre set on an outlandishly decorated stage. The king and queen have invited guests to a feast at the royal court.
Who: An ensemble of "lords and ladies" perform some favorite traditional Christmas songs – vocal and instrumental – and involve the audience in a "royal" performance. Expect lots of laughs.
When: Friday, Dec. 5 at 6 p.m., Saturday, Dec. 6 at 6 p.m., and Sunday Dec. 7 at 12:30 p.m.
Where: Southeastern Illinois College in the George T. Dennis Visual and Performing Arts Center in Harrisburg
Attire: Formal or period dress is suggested, but not required.
Cost: $25 per person. Reservations required by December 1. Only about 100 seats available per performance. No tickets will be sold at the door.
Box Office: 618-252-5400 ext. 2486 and 2487 or 618-841-4649, or boxoffice@sic.edu
###