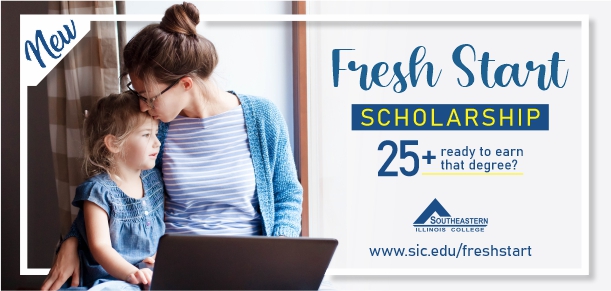 We love a good second chance! That's why SIC is offering a new scholarship specifically for our nontraditional students!
Sometimes life happens and keeps us from meeting our goals. But if you've been thinking about returning to college, now is a great time! We're offering an opportunity to reinvest in your personal growth and broaden your career prospects, with a tuition waiver of six credit hours that is renewable.
You must be 25 years or older
Out of college for three years or more
Live in the SIC College District
Enroll in a degree or certificate program
Take at least six credit hours
SIC offers mini-semesters; spring, summer, and fall semesters; and some intersession classes. But there are a limited number of scholarships available, so you should apply soon!
Click the button below to fill out the online application.
Click the button below to download and fill out the form. Email it to scholarships@sic.edu.
How will I fit classes into my busy schedule?
Although some students prefer on-campus classes, many classes are also offered in an online format, which means you can take them at a time that is convenient for you! If the program you choose is more hands-on, you may prefer or be required to take classes in person.
What programs can I choose from?
If you're looking for a credential or short program to get your career jump-started, check out our Career and Technical Education (CTE) programs! These include Nursing, Cosmetology, Criminal Justice, Diesel Technology, PowerSports, Information Technology, Outdoor Recreation, Outfitter Wildlife Management, Pharmacy Technician, Phlebotomy, Welding, and Vet Assistant.
If you plan to transfer to a university, you can earn your associate degree at SIC. You'll want to work with an advisor to maximize transferability to the university of your choice. See our Transfer Programs.
Contact an advisor at advising@sic.edu or call (618)252-5400, ext. 4130.
What if I need a little extra help or support?
SIC offers a number of services to assist all students including:
Free tutoring in person or online
Advisement to help students set and achieve their academic goals
Assistance with financial aid (More than 70% of SIC students receive some form of financial aid or scholarships.)
Library and online staff available to assist with any questions or concerns
TRIO Student Support Services providing academic and mentoring support to assist first-generation, low-income students, or disabled students.
We hope you take advantage of this unique scholarship opportunity and give yourself a second chance to meet your educational and career goals! Email scholarships@sic.edu today and ask about the Fresh Start Scholarship.