TRiO Student Support Services
Mack, Lolita
TRIO/Student Support Services Director
Phone / Extension: 2432
Location: A142
Lolita is responsible for coordinating, monitoring, and evaluating the Title IV grant. She also develops specific strategies to identify at-risk students and implements strategies to identify student difficulties and barriers. Lolita also provides effective interventions to deal with a student's lack of attendance, financial problems, transportation, childcare needs, low self-esteem, poor time-management and/or study skills, and academic difficulty. Retention is her number one focus.
Lolita has a BFA in Graphic Design from SIU-C, a Ms. ED in Workforce Education & Development, specializing in Program Leadership from SIU-C, and is finishing her Ph.D. in Workforce Education, specializing in Management and Professional Development from SIU-C.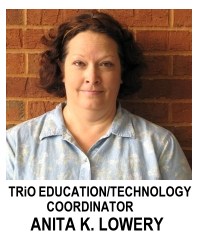 Lowery, Anita
TRIO/SSS Program Education/Technology Coord.
Phone / Extension: 2473
Location: A149
Anita delivers basic skills instruction and class development/creation advises targeted students on all course work, and manages the TRIO technology systems. She also provides educational support for the Student Success Center tutors and monitors all online workshop modules and classes. Anita also manages the TRIO Webpage, Facebook, and TRIO texting program. She is currently the TRIO Assessment representative.
Anita has an Associate in Applied Science in Business Management/Accounting from Southeastern Illinois College, a Bachelor's of Science in Workforce, Education, Training and Development from Southern Illinois University Carbondale, and a Master's in Education from the University of Illinois Urbana-Champaign. Anita also earned a Master Online Teaching Certificate from the University of Illinois, Illinois Online Network.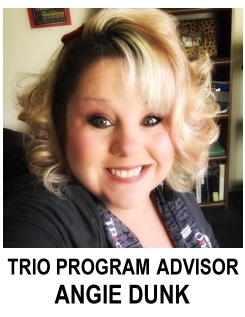 Dunk, Angie
TRIO SSS Advisor
Phone / Extension: 2433
Location: E126
Angie provides academic advisement and registration to students. She helps students identify and implement educational, career, and personal goals. Angie assists students with the financial aid application process as well as the process for obtaining scholarships. She also facilitates workshops focusing on transferring to a four-year university, resume writing, and interview skills. Additionally, Angie assists in the selection and supervision of Student Support Services Mentors. She also helps plan and conduct campus visits, cultural enrichment activities, and other department functions.
Angie has an Associate of Arts degree from Southeastern Illinois College, a Bachelor of Social Work degree from Illinois State University, and a Master of Social Work degree from Illinois State University. She also earned her state licensure in Social Work.