Constitution Week Proclaimed Throughout the Southeastern Illinois College District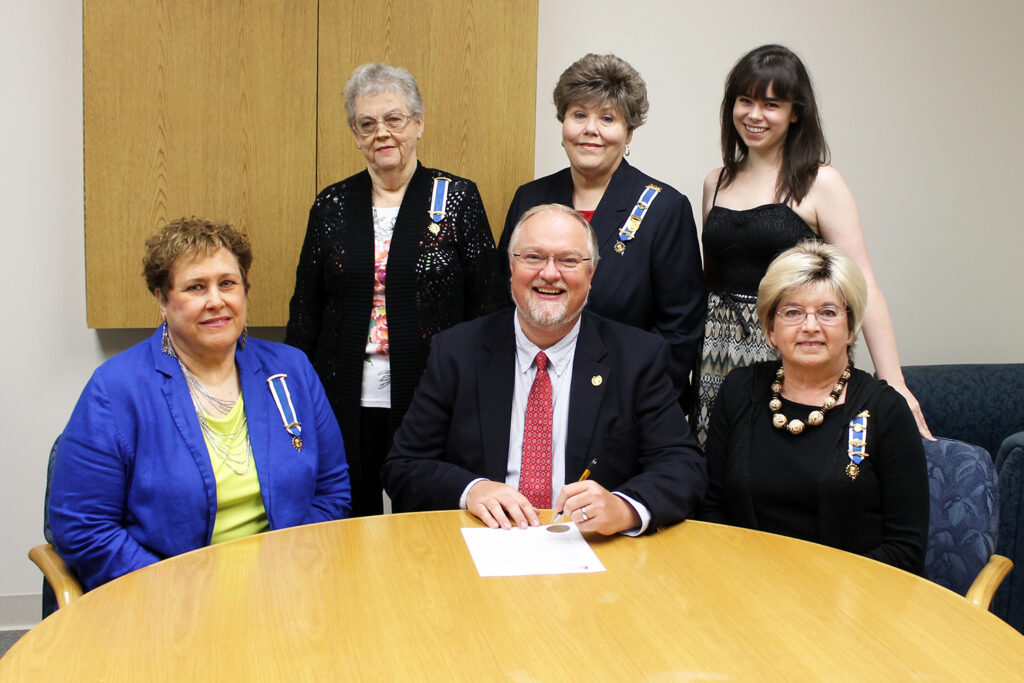 Southeastern Illinois College President, Dr. Jonah Rice signs a proclamation designating Sept. 17 – Sept. 23, 2015 throughout the college district as the 228th anniversary of the drafting of the Constitution of the United States of America by the Constitutional Convention. 
The signing of the proclamation was sponsored by the Michael Hillegas Chapter of the Illinois State Organization National Society Daughters of the American Revolution. Seated (l-r) are Janice Hall, Registrar; Dr. Rice; and Kathy Morris, Regent. Standing (l-r) are Hazel Duncan, Past Registrar, Sharon L. Tanner, Vice Regent and Constitution Week Chairman; and Angela Morris, Member.
Additionally, SIC recognizes Constitution Week with a special exhibit that can be viewed in AB lobby Sept. 17- Sept. 23.  Constitution Week poster, exhibits and a copy of the proclamation are also on display at the Harrisburg District Library, Shawneetown Library, and the Eldorado Memorial Library, as well as on the marquee at Sutton Plumbing.
The United States of America functions as a Republic under the Constitution, which is the oldest document still in active use that outlines the self-government of a people. This landmark idea that men had the inalienable right as individuals to be free and live their lives under their own governance was the impetus of the American Revolution.  Today, the Constitution stands as an icon of freedom for people around the world.
###