State Essay Winner, New Vet Assistant Partnership, New Mine Training and WIA One-Stop Discussed at SIC Board Meeting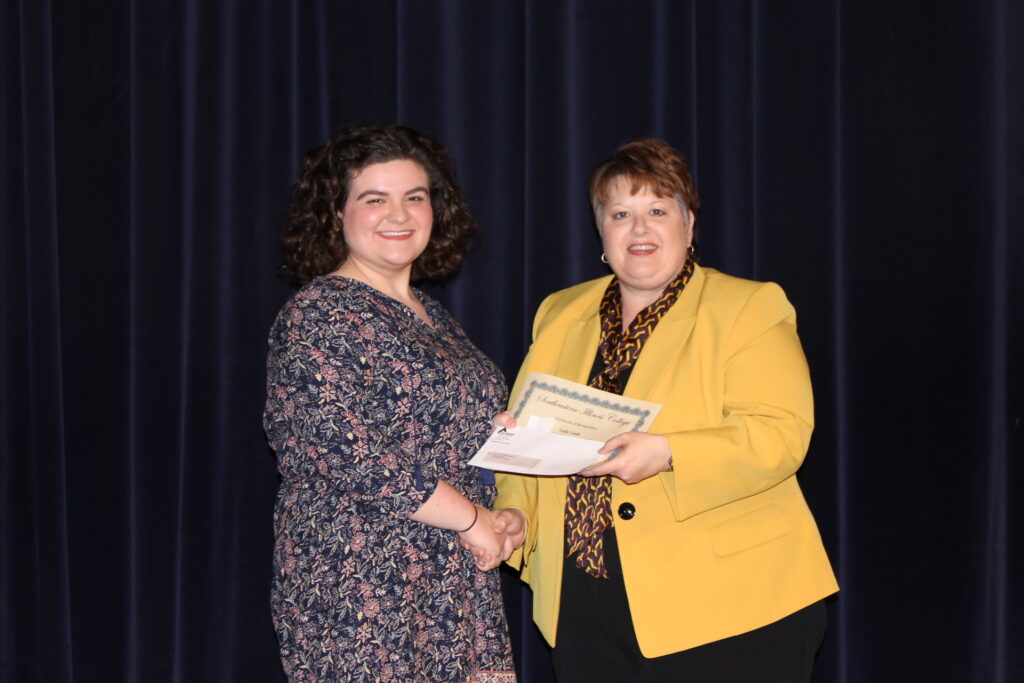 The Southeastern Illinois College Board of Trustees met Tuesday, May 16 at 6 p.m. in the Rodney J. Brenner Board Room to recognize the school's first state winner of the Paul Simon Essay Contest, Callie Smith of Eldorado.
"Callie was a clear winner among all the excellent finalists," said Dr. Frank Barbre who is the board's representative for the Illinois Community College Trustees Association that oversees the contest.
Smith's essay reflects on how opportunities given and changes made while attending community college helps one to follow their passion. She will be recognized at a special luncheon this summer in Normal, Illinois, and will receive a $500 award.
Returning to SIC next year with a theatre scholarship, Smith will continue earning her associate degree. After graduation, she plans to transfer to Murray State University in Murray, Kentucky, to pursue a bachelor's degree and major in marketing.
The board also learned that the college's new Veterinarian Assistant Program, located at the David L. Stanley White County Center in Carmi, has exceeded enrollment capacity and even has a wait list.
The SIC program was designed in conjunction with Rend Lake College (RLC).  RLC students will also take many of their classes for this program in Carmi, reported administrators.
"This partnership has allowed us to provide new programs, minimize administrative expense, and serve students and the community in ways none of us could do feasibly on our own," said Rice.
The board also heard about a video production company that will take footage of the new simulated coal mine training facility for Pearson Publishing regarding the need and resurgence of coal in the United States.
The grand opening of the new mine training facility will be May 31 at 11:30 a.m.
"We are excited by this new opportunity to train miners in the latest and greatest ways to keep safe and keep the lights on for America," said Dr. Jonah Rice, president of SIC.
In action, the board renewed its health insurance with Blue Cross Blue Shield with the caveat that they plan on switching plans on Jan. 1, 2018, due to budget savings needs while also keeping comparable coverage for employees.
The board also passed a resolution for a general obligation bond as well as passing the annual prevailing wage statement, working cash fund resolution, and budget transfers all according to statute.
Curriculum changes passed by the board included multiple new archery courses for the new indoor archery program, as well as new transfer guides for numerous programs.
Administrators informed the board of the new Workforce Investment Act (WIA) One-Stop Center that will be housed in the David L. Stanley White County Center in Carmi.
"Essentially, we (the college) are serving as a "one-stop" for services for individuals that need assistance with unemployment services through IDES [Illinois Department of Employment Securities], with WIA funding to help with retraining or educational costs and other public services, such as DHS [Department of Human Services]," said Dr. Karen Weiss, SIC vice president.  "We look forward to working with Southern14 Local Workforce Investment Board (LWIB) on this new service for our community."
Agency staff from Southern 14 LWIB will be housed at SIC's Carmi extension center to serve the public, beginning July 1.  Office hours will be 9 a.m. – 4:30 p.m., Monday through Thursday.  Staff will also be available to see clients at SIC's Harrisburg campus through a satellite office on Fridays during the fall and spring semesters.
In personnel, the board heard a prepared statement from Jeremiah Hull on Laborers' International Union of North America discussions regarding custodial services, revised multiple job descriptions, employed Larissa Bond as the financial aid specialist effective retroactively as of  May 10; Shirley Malone from interim food service manager to food service manager; and Tracy Stokich from part time food service assistant to full time food service assistant.
###