SIC and RLC Offer Joint Vet Assistant Program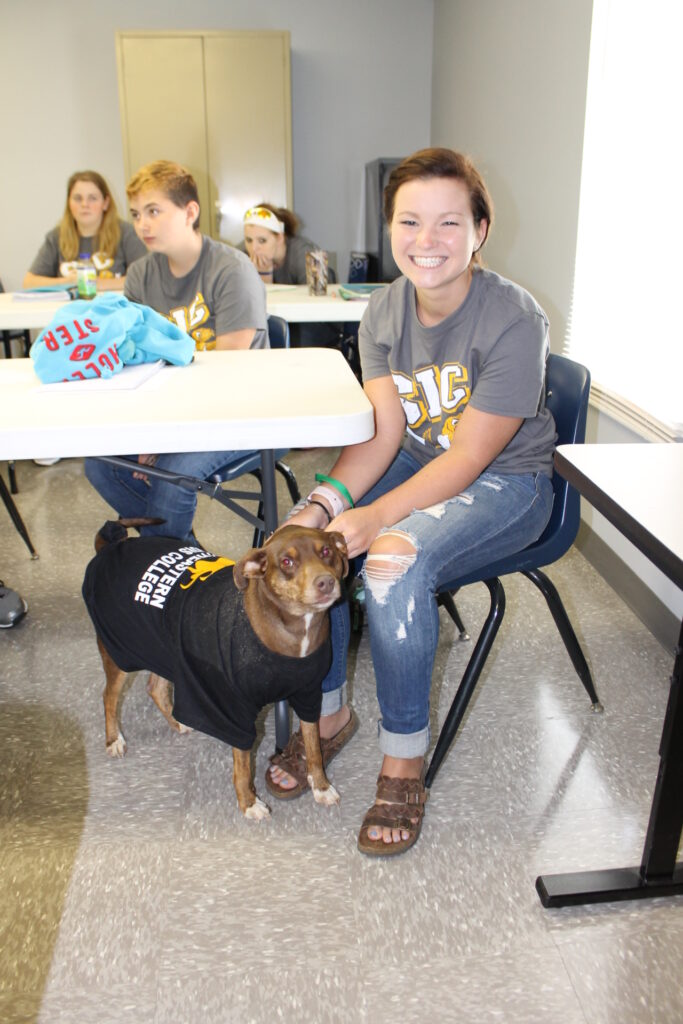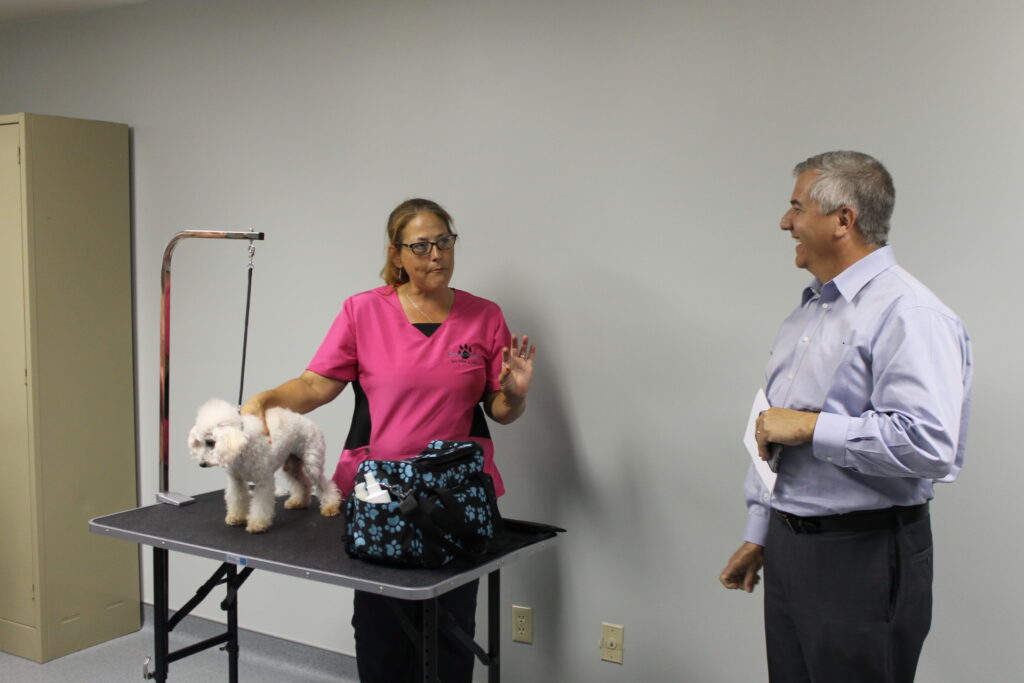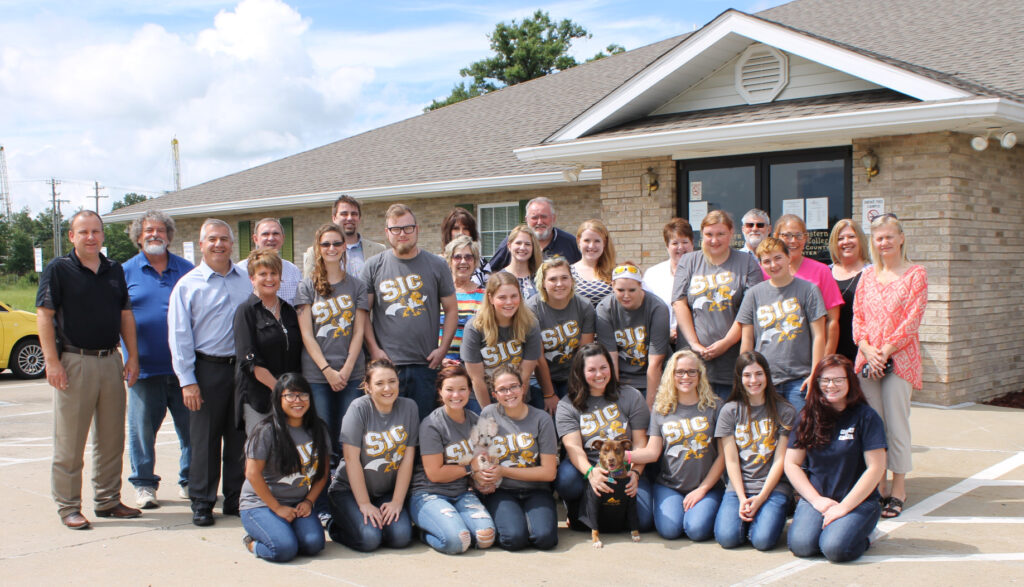 Working together is much better than working apart.  That is the running theme of a new program, Veterinarian Assistant, designed in conjunction between Southeastern Illinois College and Rend Lake College.
An open house was held Tuesday, Aug. 22 at SIC's David L. Stanley Center in Carmi, which houses many of the classes for the program.  Students in the program, as well as instructors and furry patients were present for the event.
Dr. Karen Weiss, SIC Vice President presented opening remarks regarding SIC's appreciation for the partnership between the two colleges.
"The new collegiate partnership agreement has allowed us to provide new programs, minimize expense, and serve students and the community in ways none of us could feasibly do on our own," said Weiss.  "We're also very excited about what the future holds for the Carmi Center."
According to Weiss, the program has many benefits over a traditional veterinarian technician program.  First, it takes only one semester, not two years, and second, that shorter time means less expense for the student.
Weiss explained that most jobs in that sector in this region pay the same for both the assistant and the technician so the return on investment for the student is much better with the new vet assistant program.  Eligible students may also receive financial aid for this program.
RLC President Terry Wilkerson echoed Weiss' thoughts about cooperation, and speaking directly to the students said, "… rule number one is trust.  In every relationship you have in your entire life, trust is the foundation for which it's based on.  I'm here today because of trust.  Dr. Rice and myself as presidents, we come up with program ideas all in the effort to better represent our students and take care of our districts…"
Wilkerson explained that the colleges took an outdated program that was a bit excessive for today's needs and, working with local veterinarians, looked at the current needs of the veterinary community to come up with a revised and shortened curriculum.
State Rep. David Reis joined the colleges for the celebration of the new program as a strong supporter and a product of community college.
"The greatest thing about community college is … they can turn a ship on a dime.  When you need something, a community college is always there to put a program together and educate young and old alike," said Reis. "You can take a program like this and go out into the workforce and be good taxpaying citizens."
Veterinary assistant instructor, Adrea Petro, also spoke to the group and brings experience to students from her position at the Sesser Animal Hospital, where she works as a certified technician.  She explained that her class provides the foundation for students to learn the basic job skills needed to perform veterinary assistant tasks and prepares them for an internship or apprenticeship, where they will further their on-the-job training.  Much of the class is hands-on, including a CPR dog, as well as front office skills and "client communication with a smile."
Student Jonlee Wingo, a 2017 graduate of Woodlawn, showed her enthusiasm for the program saying, "This has always been my dream, and when I found out about the program, I was ecstatic!  My long term goal would be to start out as a vet assistant and then maybe work my way up to a vet tech and after vet tech I would like to try to be a vet, but I wanted to get my toes in the water and try it out first just to make sure it was my passion."
Another big selling point of the program is that the certificate also trains students in animal grooming, making them more marketable for a variety of jobs.  This class, taught by Jane Welborn of Tanglewoods Spa and Salon in Harrisburg, is a hands-on class with bathtubs and grooming tables. Students will work on actual clients providing free baths and services such as toenail clippings while they learn.  This class is scheduled so that interested students can take the grooming class as a stand-alone without enrolling in the full vet assistant certificate.
According to a September 2016 article in Shopkeep.com, almost 80 million households in the U.S. have at least one pet. The article rates pet grooming and boarding as one of the most successful small-town business ideas.
Additionally, the U.S. Bureau of Labor Statistics (BLS) has predicted that job openings for non-farm animal caretakers in general, including pet groomers, will increase by about 11% between 2014 and 2024, a faster than average growth rate (www.bls.gov).  BLS also reported strong job opportunities for pet groomers due to the increasing number of households that own pets and high turnover in grooming positions.
The new program exceeded enrollment capacity for the current semester and even had a wait list.  At this time, plans are to offer the certificate program again in the fall of 2019.  For additional information, visit www.sic.edu/VetAssistant or call a recruiter at 618-252-5400, ext. 2245.
###